I knew nothing about the siblings of my great-grandmother, Sarah Lefkowitz. I did not know if Sarah, the mother of my father's mother, even had any siblings.
A chance reference by a cousin to Benjamin "Beni" Lefkowitz turned out to be extremely useful. This cousin said Beni was a brother of Sarah's and described Beni as being in the shoe business in New York City. I gathered from some of the stories she told me—which had been told to her by her mother—that Beni was somewhat well-to-do. She also gave me a copy of the marriage affidavit of Beni and his wife Mary Feigenbaum.
I began to assemble facts about Beni's life. I found several New York Times obituaries for Beni from 1936. It was common then for organizations to publish death notices or obituaries when one of their members died. As there were several entries for Beni, it was clear that he was a member of many organizations and was active in several businesses.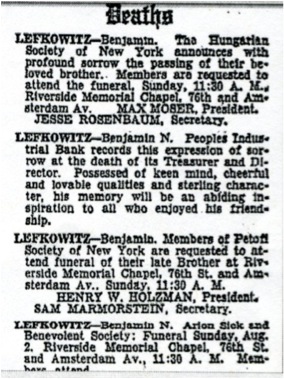 Death Notices for Benjamin Lefkowitz

I learned from these obituaries that Beni was an officer in several small banks. I then found two passport applications for him, one involving a visit to his native Hungary for a vacation. It was likely, then, that Beni was wealthy.
Knowing his approximate date of death from the obituaries, and assuming that, as a wealthy man he would have prepared a will, I set out to find his probate court file.
I contacted the New York Surrogate's Court and was told I would have to come into the courthouse to view the documents, after first requesting that the file be brought out from storage. Explaining that I was on the West Coast, a kind and gracious court clerk looked up the probate file number, ordered the documents from storage, and scanned the entire contents of the file, sending me the scan as an email attachment! There were 60 pages of documents in the file.
The file contained Beni's will and a transcript of a court suit by the estate's trustee to recover certain property from one of the beneficiaries of the estate. In typical fashion, the will named various of his relatives as beneficiaries of his estate, describing them in general terms such as 'my nephew' or 'my niece.'
From the will I learned about many of Beni's relatives. But while the familial descriptions of relationships were useful, they did not specify exactly how Beni and his various beneficiaries were related.
Under the terms of his will, Beni established a trust, naming his nephew William Domroe, the son of his wife Mary's sister, as co-trustee and beneficiary. When Mr. Domroe died in 1962, the surviving co-trustee filed a petition in New York Surrogate's Court to dissolve the trust and distribute its assets. The petition and its attendant documents were part of Beni's probate court file.
"Among the documents filed, the most amazing one by far was a hand-drawn genealogy chart showing the descendants for three generations."
In connection with that proceeding, the co-trustee filed with the court birth certificates, death certificates and other related documents for each person named in the will. Apparently, the court required detailed information about each beneficiary.
Among the documents filed, the most amazing one by far was a hand-drawn genealogy chart showing the descendants for three generations of each of Beni's siblings, including my great-grandmother, Sarah. This not only gave me the names of relatives, but told me their exact familial relationship to each other. The chart also gave birth and death dates for each person, where known. This was an astonishing document!
Using this information, I was able to work forward in time and contact many of the descendants of those named in the document, greatly expanding my family connections. Having the names of Beni's siblings, I searched the Hungary Database on JewishGen and was able to find my family in the 1869 Hungarian census index, and to obtain a copy of that record.
While it is likely that few probate files would contain the breadth and depth of documentation that Beni's did, it is clear that such records can sometimes be an invaluable source of information.
June 2012
San Francisco, California, USA