I want to acknowledge Avraham Steiner and the important contributions he made both to this story and to preserving the history of the Jews of Kojetin, where both our families have roots. Avraham and I also gratefully acknowledge the many contributions of Kay and Pierre Gaston. —TH
Getting Started
I spent the past ten years studying my mother's family tree and the town where she was born, Skala Podolskaya, in Eastern Galicia, now Ukraine. I'm the town leader for JewishGen's Skala Research Group. But this story concerns my father's side the family, the Hausners.
My father had provided me with a family tree. My paternal great-grandfather, Emanuel Hausner, was born in Kojetin, Moravia, Czechoslovakia. In 2008, using JewishGen resources, I found a listing on the internet for another Hausner from the same town. After some research to find his current email address, we exchanged emails and determined we were related. These new cousins sent me a family tree that indicated my great-grandfather Emanuel had four brothers: Moritz, Herman, Johann, and Jakob Hausner—and Herman was the great-grandfather of my new-found cousins. I also learned that our great-great-grandfather, the father of these five brothers, was Markus Hausner, who was married to Fanni Stern. My family tree grew considerably when I combined my new cousins' tree with mine!
I spoke on the phone with these new Slovakian cousins from Bratislava, and we shared information about our families. My cousins and I began to assemble a private family photo album on the internet. My wife and I then planned a trip to the Czech Republic.
Connecting with Avraham Steiner
Meanwhile, I also discovered a website for the town of Kojetin put together by Avraham Steiner of Israel, who has been researching the history of Kojetin's Jews for many years. The site has extensive information about the town—Jews first came to Kojetin in the 12th century.
I provided Avraham with the new information about my Hausner ancestors, and he in response provided me with the following documents and photos pertinent to my family:
Four Hausner gravestone photos and other photos of Kojetin (thanks to the efforts of Mr. Ondrej Stepanek and Ms. Zuzana Krybusova from Kojetin, who took about 500 photos of the Jewish Cemetery)
A census listing from 1829, which lists two Jakob Hausners who possibly are related to my great-great-grandfather Markus (found in an article about Kojetin Jewry by Arthur Steiner, published in Hugo Gold's book in 1929; see pages 279-288)
An article by Miroslav Marada about Jews who took last names in 1789 (when the Austrian chancellor decreed Jews to take surnames) including, on page 10, two persons who took the last name of Hausner
Visiting the Czech Republic

In June 2010 my wife, Toba, and I explored our ancestral roots in four European countries, including the Czech Republic, where we based ourselves in Prague and took a day trip to Kojetin.
Our guide, Julius Muller, was referred to me by several folks from the Austria-Czech SIG; he has published articles on the Austria-Czech SIG page of JewishGen. Julius gave me a great list of records that he found regarding the Hausners in the Přerov-Henčlov Regional Archives, including census and domiciliary records that were extremely helpful in locating former homes of my ancestors. These records identified the parents of Markus Hausner—Joseph Hausner and Sara Leuner, my great-great-great-grandparents!
In Kojetin, we met the two cousins from Bratislava and their families. The nine of us had lunch and talked about our families, history, etc. It was very meaningful to meet with these cousins and get to know them. They were wonderful to be with, especially in sharing many of the day's events.
All of us went to see the former synagogue, now a church, and saw the house of my great-great-grandfather, Markus Hausner, which was next to it. He lived there starting in the 1830s. We also located the house of my great-great-great-grandparents, Joseph and Sara Hausner, as well as that of Isak Stern, the father of my great-great-grandmother, Fanni.
When we visited the cemetery, although we had no information about their location, we were able to find the graves of my great-great-grandparents, Markus and Fanni Hausner, and right next to them the graves of Markus' parents, Joseph Hausner and Sara (Leuner) Hausner, both born in the 1790s. We also found a gravestone for Lotti Hausner, but we are not sure at this point if she is related to our family.
It was very moving to find these houses and gravestones and to be able to share these discoveries with my newfound family members.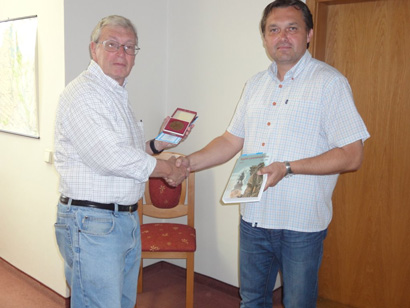 Tony Hausner (left) with Kojetin Vice-Mayor Jiri Sirek,
who is handing Tony a book on the history of Kojetin
and a commemorative medal
We met with Kojetin's vice mayor, Jiří Šírek. He gave each of us a book about the town's history, which includes a chapter about the Jews that I hope to have translated. He also took us to a museum that had considerable information on Jewish history. I greatly appreciated his interest in the history of the Jewish population.
Two days later, I visited the Prague National Archives and the Jewish Museum Archives. I had arranged my visit in advance with the head archivist at the National Archives, Lenka Matušiková, who had set aside a number of record books for me. With Lenka's help I photographed the birth, death, and marriage records for my family. At the Jewish Museum, with the help of Julius Muller, I found many additional family records, including school records and a Synagogue Seating Chart for the Kojetin synagogue.
Forming the Kojetin Research Group
Avraham and I have agreed to set up a Kojetin Research Group. In addition, we have discussed setting up a website for the 500 Kojetin gravestone photos that were provided to us. We welcome any information about Kojetin's Jews. Please contact Tony Hausner or Avraham Steiner.
January 2011
Silver Spring, Maryland, USA (Hausner)
Jerusalem, Israel (Steiner)