In 1957, a drawing by Drohobycz artist Bruno Schulz was donated to a private museum in Israel. Nothing was known about the drawing's provenance, but on the reverse was stamped a possible clue: Dr. Michał Chajes, Adwokat.
Fast forward to summer 2014. While I was attending a conference at the POLIN Museum in Warsaw, the Director of the Lviv National Gallery of Art introduces herself. She is a renowned author and expert on Bruno Schulz preparing a new scholarly article about this 1935 drawing which has never been publicly shown nor recognized amongst the inventoried known works of Schulz. She asks me to discover, if I can, who was this Jewish lawyer named Dr. Michał Chajes and what was his connection to the Schulz drawing.


Caption imprinted on back of drawing.
Looking back, I now better appreciate that this request would turn out to be not just a genealogy research project about a specific man from Drohobycz who once owned a Bruno Schulz drawing, but a much bigger lesson in history, hatred, and war, that violently swept away a prominent and extensive Jewish family from Drohobycz. The Chajes family's destruction would represent the larger collective tragedy of Galicia's Jews in the Holocaust and the 1935 drawing by Schulz, the surviving witness.
Starting with only the name and occupation of Michał Chajes, I spent many hours over a period of almost five months researching databases and archival records from various resources to build a picture of Chajes, his family, and his connection to Bruno Schulz. (Resources and Acknowledgements are listed at the end of this story.)
In the process of researching who was this Jewish lawyer named Dr. Michał Chajes, the Schulz drawing would also serve to re-join two surviving Chajes family branches separated 70 year ago, today living in different hemispheres.
From a red notation on the backside of a 1935 drawing by Bruno Schulz, together we remember a Jewish lawyer from Drohobycz.
Who was Michał Chajes?
The first step was for me to discover what prewar vital records still survive for Galician Drohobycz.
I was able to discover that Michał's parents were Ozyasz Chajes of Drohobycz (born 1858) and Berta Seidman of Kołomyja (born 1858). Like many Galician Jewish families of this period, the parents produced children (in this case, four) before they had a civil marriage in 1891. Those four children were Regina, Meyer (who would pass away the following year), Arnold, and Teofil. Michał was born in 1894 and his was therefore the only "legitimate" birth from the perspective of the civil authorities of the Austrian Empire. [See Marriage Certificate for Michaeł's Parents here.]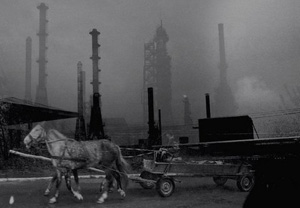 Oil Fields of Drohobycz, Early 20th Century.

One of the main reasons I was motivated to accept this research assignment, however, was Drohobycz. In my opinion, two things make Galician Drohobycz especially unique—one is oil. The first oil wells opened in Drohobycz in 1894; as it turned out, this was also the year Michał was born.
At the beginning of the burgeoning oil industry, Jews held most of the key positions in the industry, working as day and skilled laborers as well as management. To appreciate the impact the oil industry had on this otherwise sleepy Galician town, in 1860 Drohobycz's population numbered 500. By 1900, it had exploded to 12,000 with Poles, Jews, and Ukrainians all vying for a piece of the lucrative Galician oil pie. Emigrants from the far corners of the Galician and Russian Empires as well as nearby Bukovina flooded into Drohobycz for work. Some individuals made lucrative livings and stayed to raise families; some did not and eventually left. Because of the oil industry, Drohobycz was a magnet for opportunity seekers and was particularly attractive to Jews fleeing pogroms in the east.
Michał's father Osias was one of the successful merchants. His timber business supplied wood from the nearby Carpathian forests to construct shafts, buildings, and derricks.
Prewar Drohobycz also produced a remarkably high number of gifted writers and artists. This is the second characteristic I believe makes Galician Drohobycz unique and rich to study and research. Drohobycz artists represented today in national museums around the world include Ephraim Moses Lilien and brothers Leopold and Maurycy Gottlieb, to name a few, as well as Bruno Schulz, perhaps best known as a writer but equally accomplished and recognized for his drawings and paintings. During his short but accomplished life (when not otherwise teaching school in Drohobycz; a job he did not enjoy), Schulz held art exhibitions in several European capitals including Paris. [See sampling of Bruno Schulz's artwork here.]
Schulz was two years older than Michał, born in Drohobycz in 1892 to a middle class Jewish family. His mother Henrietta ran a textile shop on the Drohobycz rynek (market square). As a young man Schulz studied architecture at the University of Lwów and studied fine arts in Vienna, specializing in lithography and drawing. From 1924 to 1939 he was an art teacher in a Drohobycz gymnasium (equivalent of high school); his literary career was not launched until he was nearly 40 years old.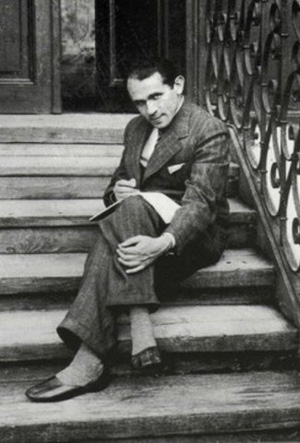 Bruno Schulz in Drohobycz.

During the 1920s, a group of Drohobycz young men and women interested in the arts—mostly Jewish—formed a group which regularly met at a house at ul Szewczenki 32. The group was known as the "Kalleia" group. An historic brochure for the group described its formation and purpose and a few of its more prominent members:
"Emanuel Pilpel—law student, music lover, connoisseur of literature and art—brings together at his home artistic and literary types—young Jewish men and women of Drohobycz—of which Bruno Schulz is a member. Others include: Maria Buratzka, later an opera singer; Michał Chajes, a lawyer; Stanislaw Weingarten, an engineer in the oil company Galcyja; Otokar Jawrower, a conductor of chamber music and close friend to Schulz as well as a collector of his art and a patron of the arts."
Whether this was where Michał first met Schulz and cultivated his lifelong passion for collecting art by Jewish Galician artists, or whether the two were already friends from their school years is not known for sure, but I suspect they at least already knew of each other: Michał Chajes was a student at the Drohobycz Gymnasium in 1912, Schulz was there in 1910, and Emanuel Pilpel, the founder of the Kalleia group, in 1911. [See 1912 Drohobycz Gymnasium Directory here.]
In 1912 following graduation, Michał left Drohobycz for Kraków where he enrolled in the Department of Philosophy of Jagiellonian University. While a student he lived at ul Starowiślna 16. He began studying law in 1914 (słuchacz prawnik) but his studies were interrupted by the outbreak of World War I. Michał, like so many of our Galician Jewish family members, served in the Austrian Army, in his case as military administrator. Following the armistice, Michał returned to Drohobyzc and married Róza Liza Zuckerberg. A daughter named Bolesława (nicknamed Nuta) was born to the couple in 1923. As we shall see, Nuta would be the couple's only offspring. She would survive the War. Róza would not. [See 1912-17 Jagiellonian University – Department of Philosophy Directory here.]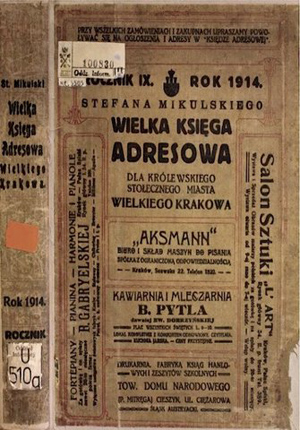 1914 Krakow Business Directory
See contents here.

By 1925 Michał was back in Kraków at ul Starowiślna 16 working again as an attorney; four years later, however, he and the family go back to Drohobycz. (The following year, in 1930, Michał's father passes away). The vacated apartment at ul Starowiślna 16 in Kraków conveniently becomes home to Michał's older sister Regina, there with her husband Bernard and daughter Romana. Romana is a student in the Department of Philosophy at Jagiellonian University, following in the academic footsteps of her uncle Michał. Bernard dies not long after moving into ul Starowiślna 16.
Michał, his wife Róza, and their daughter Nuta continue to live and work in Drohobycz. 1938 will be their final year together as a family.
Bruno Schulz is also in Drohobycz in 1938 working as a professor at the local gymnasium. That summer he applies for a visa to go to Paris to exhibit his artwork. He is granted a leave of absence from teaching.
War is declared on September 1, 1939.
Michał has been conscripted into the Polish Army 10 days prior.
The Nazis invade Drohobycz, followed a few weeks later by the Red Army. Meanwhile, Michał's widowed sister Regina flees Kraków with her daughter Romana. They head first to Warsaw, then to Lwów where they are deported to Siberia with hundreds of others. They remain there until 1946. Deportation saves their lives.
Michał's military unit is captured by the Germans and he is imprisoned, then deported to the German camp Luckenwalde, Stalag IIIA. Prisoners there serve the German war industry and provide labor for households of civilians in the town of Luckenwalde. Michał is then transferred to an internment camp in Vámosmikola, Hungary, for Jewish members of the Polish army.
It's 1941 and the Nazis re-take Drohobycz. This has catastrophic consequences for the Chajes family, Bruno Schulz, and the local Jewish community.
For Schulz, though interred with thousands of other Jews in the ghetto of Drohobycz and sickly (reported by those who last saw him as emaciated and barefoot), he has managed by 1942 to find work at the Drohobycz library, the Nazi-designated collecting point in Galicia for books and literary works looted from libraries, schools, and Jewish families across the occupied territories. Schulz's function is to sort and index the books and flag those considered degenerate and eligible for burning. Schulz has also managed to catch the eye of Felix Landau of the Gestapo, a self-described patron of the arts. Working mostly nights at Landau's home in Drohobycz, Schulz has been "commissioned" to paint murals on the bedroom walls of Landau's son. He works slowly hoping to extend his time indoors and his likelihood of survival. Unfortuately, the hot-headed Landau executes a Jewish dentist being "protected" by a rival Gestapo. The rival takes his revenge in tracking down Schulz and shooting him twice in the head, triumphantly telling Landau, "You killed my Jew—I killed yours." Schulz dies in the street still holding the loaf of bread he had just bought and a false Aryan passport (purportedly with plans to escape that night to Warsaw). He was 50 years old. A friend buries him in an unmarked grave at the Drohobycz Jewish cemetery.
Michał's wife Róza, now alone in Drohobycz while her husband is a prisoner in Vámosmikola, is in 1943 marched with 11,000 others to the Bronica forest outside of Drohobycz and shot. Drohobycz is declared "clear of Jews" (Judenrein) on July 15, 1943. It isn't until after the war that Michał learns of Róza's murder and the location of the enormous mass grave site in the Bronica forest.
Daughter Nuta, who has somehow managed to survive the camps, re-joins her father Michał in Kraków. It is 1945 and the War is over. She is 22 years old; he is 51. The following year Nuta immigrates to France where she marries a man named Max Silberstein, born in Vienna and himself a Jewish refugee. From France the couple emigrates to Australia and raises a family. Their daughter Marlene today lives in Australia.
For Michał, life begins again. He marries Felicya Bannet, a Shoah survivor originally from Ostrava, Czechoslovakia. His widowed sister Regina and daughter Romana stagger back to Kraków from Siberia. The foursome live together—cling together—at Plac Na Groblach 17. The former residence at ul Starowiślna 16 in Kraków is now owned and occupied by a Polish family, and full-time work as an attorney for a man in his 50s is nearly impossible. Michał abandons his private law practice and acts for a time as legal advisor to "key industries" of the new Polish State. He picks up his lifelong passion for art and renews collecting, and, according to the memoir of Leo Lauterbach, Michał amasses "a note-worthy and much-admired collection...turning (the) residence in Kraków into a kind of private museum." His focus is contemporary Jewish artists from Galicia, specifically Kraków, Lwów, and Drohobycz, most of whom had perished in the Shoah, some of whom he had personally known in Drohobycz.
A 1946 record of the American Joint Distribution Committee (JDC) reveals that Michał wrote the JDC seeking financial help, which prompted a visit from the Kraków office of the JDC, one of the key post-war organizations physically checking on Holocaust survivors. The JDC report noted that Michał was in "bad financial condition" and that his sole source of income was in giving "informal legal advice". The JDC sent him 3,000 złoty (or about $750 at today's currency conversion). [See Michał's letter to the JDC here.]
In 1948 Michał then made application to the American Hebrew Immigrant Aid Society (HIAS) to immigrate to Sweden under the Skilled Workers Scheme. His application was declined. He was 54 years old. That same year he began to liquidate portions of his art collection, selling pieces to other collectors as well as to Jewish relief organizations and institutions. The family also downsized, moving into a smaller apartment at ul. Gertrudy 23/4, Kraków. [See selection of artwork sold by Michał around 1948 here.]
In 1959, Michał's second wife Felicya passed away following complications from surgery. It is not until 1967 that Michał remarries, this time to Marie Ladislava Alexandra, born in Lwów. He is 73 years old. She is 47. In 1969, two years later, Michał himself passes away, followed by his sister Regina. According to her wishes, sister Regina is buried alongside her husband Bernard at Kraków's Jewish cemetery on ul. Miodowa. Michał is buried not far from them. I never learned what became of Regina's daughter Romana.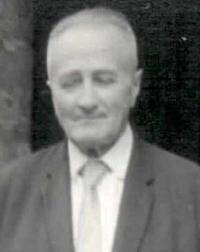 Michael Chajes 1967
[See full wedding photo here.]


I did however learn the fate of Michał's brothers and their families:

Arnold Chajes, Judge: shot and killed in Stryj in 1941, 58 years old.

Arnold's wife Amalia and son Edmund: executed in Stryj in August 1942. She was 57, he was only 13.

Teofil Chajes, Lawyer: executed outside Drohobycz in 1943, age 58.

Teofil's wife Anna: deported in 1943 to Bełźec and killed, age 52.

Teofil's daughter Fryderyka: forced laborer at the central laboratory of a camp near Drohobycz; deported in 1944 to the Stutthof exterminaton camp in East Prussia where we presume she died at age 19.

Teofil's daughter Berta: married Norbert Hendel of Drohobycz in 1942, deported together to the Soviet East. They both survived the War, immigrating in 1946 to Palestine with their one year old son named Teofil. Teofil's son Uzi lives today in Israel.

I also never found answers to some of the key questions surrounding the Schulz 1935 drawing. For example, when and how did Michał Chajes acquire the Schulz drawing? How did the drawing survive the War, and where?

Questions without answers.... Yet.

From a notation, a red stamp on the backside of a work of art created in 1935 by Bruno Schulz, we recall over half a century later the name and life of a Jewish lawyer: Michał Chajes.

While so many lives of this prominent Drohobycz family met violent ends, two lines survived: one in Israel and one in Australia. In Israel is the granddaughter of Michał Chajes. In Australia is the grandson of Teofil Chajes, Michał's older brother. Reconnected today because of a drawing.

February 2016
Warsaw, Poland


Acknowledgements by Marla Raucher Osborn

With deep appreciation and special thanks to the following people, without whom the memory and fate of Michał Chajes and the Chajes family might never have seen the light of day in so complete and detailed a form:

Dr. Teresa Śmiechowska, Jewish Historical Institute - ŹIH (Poland)
Dr. Vita Susak, L'viv Gallery of Art (Ukraine)
Uzi Hendel, grandson of Teofil Chajes (Israel)
Marlene Krasovitsky, granddaughter of Michał Chajes (Australia)
Alex Lauterbach, whose family memoir was an indispensable resource (California, USA)
Daniela Mavor and the Drohobycz-Borysław Survivors and Descendants Group (Israel): http://www.drohobycz-boryslaw.org/en


Archives · Current Stories