When I teach an introduction to Jewish genealogy, I always tell students that their very first step should be to check the JewishGen Family Finder (JGFF) to see if anyone else is researching their names and towns. I have done this myself for years (always with the hopeful fantasy that I will find someone who has already done a full family tree on that line—but sometimes with the dismaying discovery that the poster hasn't logged on for more than 10 years!).
I've had my share of successes with this route, most notably a call from a man in Israel who saw my post about his grandmother (my grandfather's sister, about whom I knew nothing but her surname).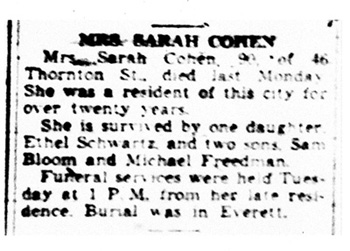 Faded 1946 Obituary for Sarah Cohen from
the Revere Journal

Lately I have been researching a family from Slavuta, Ukraine. Their patriarch in the United States was named Wolf Katz—changed to Cohen—and he died at the age of 106! I have both his death record and a photo of his tombstone. He was notable not just for his age, but his extreme height—6 foot-8 inches. (One of his great-grandsons told me that his own father and uncle, who were carpenters, had to make a coffin for Wolf because the undertaker couldn't handle him.)
I believe that Wolf and his third wife, Sarah (maiden name perhaps Sakowitz), came to Boston shortly before they had a child together in 1900. I found in the 1910 census that she had a son named Michael Friedman, and I eventually located his grave next to his half-sister (the daughter born in 1900 to Wolf and Sarah, whose death certificate I found). She was Ethel Cohen Schwartz, and Wolfe and Sarah moved in with her and her husband in Revere, Massachusetts (home of the famous first public beach in the U.S.).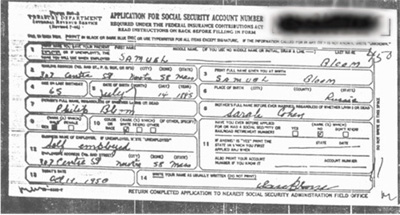 Samuel Bloom's 1950 Application for a Social Security Card



I found a short obituary for her in the Revere Journal (based on the death date on her death certificate end tombstone) and it said that she left two sons—Michael Friedman and Sam Bloom! I assumed that she had been married at least twice before Wolf, and I did have some glimpses of Michael Friedman (also spelled Freedman) in records I had accessed. But I could not find a trace of a Sam Bloom whom I could reliably identify as the right one.
Failing everything else, I found a posting on JGFF for "Bloom, Slavuta," so I wrote to the researcher. It turns out that Sam Bloom was his great-uncle! This researcher in turn only knew one thing about Sam, that Sam had indicated on his Social Security Application Form that his mother was Sarah Cohen, and he had no idea who she was.
So each of us had one tiny piece of information, not enough to decipher—but together we could piece together the whole story. It wasn't my fantasy of a full tree, but it sure clicked into place!
May 2015
Dedham, Massachusetts USA