Around Mother's Day 2011, I was looking through some old papers my mother had given me that had come from my grandmother, Goldie/Olga Diamond, who had married Chaim (Hyman/Charlie) Zaslow (Zaslavsky). On the application for civil marriage the name of my maternal great-grandmother appeared as Dora Hummel. This was the first time in my then 57 years that I had ever heard the Hummel name. This began my search.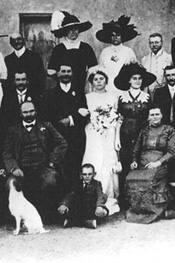 Hummel – Kowen Wedding – c. 1911 – Upington, South Africa. Click here to see full wedding photo.


I went to JewishGen.org and, knowing the family was from Latvia, looked at the Family Finder database and found three others looking for Hummels: Loretta Weingel-Fidel from Manhattan; Esther Hummel from Israel via Uppington, South Africa; and Melanie Hummel Burke from Georgia via South Africa. Based on the information they provided, it was clear they were all cousins. Melanie and Esther already knew each other—they are first cousins. I still didn't know how I fit in but they all mentioned they knew they had relatives in Kentucky.
I then Googled "Jewish Hummel Kentucky". What came up was an obituary listing the surviving son as Dennis Hummel, Esq. That was easy enough. Googled Dennis and found his law firm and of course emailed him immediately. He was thrilled and remembered a visit from a South African relative in the 1960s, who turned out to be Esther's father, Abe Hummel. We still weren't sure how Loretta fit in but knew it was a piece of the puzzle which would certainly be found.
It took quite some time to confirm my connection to these Hummels but Loretta and I, with great determination and perseverance, searched through all the records on JewishGen, including the Latvia Databases, as well as Ancestry.com—and any other genealogy sites we could find. Loretta had done a tremendous amount of research prior to us ever connecting and had years' worth of finds as well as audio tapes from her mother about her family. Bingo! Through her research, and other online documentation, we found that the common ancestor was their great-great-grandfather, Abram Hummel, making them third cousins. Loretta's great-grandfather, Moses Behr, was his son as was Vulf Hummel, the great-grandfather of my other mentioned cousins. My great-great-grandfather was Beynos/Beines/Benjamin Hummel, father of Dora— I found his name on her gravestone. Beynos Hummel and Abram Hummel were brothers, making us fourth cousins. The South African branch of the family and Dennis Hummel are second cousins, sharing Wulf Hummel as their great-grandfather. We also found that Beynos and Abram had two other brothers, Itzig and Hirsch/Girsch.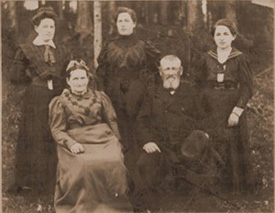 Chaya (Goldberg) and Moses Behr Hummel with daughters Rebecca, Lydia (who died in the Holocaust), and Hanna – early 1900s – Talsi, Latvia. Three children not pictured had already left for America.


In July 2012, Loretta and husband Gary from Manhattan, and Dennis and wife Judy from Louisville, came to Philadelphia for all of us to meet. They stayed at my home and several Philadelphia cousins, all descendants of Dora Hummel, gathered for our first "family union". I also have a home in Israel and have now met Esther there several times. Esther, along with Melanie from Georgia, Skyped in to our Philadelphia gathering so all of us could meet. It was as if we had known each other all our lives.
In addition to Esther, Loretta's first cousin Mira now lives in Israel where she emigrated in the 1960s from Riga, Latvia. Mira's mother was one of the only Hummel descendants (her mom was a Hummel, married to Hirschfeld), who returned after hiding during the war to find most of her family had perished.
Yet another cousin appeared last year. He contacted Loretta through her posting on JewishGen's Family Finder looking for Hummel as well as Hirschfield descendants from Talsi, Latvia. Andrew Glasser from Australia is a descendant of Itzig Hummel, our great-great-grandfathers' brother. Loretta and I had found a document listing Mina Hummel married to Paul Glaser who together moved to Australia from Talsi, Latvia in the late 1800s but we didn't know the exact connection. Now we learned that Mina was the daughter of Itzig—and we added another cousin to our growing group!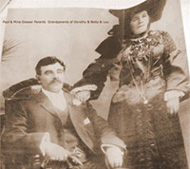 Paul and Mina (Hummel) Glasser – early 1900s - Launceston, Tasmania.


While in Israel in 2012, Esther and I began to plan for a family reunion. Esther's father, Abe, is deceased but her mom and three other siblings all live in Toronto. In July 2013, 39 Hummel descendants met in Toronto—many of us meeting for the first time. Hummel cousins arrived from as far away as Israel, Australia, and South Africa. From the US, we came from New York, Pennsylvania, Kentucky, Virginia, Georgia, Illinois and Florida. It was an amazing weekend, enjoyed by all. Some of the comments we shared after the reunion include: "My head is spinning with all this information about the family…this was one of the most exciting things that has happened to me." "Fantastic. I think everyone is still in awe from the weekend." "I am still basking in the joy of our weekend in Toronto. Meeting and spending time with all of you was truly very special and it's a weekend I shall never forget."
I know there are descendants of relatives in France and most probably Germany, but we have not been able to make contact with any of them. There are Hummels listed on JewishGen from Germany and we assume they may be somehow related.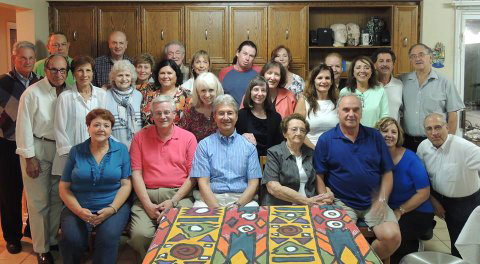 Hummel Family Reunion – July 2013 – Toronto, Canada


During that first gathering in Philadelphia, I heard from Herb Gordon, a Philadelphia second cousin, that our grandmothers' family name was originally Berghaus, changed to Diamond after they arrived in Philadelphia. I had never heard that name and as a result was finally able to find the ship manifests of my grandmother and her entire family, except for her brother, who I only knew had died during the war in France. Only recently, Loretta found a listing for Zelik Berghaus who had perished in Auschwitz. The Yad Vashem site indicates that Zelik was the son of Dora Hummel and Hirsch Berghaus. (See family portrait here.)
Unfortunately, there were many Hummels who perished during the Holocaust. Though many branches of our tree have been cut off, we continue to grow. It seems the more information we find the more questions arise, but thanks to JewishGen this has been a fascinating journey and we treasure our new family connections.
March 2014
Philadelphia, Pennsylvania, USA