I knew very little about the family of my paternal grandfather Sam (Shlomo) Lefkowitz; he never spoke about them. He was born in Skierniewice, Poland, in 1881 and immigrated to the United States in 1913. I knew his sister who came to the US with him, but that was all. My aunt told me he had another sister who went to Palestine in the 1920s but that this sister was estranged from my grandfather and his sister in the US. We assumed the rest of the family was murdered in the Holocaust. Fortunately my aunt remembered the names of my grandfather's parents: Moishe Lefkowitz and Shaindla Mezelsor, and she remembered that my grandfather was born in Skierniewice, though he moved 30 miles away to Zychlin to marry my grandmother in 1906. We knew much about my grandmother's family from Zychlin but nothing about the family my grandfather left behind in Skierniewice.
About fifteen years ago I posted my surnames and towns on the JewishGen Family Finder and hoped that maybe, one day, someone would recognize them.
I gleaned all the information I could from the JewishGen databases. After a few years of not finding enough information on my own, I hired a researcher from Warsaw who was recommended to me in a private communication with a JewishGenner I connected with through the JewishGen Discussion Group. This researcher found some spotty information on my grandfather's Lefkowitz family from Skierniewice in the archives in Lodz and the Warsaw archives in Grodzisk, but many records were missing. She was, however, able to completely reconstruct my grandfather's mother's Mezelsor family from Skierniewice. There were many variant spellings of the name, most commonly written as Mozelsjo. We discovered that by the time my grandfather left Skierniewice for Zychlin, most of his Mozesljo family had already moved to Lodz.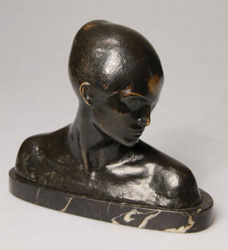 Bust Sculpted by Simon Moselsio


Fast forward to 2014, having long forgotten about the Mozelsjo ancestors while working on other parts of my family tree, I received an e-mail through the JewishGen Family Finder from someone researching his Moselsio ancestors from Lodz with a link to information about a noted sculptor named Simon Moselsio. This researcher was trying to ascertain whether he was related to Simon Moselsio and asked me if I knew if I was related to the artist. He had found many newspaper articles and photos of the sculptor and his acclaimed work and was fascinated by his art and his life.
We learned from the articles that Simon Moselsio was born in Lodz in 1890, moved to Berlin and married an artist named Herta; and together they moved to New York in 1924. They were members of an avante-garde art movement and relocated to Bennington, Vermont, where Simon taught art at Bennington College for 30 years until he died in 1963. Simon traveled around the US and to Europe for shows of his work, which today are housed in the permanent collections of many museums.
Putting together the information about Simon Moselsio from the newspaper articles and the family tree I had for the Mozelsjo family from Skierniewice, we were able to locate Simon on my tree. He was born Szmaja Mozelsjo on December 17, 1890 in Lodz to Wolek Mozelsjo and Rachele Cymerman. We were able to figure out how Simon Moselsio is related to the Mozelsjo descendant who contacted me, and how Simon is related to me—first cousin to my paternal grandfather, Sam Lefkowitz.
It is gratifying to have the names and dates of our ancestors in a tree, but it's even more gratifying when we can flesh out these people, learning who they were and how they lived their lives. As I was looking at the pictures of Simon Moselsio's sculptures, I was struck by the contrast between my very religious grandfather, whose life revolved around shul and davening, and his avante-garde cousin who was creating beautiful bronze sculptures of naked women.
The lesson I learned from this exciting discovery is that you have to get your information out there where people can see it and respond. Post your family names and towns on the JewishGen Family Finder and the Family Tree of the Jewish People. You never know who might be holding the missing piece of your puzzle.
March 2014
Monterey, California, USA