Every year, the sixth grade children at my daughter's school are assigned to work on a family history project. This year was her turn. Back in February, while she was finishing the assignment, I went to my grandmother's box of old photos to see which ones my daughter could use. There was one photo in particular that jumped out at me. I didn't know what happened to this relative and was curious.
The photo postcard, postmarked 4 December 1915, was of a German World War I soldier, dressed in uniform and standing in front of a sign that said: Feldzug 1914 (Campaign 1914). On the back of the postcard was a letter written to my great-great-grandmother Rosina Lorig Hirsch in Thalfang, Germany, from her nephew Salomon Lorig. I wanted to know, did Salomon survive the war? If so, did he make it out of Germany before the start of the Holocaust?
My great-great-great-grandfather was also named Salomon Lorig. He had eight children and most of them also named a son after their father. This gave me a number of men with the name of Salomon Lorig to consider! I narrowed the search down to three possibilities by estimating the age of the person in the photo. I then began an on-line search for my Salomon Lorig.
I was already aware that JewishGen's Family Finder and the Germany Database contained information relating to my Lorig family, who had lived for generations in Butzweiler, Germany, but the information from these sources did not solve the mystery of Salomon Lorig. I then began to search on-line for family trees, including Ancestry.com and Google. My Google search led me to Geni.com.
On the Geni website I found a tree containing the name Salomon Lorig and I noticed that other people in the tree were part of my family, so I sent an email to the owner. She responded back and asked me to send her the photo. After sending it, I received a reply from her saying, "This is my grandfather!!!" Not only did Salomon survive the war but he also made it out of Germany in 1936 with his family. They moved to Tel Aviv and started a new life there.
I also learned that Salomon Lorig was born in Schillingen, Rhineland-Palatinate, Germany, in 1890 and died in Israel in 1970. One of the most precious family heirlooms that Salomon and his family brought with them to Israel was my maternal great-great-great-grandmother's prayer book.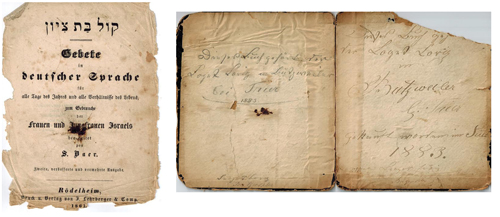 Prayer Book Belonging to my Great-Great-Great-Grandmother, Loget Lorig,
Inscribed in 1883. Link to larger photo.

The most rewarding part about this new discovery, however, was meeting my cousins in person. My mother was visiting from New York earlier this year and we took a trip from our home in Jerusalem to Tel Aviv to meet our newly-found relatives. The visit lasted hours and we had a wonderful time. Salomon Lorig's daughter Edith and my mother are second cousins, once removed.
I had thought I was finished researching my Lorig family a few years ago. Little did I know that the search is never over because there is always something new to discover.
August 2014
Jerusalem, Israel