This continues the story that was posted in the March 2014 Issue of Success! Stories. Click on this link to read the original story.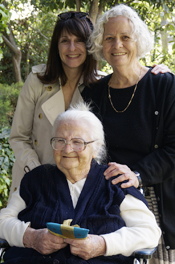 Marla with Hana and Her Daughter Dalia in Jerusalem April 2014


We arrived in Jerusalem on April 1st, and the very next morning went to visit 102-year old Hana, my link to the past. It was a lovely visit. We sat in the garden of the assisted living facility where Hana resides. The staff was curious and attentive to our little reunion. Although Hana today sleeps much of the day and never speaks, she seemed calm and happy. She smiled when her daughter Dalia gently spoke the names of our connection: Jüte, Bronia, and Chaim.
Several days later, my husband and I boarded a Jerusalem bus with Dalia for Haifa, where Dalia was born and where my great-grand-aunt Jüte Horn and her husband Chaim Teichman settled when they arrived in Palestine. It was here at the home of the Margulies family in the summer of 1934 that, according to a family letter, "Dr. Horn arrived and in what condition she found her husband it is impossible to describe and write."
And it was at 32 Herzl, on one of the historic main boulevards of this lovely port city, that Jüte opened a dental practice, and for which in the fall of 1950 she ran an ad in the Davar newspaper notifying her patients that the clinic was open again for business after her holiday abroad.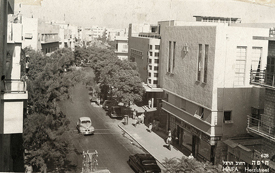 Herzl Street 1950s
Link to the current photo.

Today, Herzl Boulevard and the surrounding neighborhoods are inhabited mostly by Jewish immigrants from Russia who arrived in the late 1980s and early 1990s (considered by many to be the "new immigrants"). The photo at right shows Herzl Boulevard in the 1950s and the linked photo shows it as it is today.
Back in Jerusalem, I turned my focus to Chaim, wanting to learn more about his life after making Aliyah in 1933.
My research prior to my trip to Israel had yielded a number of newspaper articles that discussed Chaim's law practice in Tel Aviv as well as his early entry in politics, including his travel to America for Zionist causes as a member of the World Jewish Congress. I had even contacted Harvard and obtained a copy of his 1955 doctorate in economics and international relations.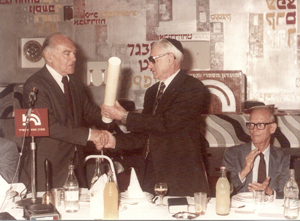 Chaim Teichman 1983 - President of the Commerce and Industry Club


His 1993 Haaretz obituary intrigued me: Chaim had been "known for his ability to attract donors for the General Zionists and for his connections with Harvard alumni, including Henry Kissinger." Also, that "he twice served as president of the Commerce and Industry Club, was a director of the Jewish Agency representing the General Zionists, was a director of the Independent Liberal Party, and afterwards was a director of the Liberal Party and a director of the Tel Aviv branch of the Likud."
Perhaps there were historic photos of Chaim available for me here in Israel? I only had two photos, both from Chaim's two Polish passports, which I had obtained from the Jewish Historical Institute in Warsaw.
So, I reached out to my friends in the Israel Genealogical Research Association and Israel Genealogy Society, asking for leads. Within an hour, I tripled my collection! Several people found photos of Chaim from a 1983 event when he was President of the Commerce and Industry Club in Tel Aviv; another found a wonderful (though undated) back and white photo of Chaim at the Central Zionist Archives.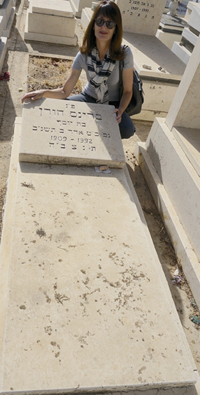 Marla at Bronia Horn's Gravesite, K'far Saba, May 2014


Jute's Sister - Bronia Horn
Click on this link to see Marla's story about her search for Bronia in the August 2013 issue of Success! Stories.
In May I visited my Bronia.
Her gravesite was located at the far corner of the cemetery of the K'far Saba cemetery, only a few rows from the end. The roar of the nearby freeway filled the empty place, devoid of visitors.
I brought with me a photo of Bronia's headstone—written solely in Hebrew—that had been taken for me by friends in the local genealogy societies a few years ago, before I ever imagined coming to Israel to visit her. It was not hard to find her.
We talked. We had a lot of news to catch up on.
August 2014
Warsaw, Poland