Last year I posted the names of my maternal great-great grandparents on JewishGen's Family Finder database. A week later I received an email from a woman named Miriam Perlson-Cohn who stated that her great-great-grandparents had the same exact names and came from the same village: Jekutiel (Kusel) Levi Wertheimer and Clara Grombacher Wertheimer, of Gemmingen, Germany.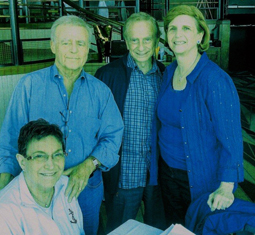 L to R: Susan and Lowell Halpern, Fred Cohn and Miriam Perlson-Cohn, June 2014.

After emailing and exchanging information for several months, we came to the conclusion that we were truly cousins! It turns out that Miriam's great-grandfather, Low (Loeb/Leopold) Wertheimer, and my great-grandfather, Isak (Isaac) Wertheimer, were brothers. We spoke by phone and confirmed many facts. Since then we have accounted for common relatives reaching back to 1739!
My wife Susan and I had a trip planned to California in June 2014. My new cousin lives only twenty-five minutes from our destination, so we arranged to meet Miriam and her husband Fred. The four of us spent the day together and shared a wonderful time over dinner on the Wharf in San Francisco. This has been a truly awesome and meaningful experience that I now treasure. I sincerely appreciate how JewishGen got us connected!
Postscript: I just completed writing a book about my ancestors, and my autobiography, for the benefit of my offspring and other relatives, which will be printed shortly. The culmination of this is that my wife and I have planned a journey in June 2015 to visit the birthplaces of my grandparents. My oldest daughter and my grandson will be joining us.
August 2014
Lakeworth, Florida, USA