My mother, Chaya Olga Lob (née Heller), was born in Érmihályfalva, a little border-town in northern Romania, Transylvania, a few miles from the Hungarian border. My great-grandfather, Dov Berl Weisz, and my grandfather, Moshe Heller, owned a textile store there. In 1944 all the town's Jews, including my mother and her family, were transported to Auschwitz. My grandparents, great-grandparents and most of the family never returned from there.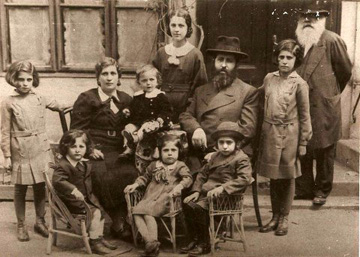 Author's mother Chaya Olga Heller (right) standing in front of her grandfather Dov Berl Weisz; with her seated parents Moshe and Miriam-Rachel Heller, and siblings - Érmihályfalva, Romania – c. 1938; see additional photo here.

My mother survived Auschwitz and four other death-camps to which she was moved. She was liberated in Bergen-Belsen with her two sisters. Sadly, the younger sister Yitu perished shortly thereafter. Only my mother Chaya and her older sister Sara survived.
Last year I travelled with some relatives on a "roots journey" to Érmihályfalva, which also is called Valea lui Mihai. We went to see the remains of what was once a large and nice Jewish community. One member of the group was Mrs. Tsipora Feivlovicz, maiden name Klein, who is related to me through my great-grandfather's sister. Mrs. Feivlovicz, who was born in Érmihályfalva, had also been transported to Auschwitz as a teenager, along with her family.
After the war, my mother, Mrs. Feivlovicz and other survivors came back to Érmihályfalva to find their families. Unfortunately, most of them had perished. Only a very few family members and the empty houses, schools, and synagogues, welcomed them.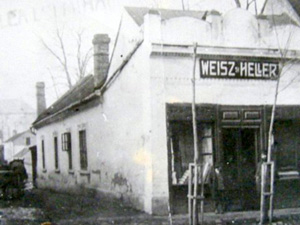 Weisz-Heller textile store with family home in back - Érmihályfalva, Romania – c. 1930. To see the building site today, click here.

My late mother never went back again. Yet, Mrs. Feivlovicz did visit now, after 67 years! But the houses she remembered weren't there. She found almost nothing from those days. We were so shocked to see that, except for the synagogue and the school, very few houses that had belonged to Jews remained. Everything was demolished!
One can imagine the shock we felt, especially Mrs. Feivlovicz.
For many years, Mrs. Feivlovicz has given testimony about her experiences, lecturing in Israel and abroad, especially in Germany, about the Holocaust. She accompanies Israel Defense Forces soldiers and high school students to "The Life March" every year in Auschwitz.
A Fortunate Encounter at the Synagogue
While standing next to the old Érmihályfalva synagogue, a man on his bicycle approached us and asked who we were. We started talking, getting the notion that he is one of the last Jews in the town. His name is Mr. Lajos Klein—no relation to Mrs. Feivlovicz (Klein)—and he's in charge of the synagogue's rehabilitation and reconstruction, especially the interior renovation.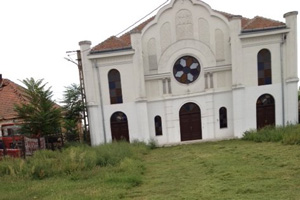 Érmihályfalva Synagogue – 2012

Right away he brought the keys and showed us in. Mrs. Feivlovicz asked him many questions, and answered his questions, as well, about how the synagogue looked in the past. As we were talking about the local Jewish history, I told him who my family was and where they had lived. He said he heard about some of them, but being relatively young, he hadn't known them.
I then mentioned that my great-grandparents were Dov Berl and Beila Weisz. Amazingly, he told me that he was currently living in their old house, a house that he had purchased some years ago from the previous owner.
The second very astonishing thing was his announcement that he had their Mezuzah. Imagine my excitement!
I had always wanted so much to hold some object that belonged to my ancestors. Without any hesitation, Mr. Klein proclaimed that he would give the Mezuzah to me. I thanked him deeply, yet said maybe he should keep it. He reassured me of his sincere wish to give it to me, saying: "It belongs to you."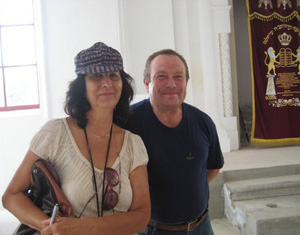 Rachel Lev-Leshem and Lajos Klein in the Synagogue at Érmihályfalva, 2012. See photo of Mrs. Feivlovicz here.

I was really thrilled and happy! At this point, as tear drops fell down my face, and my heart beat a little stronger, my whole being was filled with thoughts about my lost family and the Jewish fate.
The Mezuzah
How was the Mezuzah found? About seven years ago, when the house that had belonged to my great-grandparents was renovated, the Mezuzah was revealed on one of the doorposts, under a tin-sheet, whitewashed over. Very carefully, it was removed.
Mr. Klein kept it until the right time and the right person came along. Meeting me, this good man decided that I was that right person to have the Mezuzah.
We left the synagogue in order to see more places. Meantime, on his bike, Mr. Klein came back from his house across the road telling me he didn't find the Mezuzah, that his wife would be able to help him locate it, but she wasn't at home. So we decided to meet later in the Jewish cemetery, which we planned to visit that afternoon.
After about three hours in the city hall and archives, it became late. My companions, feeling very tired, decided to return to Budapest. As sorry as I could be, I called Mr. Klein to apologize for leaving and having him wait at the cemetery. He reassured me the Mezuzah would come to Israel, next summer, with one of his relatives.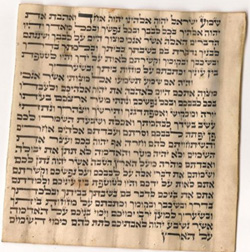 Weisz Family Mezuzah recovered in 2012

I came back home happy and excited, though without any Mezuzah.
About two weeks later, a few days before Yom Kippur, I had a phone call from Mr. Klein telling me that his neighbor's son was on his way back home to Israel and would bring me the Mezuzah.
Of course my family and I were very happy with this news. In the midst of Succoth we met in Tel-Aviv and my great-grandparents' Mezuzah was handed to me. Thus I touched this holy parchment for the first time!
From here, I'd like to thank this dear man—Mr. Lajos Klein from Érmihályfalva—for being such a good and generous person in giving me the Mezuzah, for his dedication and devotion to Jewish history by welcoming Jewish visitors to Érmihályfalva, and especially for taking care of the synagogue, one of the last remaining Jewish symbols there.
My gratitude also to Mr. Tibor Munkacsi for bringing the Mezuzah to me.
May 2013
Gan Yoshiya, Israel