A slightly different version of this story was originally published on January 17, 2013, in Jweekly.com. Reprint permission granted.
My name is Janet and I'm a genoholic. My obsession has taken me to cemeteries from Brooklyn to Bavaria. I've strained my eyes on microfilm in Lower Manhattan. I've pored through online ships' manifests, census reports and newspaper archives. I even drove hundreds of miles to meet a third cousin who lived near the Mexican border with her family of teddy bears.
Eleven years ago, I was propelled by journalistic curiosity, call it self-interest. But now I'm part of a symbiotic chain, with worldwide links.
Believing that all my relatives had settled in New York or New Jersey, I was surprised to learn I wasn't the first in my family to head west. Now I've discovered maternal and paternal relatives who settled in mid-19th-century San Francisco.
"Scott had half the puzzle. I had missing pieces."
Just before New Year's, I received an email from Scott London, a photographer and journalist in Santa Barbara. He found me through my posting on JewishGen's Family Finder and wondered if we were linked through the Redlich family from Kalisz, Poland. He was pursuing research begun by his late grandfather, history professor Irwin Abrams.
Scott had half the puzzle. I had missing pieces. My paternal great-grandmother Dorothea Redlich Silver (1842-1881) and his great-great-great-grandfather Ludwig Redlich (1833-1909) were sister and brother.
We were third cousins twice removed, and I had found the smoking gun—a common niece who in the 1861 English census was in Sheffield with her parents and my great-grandmother. Nineteen years later, in the 1880 U.S. census, she kept house in the Pennsylvania home of Scott's ancestors. Meanwhile, in 1864 my great-grandmother married Henry Silver in St. Louis and later moved to Hoboken, N.J., where my grandfather Seymour Silver was born.
Before we delved into genealogy, neither Scott nor I knew we had English relatives. I didn't even know my great-grandmother's maiden name.
"I knew there was a Sheffield connection, but I didn't know what to do with it," he said. "You provided that very crucial clue that helped me to go to the next step."
Together we put the links together. I pointed out Jewish naming customs to Scott, who isn't Jewish. After comparing the names of our ancestors' children, he found their parents in the Jewish Records Indexing–Poland database that he connected to via JewishGen. I also gained a California connection. His ancestors later settled in San Francisco, where they Americanized the surname and launched Redlicks furniture store, a Mission District landmark until 1975.
When I opened Scott's scan of an 1883 family photo, I discovered that two of Ludwig's sons resembled my paternal grandfather. He also emailed a photo of a young Dianne Feinstein with Charles Redlick (1914-2008), president of Redlicks and the Better Business Bureau.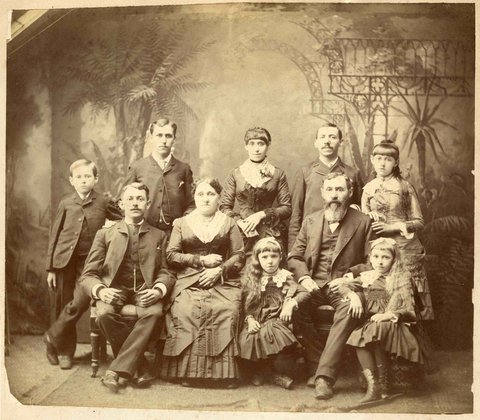 Bertha and Ludwig Redlick and their children - Kalamazoo, Michigan - 1883

Searches take persistence. That's how I found Constant Vaughn Hopkins, a twice-widowed third cousin who thought she had no living relatives. It took years to find her. On one website, her surname was spelled "Vaugh," her phone number lacked a digit and her area code was incorrect. The website manager in Brussels lost his database and his patience with me.
On another site, I found a Sierra Vista, Arizona, address, but Constant had moved. With the help of a reverse directory, I spoke to the man who bought her house. He thought she was still in Sierra Vista, but her name had changed. As a last resort, in the spring of 2005 I phoned the Sierra Vista Herald to place a classified ad. I was told I couldn't use Constant's full name, so I wrote something like, "Seeking Constant V. A third cousin in California researching the Altmayer family would like to connect."
A week or so later, there was a message on my phone: "Janet, this is Constant." Her friend had spotted the ad while looking for a lost dog. As an only child with no children, Constant was ecstatic. "I have a cousin!" she kept repeating.
After spending a night in her guest room surrounded by teddy bears, I sent Constant a "forebear" with a yarmulke and prayer shawl. I named him Manny, after our Bavarian great-great-grandfather Emanuel Altmayer. She said Manny was a positive influence on the others.
Unlike Constant, now deceased, I am blessed with children and grandchildren. But my parents were only children and I grew up with only one grandmother. Now I've found new relatives and helped them discover their own Jewish past.
"Because so much of our history has been obliterated, it's our duty to preserve what we have," said Scott, who is digitizing letters and photos collected by his grandfather. "It's not just a pastime we do for our own sake."
May 2013
Palo Alto, California, USA