We've all had this same frustrating family conversation with a parent or grandparent:

Question: "So, how is she related to us?"
Answer: "She's a cousin."
Question: "Yes, but how exactly is she a cousin?"
Answer: "What does it matter? She's a cousin. I don't know how. She's a cousin."

A nightmare conversation for me, the family-recognized genealogist and keeper of important trans-generational information.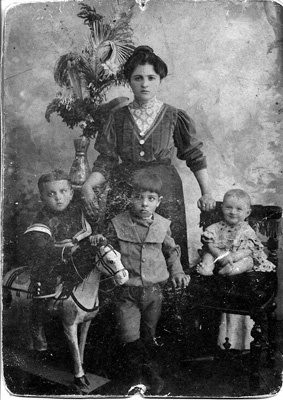 Great-grandmother Rose (Belfaur) Brownstein, c. 1910, Mohyliv-Podilskyi with son Berl, nephew Schulim, and baby Ben

Questions of relationships—like the one above—take on headache-inducing proportions for my mother's side of the family, the Brownsteins. Why? Because the more I questioned and researched, the more knotted the ancestral picture became.

And twisted, metaphorically speaking, of course.
For at least three consecutive generations beginning at my great-grandparents' level, I found siblings marrying first cousin siblings: a Brownstein brother and sister would marry a Faber sister and brother; or, a Brownstein brother and sister would marry a Sarfas sister and brother.

This would then be reproduced again (no pun intended) at the next generational level: a child created from a first cousin union would then marry a child created from another first cousin union. And so on.

What was wrong with these people? Is this even legal?
The net effect—from a genealogical perspective—was a common ancestor for many generations that followed, and great complication as well, not only for creating a family tree using standard software programs, but also for keeping straight "who's who". I cannot quickly and easily rattle off from memory family relationships on the Brownstein-Sarfas-Faber side of the family without inducing a severe headache. I need a paper drawing, and even then...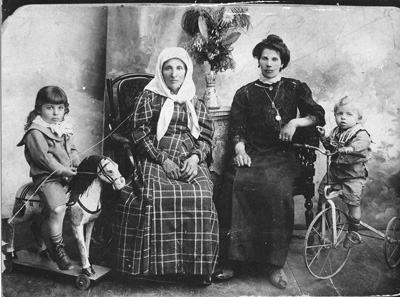 Great-great-grandmother Leah (Sarfas) Brownstein in scarf, c. 1910, Mohyliv-Podilskyi with daughter-in-law Lena (Faber) Brownstein, Schulim and baby Mojsche

To add insult to injury, none of the three families ever showed much creativity or imagination in choosing new names for their offspring. They just kept reusing the same old names. Result: multiple names like David and Sam and Esther in all three families.
So here is my genealogy nightmare—I mean, knot—in a simplified form:

My great-great grandmother Leah Sarfas of Kamyanets-Podilskyy, Ukraine, had three sons with her husband Aaron Brownstein of Mohyliv-Podilskyi, Ukraine: Louis, David, and Harry. David was my mother's grandfather and therefore my great-grandfather. (I will not be talking about brother Harry because he appears to have married and reproduced in a normal, healthy way.)

Leah also had a daughter named Anna Sarfas whose biological father is a family mystery; hence, she is known in the family and in the records as Anna Sarfas, not as a Brownstein like her (half) brothers Louis, David, and Harry.

Leah herself had a brother named Wolf Sarfas. Wolf had a son and a daughter. The daughter's name was Ida.

On the same generational level as Leah and her brother Wolf was the Faber family, likely also of Kamyanets-Podilskyy. That family had three sons (one was named Solomon) plus one daughter named Lena.
At some point, all three families—Brownstein, Sarfas, and Faber—lived in Mohyliv-Podilskyi.

In 1911, large pieces of these three families—women and children only—would emigrate together to Chicago, their husbands having preceded them.

The scene is set.
Leah's son Louis Brownstein married Lena Faber.
Leah's daughter Anna Sarfas married Morris Faber, the brother to Lena.
Wolf Sarfas' daughter Ida married Solomon Faber, the brother to Lena and Morris.
On the next generational level:
Louis and Lena Brownstein had seven children, two of which were named Sam (Schulim) and Dorothy.
Anna and Morris Faber had seven children, three of which were named Sam, Nettie, and Dorothy.
Ida and Solomon Faber had five children (all of which went on to marry spouses who were neither Brownstein nor Sarfas, so we can forget about them henceforth).
On the next generational level (aspirin necessary at this point):
Schulim Brownstein married Nettie Faber.
Schulim's sister Dorothy married a man named Kaufman (hooray, but short-lived, as we will see next) and they produced a daughter named Sondra.
Nettie's brother Sam Faber married Dorothy Brownstein, sister to Schulim.
Next generational level:
Sondra Kaufman married Herb Brownstein, the son of Ben—sadly, in my direct line—a younger brother to Berl Brownstein, my grandfather and son of David Brownstein, my great-grandfather.
Just before emigrating from Mohyliv-Podilskyi to America in 1911, three portrait style photographs were taken at a professional studio of the three families, Brownstein, Sarfas, and Faber. These photos are precious to me for several reasons.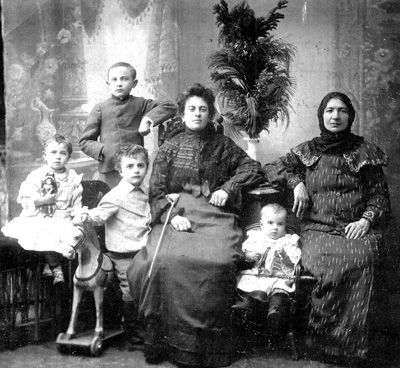 Anna (Sarfas) Faber (center), c. 1910, Mohyliv-Podilskyi with mother-in-law Dora Faber and children Dorothy, Mark,
Harry and Nettie


First, they each came to me from different sources in the family and at different times. It wasn't until all three were united and I sat facing them on my desk that I realized they were shot at the same photography studio, possibly on the same day: the stylized backdrop for each photo—the palm tree, the vase on the Victorian stand, the wooden rocking horse—is identical in all three.
Second, the photos, taken together, represent three generational levels, with the matriarch, Leah (Sarfas) Brownstein, my great-great-grandmother, as the common link.

Third, two of the photos have Leah (wearing the scarf) with her daughters-in-law and their children.
In one photo is Rose (my great-grandmother, married to David Brownstein) and her two children, Berl (my grandfather, on the wooden rocking horse) and baby Ben (whose son Herb would later marry Sondra Kaufman, born as a Faber and discussed above). Also in the photo is Schulim, the son of Lena, the other daughter-in-law.

In the second of the three photos is Leah (again in scarf), but this time with daughter-in-law Lena and her two children, Schulim (now he is on the rocking horse) and baby Mojsche (Morrey).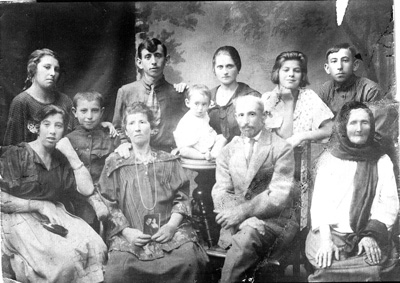 Sarfas Family, c. 1928, Kamyanets-Podilskyy

In the third photo, which came to me quite a while after the other two, Leah is not present. However, present in her place, at the center of the photo, is Leah's daughter Anna (the one with the unknown biological father, bearing her mother's maiden name of Sarfas but now married to a Faber) and four of Anna's children, including baby Nettie who would later marry Schulim (a Brownstein)! Also present is Anna's mother-in-law, Dora Faber.

The women and children of the three photos would a few months later travel together from Mohyliv-Podilskyi to Chicago, via Bremen and Baltimore, to join their husbands.
In subsequent years, many (including my great-grandparents David and Rose and their children, including my grandfather Berl) would move to Los Angeles; other Brownsteins would follow, some changing their names to Bronson.

In the late 1990s while living in California, I visited Fanny Golob nee Sarfas. She was in her 90s. My (non-Jewish) husband Jay enjoyed a tongue sandwich with Fanny—much to her delight—at a nearby west Los Angeles deli. Back at her apartment, Fanny shared with me family stories and photos. One photo was of her and her Sarfas family (parents and siblings) taken in Kamyanets-Podilskyy around 1928. Her father Yosel was the son of Wolf, the brother of Leah, my great-great grandmother, and the common ancestral link in the three families, Brownstein, Sarfas, and Faber.
Off to the Louvre to soothe my headache.
October 2012
Paris, France