In the mid-1800s, in an area of Eastern Europe that in a decade or two would become the country of Romania, in the town of Braila a kosher butcher named Lupu Brantz and his wife Ruhala produced and raised a family. Their children included sons Mendel, Fishel, and Moses and daughter Taube. As the years passed into the latter 1800s, these children themselves married and had children of their own and resided not only in Braila but also the nearby towns of Ramnicul Sarat and Bacau. But by the ending years of the 1800s and into the first years of the new century, life in Romania became ever more difficult for the Jews, with economic and religious discrimination driving many to emigrate.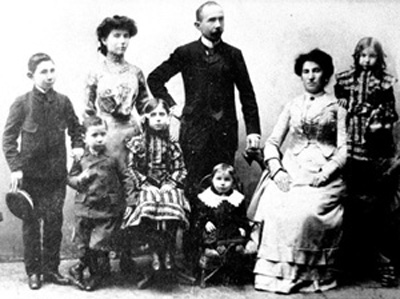 Moses Brantz and Family c. 1903 Brailia, Romania
L-R: David, Harry, Raschella, Victoria, Moses, Louis (sitting), Amalia, Anna

The Brantz family was caught up in these times and three of the Brantz children–Fishel, Taube, and Moses–emigrated with their families to the USA. Fishel and Moses and their families settled in the Philadelphia, Pennsylvania, area, while Taube and her family eventually settled in the hills of northwestern Pennsylvania, in the town of Bradford, perhaps lured there by opportunities offered in area's nascent oil industry. (Mendel and his family stayed on in Romania in Ramnicul Sarat; we'll come back to them later.)
The Brantz families soon established themselves in their new country of America and a few more children of the immigrant generation were born. As the years and then decades passed–from the early 1900s into the mid-1900s—succeeding generations of the families of Fishel and Moses in Philadelphia and those of Taube in Bradford (and later also in nearby Olean and Buffalo, New York) grew and prospered.
But the families also grew in another way–apart! While the Brantz families in Philadelphia maintained contact among themselves over the years, contacts between the Philadelphia and Bradford branches of the family became less frequent and then, as time passed, quite infrequent and then only among the few remaining members of the older generations who remembered their common family connections. There is no doubt that living in opposite corners of the state–over 300 miles apart in an era of limited travel and communication options–played a role in the fading away of Philadelphia–Bradford family contacts.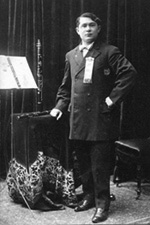 Aaron Brantz c. 1904 Philadelphia, Pennsylvania, USA


But perhaps the seeds of separation had been sown long before, during the period of Brantz family emigrations from Romania. At that point, Moses Brantz was still residing in Romania and in dire straits, with no means of employment and in ill health. His repeated pleas for financial assistance to Taube's sons, who already had emigrated and were living in Bradford, apparently either went unheeded or were not answered to Moses' satisfaction. Perhaps the memories of those disappointing interactions dampened the interest of Moses' and Taube's families in maintaining family contacts when eventually they all were living in the USA.
By the latter years of the 1900s, with the passing away of all of the immigrant Brantz family members and even some of the early native-born members, the Philadelphia and Bradford branches of the family not only had lost nearly all contact with each other but most members of each branch no longer had even an awareness of the other branch's existence.
Now enter Harry Green and Todd Halpern. Harry, born and raised in Philadelphia, is a grandson of Moses. Todd, a Bradford native, is a great-grandson of Taube. At this point Harry and Todd had no knowledge whatsoever of each other! Harry did know about some family in Bradford, because his uncle Dave Brantz (a son of Moses) lived there. In fact, Harry had visited Bradford a couple of times with his grandmother Amelia Brantz (Dave's mother), but Harry was unaware of other Brantz relatives (i.e., Taube's family) living there. Todd, for his part, knew that Taube was a Brantz girl who had married Solomon Greenberg, that she had had a brother named Moses Brantz, and that a relative named Dave Brantz lived in Bradford; however, Todd was unaware of the numerous Brantz relatives living in Philadelphia.
But both Harry and Todd had a keen interest in genealogy. In the late 1990s, Harry registered with the JewishGen web site and posted his surnames of interest in the Family Finder, including the Brantz family surname. In 1999, Todd did the same, by fortuitous coincidence it has turned out. He noticed Harry's entry for the surname Brantz in Family Finder and sent an email introducing himself. After the exchange of several emails, both Harry and Todd were convinced they were indeed related as second cousins, once removed.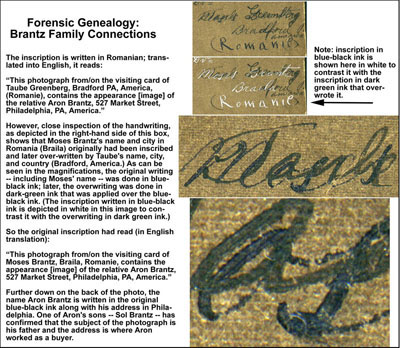 Brantz Family Forensics
[For larger image.]

That contact in 1999 through JewishGen was the starting point for a continuing warm friendship between Harry and Todd and for their close collaboration on exploring and extending knowledge of their mutual Brantz family history. Some in the present extended Brantz family initially were skeptical of or perhaps indifferent to the prospect that the descendents of Fishel and Moses were related to those of Taube, but Harry and Todd quickly and convincingly demonstrated that the relationship was real. Harry's and Todd's collaborative research activities included contracting with a Romanian researcher from Galati, George Mireuta, (found through JewishGen), who traveled to Bacau, Braila, and Ramnicu Sarat to find over 50 birth, death and marriage certificates for Brantz family members–and arranging for another Romanian researcher, Dan Jumara, to find an additional certificate. These documents and others found in the possession of Brantz-family ancestors enabled Harry and Todd to put together comprehensive histories of the families of Moses and Taube, most of Fishel's family, and even a partial definition of Mendel's family.
And speaking of Mendel, you may be wondering–whatever did happen to his family, the one that stayed behind in Romania? The fate of most of Mendel's descendents remains unknown, but as Harry and Todd discovered, one of his sons, Aaron, immigrated to the USA in 1903 and settled in Philadelphia.
"That contact through JewishGen was the starting point for their close collaboration on exploring and extending knowledge of their mutual Brantz family history."
Aaron was known at that time to other lines of the Brantz family; Moses listed Aaron as a contact in Philadelphia when he (Moses) immigrated in 1907 and Aaron had written a postcard to one of Taube's children, Rachel, in 1907. But memory of Aaron's connection faded and was lost to later generations. This photo of Aaron contained the seeds of a Brantz-Greenberg reconnection, though they laid dormant for decades awaiting descendents' forensic detective work (see insert, above). The inscription on the back provided a curious and interesting link between Aaron and relatives from other branches of the extended Brantz family, namely Aaron's aunt, Taube (nee Brantz) Greenberg, and his uncle, Moses Brantz. Discovery of this link increased confidence in the assessment of a family relationship among Aaron's father Mendel and Taube and Moses, now established from multiple sources to have been siblings.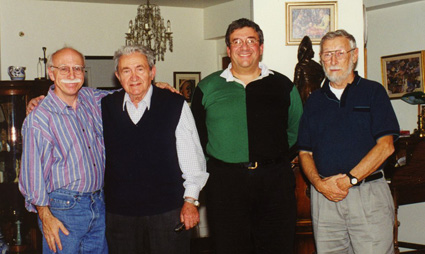 Brantz Family Reunion - Montreal, Canada - 2000.
L-R: Todd Halpern, Elias Brantz, Andre Brantz, Harry Green.

Another of Mendel's descendents, a grandson named Elias Brantz (a nephew of Aaron), left Romania after World War II (fled from the Communists is a more vivid description), stayed for a few years in Paris, France, and eventually settled in Montreal, Quebec, Canada. Through several remarkable discoveries, some of them serendipitous, Harry and Todd were able to track down Elias and his family in Canada and to locate a descendent of Aaron–son Sol Brantz of California and his family. These contacts substantially extended knowledge of the Brantz family. Face-to-face visits of Harry and Todd with Elias and his son Andre, and also with Sol and his son Arthur furthered the reconnection of Mendel's descendents with those of his Brantz siblings.
Thus the Brantz family–together in Romania, separated by emigration, reconnected through JewishGen.
October 2012
Rockville, Maryland, USA (Halpern)
Ft. Myers, Florida, USA (Green)