JCR-UK is a genealogical and historical website covering all Jewish communities and
congregations throughout the British Isles and Gibraltar, both past and present.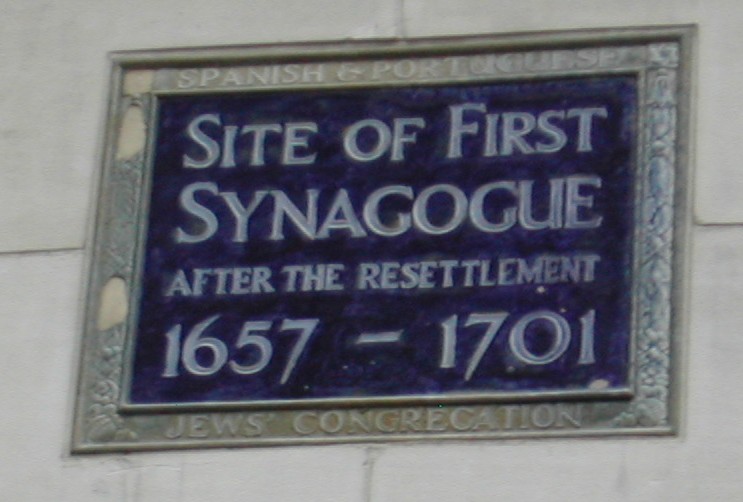 Ceramic Plaque on wall of Cunard House at corner of Creechurch Lane and Bury Street,
marking the site of Creechurch Lane Synagogue,
the first synagogue in England following the resettlement of 1656
© David Shulman 2007
Congregation Data

Name

Creechurch Lane Synagogue (the Synagogue of the Spanish & Portugues Jews' Congregation)

Address:

5 Creechurch Lane(i), London EC3A 5DQ

When Formed:

Lease acquired 16 December 1656 and services commenced January 1657. (ii) Building enlarged 1674.(iii) - This was the first synagogue to be established following the readmission of the Jews to England.

Final Status:

Succeeded by the Bevis Marks Synagogue in 1701.

The building then reverted to domestic use subsequently becoming the Parish Workhouse until 1857 and was then demolished.(iv) A plaque (see above) today marks the site of the former synagogue.

Ritual:

Orthodox Sephardi, following Spanish & Portuguese rites, now often referred to as Western Sephardi. However, until the establishment of an Askanazi synagogue in 1690, there were a large number of Ashkanazi (or "Tedescos" as they were referred to by the Sephardi) among the congregants, although they were not permitted to hold office, vote nor take part in the service.

Additional Congregation:

Although little information is known, there is believed to have been a second Jewish congregation in existence in the mid-1660s,in the area of St. Helens.(vii)

Rabbis: (To view a short profile of a rabbi whose name appears in blue - hold the cursor over his name.)

Rabbi Samuel Levy - the first Rabbi of the Congregation(viii)

Rabbi Moses Athias - Rabbi or possibly Chazan at least during 1660(ix)

Haham Rabbi Jacob Sasportas - from 1664 to 1665, the first Haham of the Sephardi Community in London(xii)

Haham Rabbi Joshua (Yehoshua) da Silva - from 1670 to 1679(xiii)

Haham Rabbi Jacob Abendana from 1681 to 1685(xiv)

Haham Rabbi Solomon Ayllon - from 1689 to 1700(xv)

For a complete list of Hahamin click HERE

Local Government District:

Creechurch Street is in the Aldgate Ward of the City of London, within the administrative area of Greater London.

It was in the parish of St. Katherine Cree (abolished 1908)

Cemetery
Information:

In February 1657, the Community acquired a lease of land in Mile End, to the east of the City, for use as a cemetery,being the first Jewish cemetery in England since the expulsion of the Jews in 1290. The cemetery became known as Mile End Velho (Old) Cemetery. For additional information, see Cemeteries of the Spanish & Portugues Jews' Congregation

Notes & Sources (↵ returns to text above)
Bibliography, Online Articles and Other Material
relating to this Congregation
on JCR-UK
A Brief History of the Founding of the Creechurch Lane Synagogue by David Shulman.

Selected Bibliography:

First London Synagogue of the Resettlement by Wilfred S. Samuel (1924, Sottiswoode Ballantyre);

The Synagogues of Europe by C. H. Krinsky (1985, The M.I.T. Press, Cambridge MA). p. 412;

The Lost Synagogues of London by Peter Renton (2000, Tymsder Publishing, London) pp. 21-23;

British Chief Rabbis 1664-2006 by Derek Taylor (2007, Vallentine Mitchell) pp. 5-79;

for others, see under Bevis Mark Synagogue.

Additional Congregation History & Records - see under Bevis Mark Synagogue.
on Third Party websites

List of Sephardi Congregations
Street Directory of Synagogues in East End and City of London
Jewish Congregation in the City of London
Page created: 18 August 2006
Data significantly expanded and notes first added: 30 July 2017
Latest revision or update: 22 February 2021
---
Explanation of Terms | About JCR-UK | JCR-UK home page
Contact JCR-UK Webmaster:
jcr-ukwebmaster@jgsgb.org.uk


Terms and Conditions, Licenses and Restrictions for the use of this website:
This website is owned by JewishGen and the Jewish Genealogical Society of Great Britain. All material found herein is owned by or licensed to us. You may view, download, and print material from this site only for your own personal use. You may not post material from this site on another website without our consent. You may not transmit or distribute material from this website to others. You may not use this website or information found at this site for any commercial purpose.


Copyright © 2002 - 2023 JCR-UK. All Rights Reserved