Page created: 21 August 2005
Latest update or revision: 8 July 2017
Hull Jewish Community
Hull, also known as Kingston upon Hull, is a city of about 250,000 inhabitants located on the northern bank of the Humber estuary in northern England. It has been unitary authority since 1996. Prior to then, Hull was a district of the now defunct administrative county of Humberside, which had been formed in 1974. After the abolition of Humberside in 1996, Hull was placed for ceremonial purposes in the county of the East Riding of Yorkshire, having been a county borough in the East Riding until 1974.
The Hull Jewish Community
The Hull Jewish community dates back to at least 1766, when the first recorded Jew settled in the city. However, remains have been found of a 17th century synagogue.
Jewish Congregations
The following are the Jewish congregations that exist or existed in Hull:
Background:
A 17th century synagogue was situated in Dagger Lane. In the late 18th/early 19th centuries, synagogues were established in Postergate and Parade Road, which merged in 1824 to form the Hull (Old) Hebrew Congregation, from which Hull's Western Synagogue split from in 1903. The Hull Central Synagogue was in existence from 1886 to 1976. Small short-lived congregation were founded in late 19th/early 20th centuries in Great Thornton Street, Great Passage Street, Nile Street, Prince Street and Adelaide Road. The Reform congregation dates back to the mid-1960's. In 1994, the Hull Old Hebrew Congregation reunited with the Hull Western Synagogue to form the Hull Hebrew Congregation, the sole remaining orthodox congregation in the city.
The following are former or alternative names of the above congregations: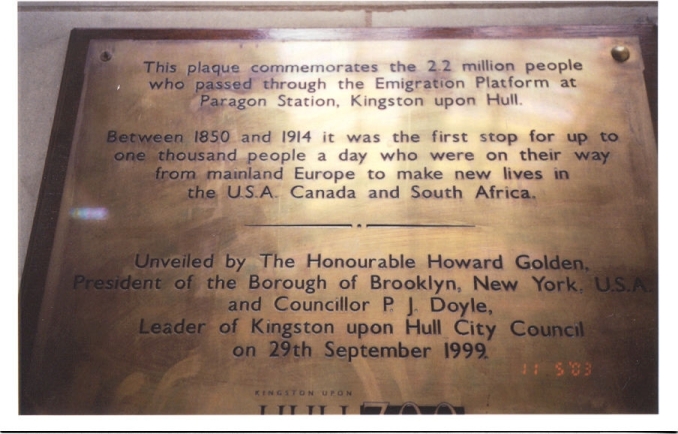 Other Hull Jewish Institutions & Organisations
(that had been formed by 1900*)
Educational & Theological
Girls Hebrew School (founded 1873, although only a "Hebrew School" for boys and girls is listed in 1874 Directory)

Hebrew Boys Evening School (founded by 1900)
Other Institutions & Organisations
Jewish Soup Kitchen (founded by 1874) to provide food on Sabbaths and Holidays to poor Jews arriving from Continental ports.

Ladies' Hebrew Benevolent Society (founded 1861, although not listed in 1874 Directory) for relief of resident poor and strangers; medical assistance.

"Malbish Aroomin" Clothing Fund (founded by 1880) purchase and distribute clothing to poor men and boys and to school children.

Hull Hebrew Board of Guardians (founded 1880) for the relief of resident and casual poor.

Hull Hebrew Young Men's Literary and Debating Society (words "Young Men's" subsequently omitted) (founded 1895) for promoting the intellectual and social welfare of the Jewish community of Hull.

"Chevra Kadisha" Society (founded 1890, but not listed in 1896 Yearbook) to visit the sick and superintend funerals.

"Meshivas Nephesh" Benefit Society, subsequently renamed "Jacob Alper Society" (founded 1849, but not listed in 1874 Directory nor 1896 Year Book)

"Gemilous Chessodim" Philanthropic Society (founded 1848, but not listed in 1874 Directory nor 1896 Year Book).

"Sons of Israel" (founded 1871, but not listed in 1874 Directory nor 1896 Year Book).

Hull Hebrew Self-help Friendly Society (founded 1889, but not listed in 1896 Year Book).

Jewish Girls Club (founded by 1900)

The City Club, Wright Street (founded 1901)

Hull Hebrew Recreation Club (founded by 1900)
* As listed in the Jewish Directory for 1874 and Jewish Year Books 1896 & 1900/01).
Hull Jewish Cemeteries Information
(for records on the ALL-UK Database, see above)
Hull had six (or possibly seven) Jewish cemeteries (one Reform and the remainder Orthodox), as listed below. For details see the JCR-UK article Hull's Six Jewish Cemeteries by David Lewis.
Villa Place Cemetery. This was the first Jewish cemetery, in what was previously known the Manor of Myton and Tupcoates (today off Walker Street, Hull). It was is use from about 1780 until 1812 and held approximately 50 burials.

Hessle Road Cemetery, (formerly Patrick's Ground Lane), near Ropery Street. It was in use from 1812 until 1858 and had room for some 120 graves, although it is believed that only about 75 were used.

(It is considered likely that there was another Jewish cemetery in use at the same time as the Hessle Street Cemetery, but its whereabouts are unknown.)

Delhi Street Cemetery, at corner with Hedon Road. This has been in use since 1858 and contains over 1,250 burials. The northern section was a separate Jewish cemetery used by Hull's Western Synagogue from 1903 (when that congregation split from the then Hull Hebrew Congregation which became the Hull Old Hebrew Congregation) until both congregations were reunited in 1993 as the Hull Hebrew Congregation.

Ella Street Cemetery, in the Avenue area of Hull. This has been in use since 1889. It was initially the cemetery of Hull's Central Synagogue (from 1889 to 1876) and was also used by Hull's New Hebrew Congregation from 1928 to 1941. It is now a cemetery of the Hull Hebrew Congregation.

Marfleet Cemetery. This is a cemetery of the Hull Hebrew Congregation, having initially been established in 1935 by Hull Old Hebrew Congregation. It contains over 450 burials (as of 2005).

Tranby Lane Reform Jewish Cemetery, Anlaby. This is the Jewish Section of the Anlaby Cemetery and is the cemetery of the Hull Reform Synagogue. It was opened in 1975.
(For some additional information, see also IAJGS Cemeteries Project - Hull)
Hull Jewish Population Data

1837
35 families
1851
200

(Chief Rabbis Census estimate

1895
1,350

(The Jewish Year Book 1896)

1898
1,500

(The Jewish Year Book 1898-99)

1900
2,000

(The Jewish Year Book 1900-01)

1910
2,500

(The Jewish Year Book 1910)

1935
2,500

(The Jewish Year Book 1935)

1946
2,000

(The Jewish Year Book 1947)

1955
2,000

(The Jewish Year Book 1956)

1965
2,500

(The Jewish Year Book 1966)

1990
1,120

(The Jewish Year Book 1991)

2004
670

(The Jewish Year Book 2005)

Jewish Congregations in the East Rising of Yorkshire