JCR-UK is a genealogical and historical website covering all Jewish communities and
congregations throughout the British Isles and Gibraltar, both past and present.
NOTE: We are not the official website of this congregation, which can be reached by clicking on the congregation's logo below.

Town of Bushey
Bushey is in the borough of Hertsmere, a local government district of the county of Hertfordshire, formed in 1974 and granted borough status in 1977. Prior to 1974, it formed the urban district of Bushey in the county of Hertfordshire, until its incorporation into Hertsmere. It is situated immediately to the north of the administrative boundary of Greater London.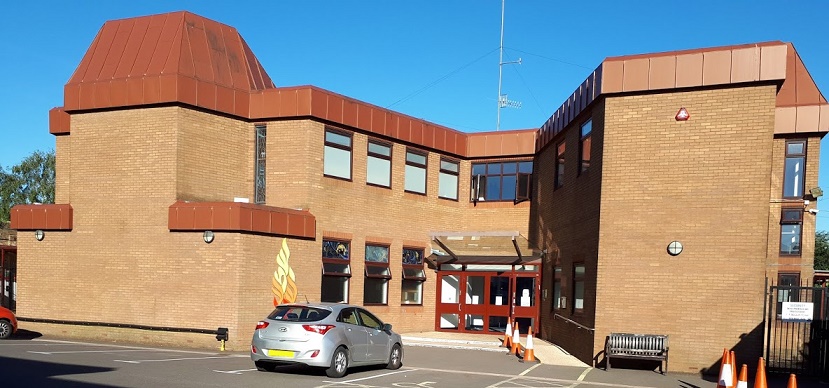 Bushey Synagogue, June 2018
© David Shulman 2018
Bushey Jewish Community
Although there are records of Jewish families living in Bushey from the early part of the nineteenth century, there was no formal Jewish congregation until the establishment of a United Synagogue affiliated congregation in the late 1960s (apart from a short-lived World War II comgregation that met in a Bushey house in the early 1940s). (There was also Reform synagogue in Bushey from 1971 until it moved to Radlett in the early 1980s.)
Name:

Bushey United Synagogue

Former Names:

Bushey & District Synagogue

Bushey & District Affiliated Synagogue

Address:

177-189 Sparrows Herne, Bushey Heath, Hertfordshire WD23 1AJ from 1984

Previously the synagogue was in a converted church hall in Police Station Lane, Bushey, from 1969 (although such synagogue was not actually formally consecrated 9 December 1979).(i)
Prior to 1969, meeting in congregants' homes and using a scout house for the the high holy days. See brief history of the congregation.

Current Status:

Active

Date Founded:

1968

Ritual:

Orthodox - Ashkenazi

Affiliation:

Initially an affiliated synagogue from joining the United Synagogue in 1970(ii), becoming a constituent (full member) in about 1984.(iii)

Website:

Senior Ministers & Rebbetzens:(To view a short profile of a minister - hold the cursor over his name.

Rabbi Z. Meir Salasnik (& Rebbetzen Judy Salasnick) - from June 1979 to 12 September 2016 (the first person appointed as minister of the congregation)(v)

Rabbi Elchonon Feldman (& Rebbetzen Jacqueline Feldman) - from 1 December 2016 to present (June 2021)(vi)

Assistant Rabbis and Rebbetzen:

Rabbi Nick Kett (& Rebbetzen Shira Kett) - assistant rabbi from October 2017 to October 2020, and then community rabbi to present (June 2021)(vii)

Membership Data:

United Synagogue

1970 - 48 male seatholders(x)

Congregation's Website(xi)

1989 - 600 members

2013 - nearly 2,000 members

National Reports & Surveys(xii)

1977 - 218 male (or household) members and 12 female members

1983 - 308 male (or household) members and 44 female members

1990 - 728 members (comprising 714 households, 5 individual male and 9 individual female members)

1996 - 889 members (comprising 855 households, 12 individual male and 22 individual female members)

2010 and 2016 - listed as having 1,000 to 1,499 members (by household)

Charitable Status:

As a constituent of the United Synagogue, the congregation operates within that organisation's registered charity status (registered charity no. 242552).

WWII Congregation:

In 1941 and possibly 1942, Jewish religious services were held at "The Gables", Heathfield Road, Bushey, the home of a Mr. Ben Bard, under the name Watford & Bushey Hebrew Congregation.(xiii) (Note: this congregation should not be confused with the Watford & Bushey Hebrew Congregation, which existed for several years from 1918 and held services in Watford.)

Registration District:

Hertfordshire(xiv) - Link to Register Office website.

Cemetery Information:

One of the principal cemeteries of the United Synagogue, the Bushey Jewish Cemetery, is situated in Bushey (Little Bushey Lane, Bushey, WA23 3TP), and serves a wide area of Northwest London and beyond. The Cemetery was founded in 1947, predating the founding of the local synagogue by some two decades.

Notes & Sources (↵ returns to text above)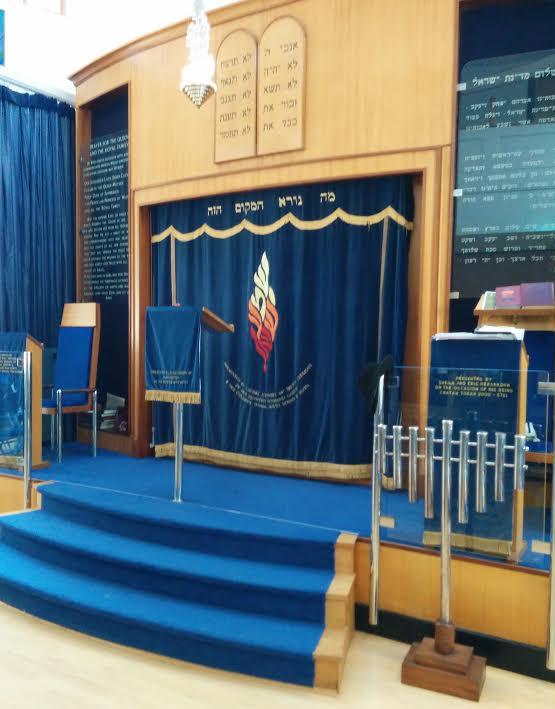 Bushey Synagogue - the Aron Kodesh (Holy Ark), September 2014
© David Shulman 2014

© David Shulman 2014


© David Shulman 2014

Two views (taken in September 2014) of the building in Police Station Lane
that had been the Bushey Synagogue from 1969 to 1984.


Hertsmere Jewish Communities home page

List of United Synagogue Congregations
Jewish Congregations in Hertfordshire
Jewish Congregations in Greater London and its Outskirts
Jewish Communities of England home page

Page initially created: 19 May 2006 (but contents lost)
Page recreated: 20 January 2013
Latest revision or update: 10 June 2021

---
Explanation of Terms | About JCR-UK | JCR-UK home page

Contact JCR-UK Webmaster:
jcr-ukwebmaster@jgsgb.org.uk
(Note: This is to contact JCR-UK, not the above Congregation)

Terms and Conditions, Licenses and Restrictions for the use of this website:
This website is owned by JewishGen and the Jewish Genealogical Society of Great Britain. All material found herein is owned by or licensed to us. You may view, download, and print material from this site only for your own personal use. You may not post material from this site on another website without our consent. You may not transmit or distribute material from this website to others. You may not use this website or information found at this site for any commercial purpose.


Copyright © 2002 - 2022 JCR-UK. All Rights Reserved