An Index to the Jewish Community of the British Isles in 1851
Published 2014 ISBN 978-1-4457-5020-0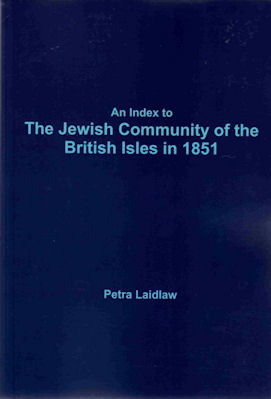 This volume is a companion to the 1851 Database searchable on JewishGen. Both sources list nearly 29,000 of the estimated 32,000 Jews living in the British Isles (England, Wales, Scotland, Ireland, the Channel Islands and the Isle of Man) in 1851. The printed Index gives summary details, wherever known, of when and where each person was born, their parents, first spouse, residence in 1851 and occupation, along with their unique ID number in the database.
It is available by print-on-demand. Further details, please click HERE.

This database was registered with the Genealogy Quality Code. This means that its editor places quality above quantity and commercial or other agendas.