Survive and Tell (cont.)
The Indium Antimonide (In Sb) Detector
In order to develop thermal night vision equipment, or sensors for passive homing warheads, it was necessary to purchase the detectors abroad, especially the USA. The USA refused to approve the sale of InSb detectors. These detectors were regarded as strategic essential materials. Professor Y. Kadron's Microelectronic Department at the Technion was actively in research and development of such detectors, but only for his research laboratory.
Rafael approached my department seeking help, because, Dr. Kidron refused to work on defence projects.
I summoned Dr. Kidron to my office and implemented what I had told him ten years earlier, when I was his student. I explained the need and our willingness to invest funds for developing the detectors. I presented the conditions to him and the most difficult condition, which was secrecy – non-publication. Kidron explained to me that the Technion must have publications and that this was necessary for him to receive a full professorship. He asked for two hundred thousand (200,000) Israeli Lira and I approved the amount of five hundred thousand Israel Lira (500,000), because I asked that the work and production of the first batch be accelerated so that it could be used by the Rafael as soon as possible. With regard to publication, I promised him, in accordance with Yedidia Shamir's advise, to establish a Committee of Professors, who will also be sworn to secrecy, who will read his work and grant him the necessary points for professorship.
His work was a great success and he even received the Israel Defence Award, the highest and most prestigious award in the country.
I had great satisfaction from his achievements and the IDF fighting forces and their Intelligence Corps were using the most advanced technology, made in Israel. The fact that we had succeeded in developing detectors of such high standard, helped me later on to convince the Americans to cooperate with us and even sell us detectors for security use.
The Navy had an operational request to develop and produce Command & Control systems for its missile boats. In order to realize this request, a team traveled the world to find an existing system that could be modified to suit our navy. The team found such a system at the Ferranti Company in England. The Head of Acquisition Authority, Zvi Alon asked Brigadier General Uzi Elam, who had in the meantime been appointed head of R&D instead of Yatsa, to give him an electronics engineer to join the negotiations in England. Uzi suggested me.
Zvi Alon agreed and, in view of my rank and our personal acquaintance, even appointed me head of the delegation. Uzi's proposal had significant implications on R&D involvement in the project that was considered a purchasing project and which, in reality, was a large-scale development project, as we would find out later on.
The delegation included Lieutenant Colonel Amos Dagan, a very experienced electronics engineer who was accredited for the development of the "Dagon" RADAR for the missile boats, for which he won the Israel Defence Award, a representative of Electronics Acquisitions Branch, a relatively junior electronics engineer called Amos Carmeli; a representative of the "Elbit" Company, a sharp marketing person, heavy built and with a beard, Menahem Halperin and myself.
On the way there I learned about the operational requirements and about the Ferranti Company. The "Elbit" representative was traveling in order to negotiate production of some of the parts in Israel (under the "buy back" accord). He also told me about Elbit's attitude towards the project. The Navy Attaché, Lieutenant Colonel Barkai, joined us in London and, together, we traveled to Bracknell to one of Ferranti's factories. It could be that this place was for managers only because I do not remember seeing any equipment or productions lines. We were greeted at the Company as was fitting for a multi million dollar client, with all the pomp and ceremony.
The company's engineers and management described the system and its capacity and the diversity of the giant company's products. They evaded answering most of my questions. I asked to see the system and they showed me pictures.
I did not give up and we traveled to Portsmouth. There was a Navy battleship docked very near Nelson's ship and here we were shown the system. It was too large for our Navy's ships but they informed us that they had developed a smaller military computer and there would be no problem to supply identical and compatible software.
I asked them to show me the computers. They made excuses that they were in Manchester and that it would take a few days to get there because of transportation problems. I remembered that they had shown us the company plane and made them make it available for us.
In Manchester, in a place that was called Cairo Mill, a former cotton mill, which was one of Ferranti's production factories, they showed us a particularly unimpressive factory. What amazed me was that they did not show us the computer we wanted to see, for which we had traveled to Manchester.
One of the managers, who apparently had not corroborated the story with the other managers, told us that the computer they had developed had been burned in a fire along with the documentation and they were trying to reconstruct the development. So the truth, which they had tried so hard to hide, came to light. There was no system and they lacked integrity.
Amos and Barkai were stunned and it was easy for me to reach a decision which I had been contemplating since we had left Israel, to develop and produce everything in Israel. I was contemplating the necessity of an Investigative Committee to examine how they had gone to sign a development and supply contract for such an essential system, without first checking what this company really had to offer. This whole episode seemed very strange to me, especially in light of Amos Dagan's professionalism and attention to detail - he had been working on the project for nearly two years.
On the spot, I agreed with the rest of the delegation, and to the displeasure of Amos Dagan, that there was nothing left to do at "Ferranti" and that we had to develop and produce the system in Israel. I said that I, as Head of the Electronic Systems And Electronic Warfare, would recommend to the Head of R&D to subsidize the Navy's budget with the difference of cost for development costs in Israel. My recommendation was approved. "Elbit" developed and manufactured the system and also won the Israel Defense Award.
I tried to convince Elta and Elbit to cooperate on this project. I instigated an agreement to be signed between the two companies on the basis that I had recommended.
When I was in Washington, I continued to take an interest in the project, but I was informed that it had not been successful. This is a shame.
I was especially interested in bringing about the cooperation of various companies in Israel, in order to reduce the price of the systems and, mainly, to prevent duplicate infrastructures in a country with such limited funds. Cooperation, which is so natural and obvious in the rest of the world, is difficult or even impossible for the residents of Israel.
This important assignment that I had set for myself, was not instantly successful, but I laid the foundations that began to reap fruit about ten years later.
Elbit, with the assistance of the Navy, was wise enough to market and sell a large number of systems to foreign navies and, in consequence, Elbit brought much foreign currency into the country. The investment in development activities in Israel paid for itself and we did not have to encourage our competitors who had boycotted us together with other British military industries in view of Arab pressure.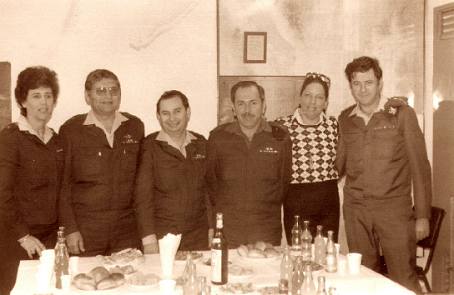 Change of guard before leaving for Washington
To my right: Maj. Nitza Zamir.
To my left: Col. Yaakov Baal Shem, Mgen. Shlomo Inbar, Rivka and Col. Nahum Dayagi
---
This material is made available by JewishGen, Inc. and the Yizkor Book Project for the purpose of
fulfilling our mission of disseminating information about the Holocaust and destroyed Jewish communities.
This material may not be copied, sold or bartered without JewishGen, Inc.'s permission. Rights may be reserved by the copyright holder.
---
JewishGen, Inc. makes no representations regarding the accuracy of the translation. The reader may wish to refer to the original material for verification.
JewishGen is not responsible for inaccuracies or omissions in the original work and cannot rewrite or edit the text to correct inaccuracies and/or omissions.
Our mission is to produce a translation of the original work and we cannot verify the accuracy of statements or alter facts cited.

"Survive and Tell"

Yizkor Book Project

JewishGen Home Page
---
Yizkor Book Project Manager, Lance Ackerfeld
This web page created by Osnat Ramaty
Copyright © 1999-2019 by JewishGen, Inc.
Updated 11 Jun 2005 by LA