[Pages 495-496]

The 1931 Dunam Project

The money was transferred through the participation of the delegation of the head office of the Jewish National Fund in Bessarabia, member Leah Vidovitz together with the assistance of the local activists.

The list of the couples participating in the drive were:
1. Hillel Dubrow – Ita Bronstein
2. Moshe Steinwortz – Tsippa Toporovsky
3. Aharon Bronstein – Sheva Kliger
4. Zvi Idelman – Chana Winkelstein
5. Hillel Dubrow – Rivka Kormansky
6. Benzion Timan – Chana Axelrod
7. Moshe Steinwortz – Susya Shitz
8. Levi Tsinman – Chana Winkelstein
9. Yisrael Korman – Chana Bronstein
10. Hillel Dubrow – Chana Bronstein
11. Shimshon Bronstein – Frieda Fuks
12. Hillel Dubrow – Ita Bronstein
13. Shimshon Bronstein, H. Weintraub – Ts. Toporovsky
14. Dubrow, Tsinman – Tseitel Fradis
15. Hillel Dubrow and Moshe Steinwortz
There were approximately 200 contributors, and the total amount collected was 20,800 lei. There was another amount of 900 lei owing that did not get paid until now.
Activists of the Jewish National Fund in the 1930s

1. Shimshon Bronstein 2. Mina Dubrow (Tel Aviv) 3. Tsippa Toporovsky (Tel Aviv)
4. Lisa Galperin 5. Hillel Dubrow 6. Ita Bronstein 7. Tseitel Fradis 8. Sheva Kliger
9. The emissary Viderovitch 10. Feida Fuks 11. Chana Axelrod 12. Levi Tsinman
13. Fichman 14. Chana Chasid 15. Henya Steinwortz 16. Sosya Shitz
17. Eva Bronstein 18. Toiba Zeidman
[Pages 497-498]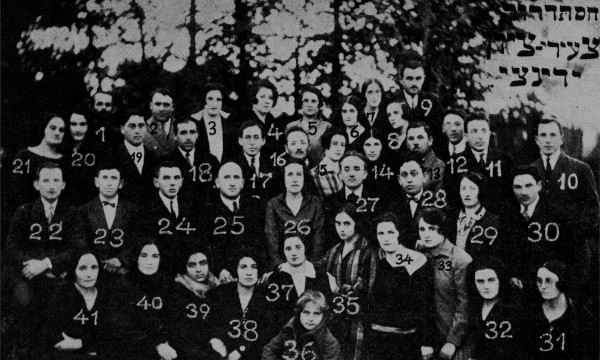 Association of Zionist Youth of Yedinitz


(Stated within Picture on Upper Right)

The photo was taken on the occasion of the departure of Hillel Dubrow the teacher. He was moving to the nearby town, Sokuran, to serve as a teacher. It was believed that he would stay in Sokuran (after several months, however, he returned to Yedinitz). The event was expressed in the form of an emotional farewell blessing on the back of the photo that said: "Fate has removed you from among us." It was signed by all members of the local committee. The importance of the signing was because not only did it include of all those in the photo, but all those (from among the Ze'irei Zion members) missing from the photo. The photo is dated 2/27/1927 and at the end of Tishrei 1927. This gives us almost a full list of the members of Ze'irei Zion in town.

People in photo: 1. Shmuel Lerner (Varnetchka) 2. Moshe Kertzman 3. Rachel Chachamovitch 4. Fruma Litvak 5. Dina Serebrenik 6. Chaya Gerstein 7. Rosa Goichberg 8. Pearl Idelman 9. Moshe Furman 10. Meir Wolfenson 11. Chaim Cohen 12. Yisrael Baron 13. Pinny Grobman 14. Dina Rosenthal 15. Lyuba Sheindelman 16. Yeshayahu Topolor 17. Zvi Idelman 18. Yitzchak Baratchin 19. Naftali Goldman 20. --- 21. Chana Gertzman 22. Sony Ozeraner 23. Velvel Ludmir 24. Avraham Greenstein 25. Moshe Steinwartz 26. Mina Dubrow 27. Hillel Dubrow 28. Noach Leiderman 29. Zissel Ludmir 30. Moshe Grubard 31. Sima Horwitz 32. Lola Morgenstern 33. Sonya Gandelman 34. Zvia Cooperschmit 35. Ita Grobman 36. Ziva Dubrow 37. Leah Schwartzman 38. Devorah Steiff 39. Lyuba Bronstein 40. --- Cooperman 41. --- Rosenberg

Missing from photo: (Members of Ze'irei Zion listed by H. Dubrow): 1. --- Appelman 2. Mony Bernstein 3. Malka Beilin 4. Nechama Groman 5. Asher Goldenberg 6. Anshel Wolfenson 7.Chana Chasid 8.Avraham Ternovsky 9. Bobba Sandler 10. Yenta Chak 11. Yisrael Rosensthal 12. Leib Rosenthuler 13. Yitzchak Rosenthuler 14. Yitzchak Rosenberg 15. Yitzchak Schwartzman 16. Avraham Weissman, and others.

[Yiddish] The full text of the blessing is: "We are too small to be able to order fate, which has torn you away from among us." The signatories to the back of the photo: Vice-chairman of Ze'irei Zion, Chaim Cohen; Secretary, Zev Ludmir; members of the committee: Zissel Ludmir, Rosa Hoichberg, Yitzchak Baratchin, Pinchas Grobman, Moshe Steinwartz, Yeshayahu Tolfolor, Zvi Idelman, Avraham Greenstein, Yisrael Rosenthal
---
This material is made available by JewishGen, Inc. and the Yizkor Book Project for the purpose of
fulfilling our mission of disseminating information about the Holocaust and destroyed Jewish communities.
This material may not be copied, sold or bartered without JewishGen, Inc.'s permission. Rights may be reserved by the copyright holder.
---
JewishGen, Inc. makes no representations regarding the accuracy of the translation. The reader may wish to refer to the original material for verification.
JewishGen is not responsible for inaccuracies or omissions in the original work and cannot rewrite or edit the text to correct inaccuracies and/or omissions.
Our mission is to produce a translation of the original work and we cannot verify the accuracy of statements or alter facts cited.

Edineţ, Moldova

Yizkor Book Project

JewishGen Home Page
---
Yizkor Book Director, Lance Ackerfeld
This web page created by Lance Ackerfeld
Copyright © 1999-2021 by JewishGen, Inc.
Updated 5 Mar 2004 by LA