WRITERS AND INTELLECTUALS
People Who Make Us Proud*
Alexander Meilechson
Translated by David Goldman
        The generation whose lives and creations we record and memorialize is no more. We are the "last of the Mohicans." Our generation and the coming generations have to know how Bessarabia's Jews lived and created, and how they were annihilated and destroyed. We have to transmit our history and way of life to our children because it is their history from Yedinitz. As banal and unpopular it may seem today, in our new understanding about events and issues, there exists the same requirement of "Thou shalt teach it to thy children" – the same Torah and path to salvation today as was then.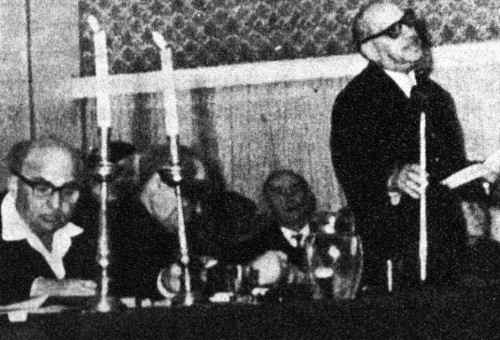 Alexander Melechson speaking at an assembly of émigrés from Yedinitz in 1967 about that town's intellectuals.
---
Golda Gutman-Krimer (Argentina)
The cover page of her two-part book
[Entitled My Town Yedinitz]
---
This material is made available by JewishGen, Inc. and the Yizkor Book Project for the purpose of
fulfilling our mission of disseminating information about the Holocaust and destroyed Jewish communities.
This material may not be copied, sold or bartered without JewishGen, Inc.'s permission. Rights may be reserved by the copyright holder.
---
JewishGen, Inc. makes no representations regarding the accuracy of the translation. The reader may wish to refer to the original material for verification.
JewishGen is not responsible for inaccuracies or omissions in the original work and cannot rewrite or edit the text to correct inaccuracies and/or omissions.
Our mission is to produce a translation of the original work and we cannot verify the accuracy of statements or alter facts cited.

Yedintsy, Moldova

Yizkor Book Project

JewishGen Home Page
---
Yizkor Book Project Manager, Binny Lewis
This web page created by Lance Ackerfeld
Copyright © 1999-2019 by JewishGen, Inc.
Updated 25 July 2003 by LA