[Page 450]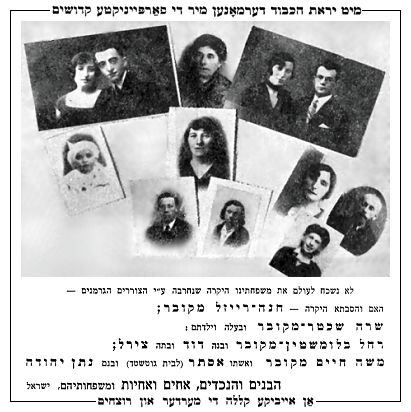 A memorial for the holy martyrs

Pictured are all those mentioned: the dear mother and grandmother, HANA-RAIZL MEKUVER; SARA SHECHTER-MEKUVER, her husband and children; ROKHL BLUMSTEIN-MEKUVER, her son DOVID and daughter TZIRL; MOISHE-CHAIM MEKUVER and his wife ESTHER (GUTSHMID) and their son NATAN-YEHUDA.

Signed: the children and grandchildren, brothers and sisters and their families, Israel
below r to l.
In memory of our dear parents:

YOKHEVET and CHAIM ZISHBIK who died in New York.

Signed: the children AVRAHAM-MOTL ZISHBIK, Detroit; RAYEH ZISHBIK (LESER), Detroit; SOREH-LEAH ZISHBIK (FISHLER), Los Angeles; FAIGL ZISHBIK (ZIVYETZ), New York
Instead of a gravestone for our dear ones

Parents: WOLF-KHANUKH ZILBESHTROM; our mother, SARA, who died in Israel; our sister TEMA and her husband KHANUKH MUNTSHTOK and their children; our brother YIDL and his wife MANYA (BIALISTOK) who perished in the Shoah. We will never forget them.

Signed: their sisters and their children ROKHA, GOLDA and CHAYA AND FAMILIES in Israel
[Page 451]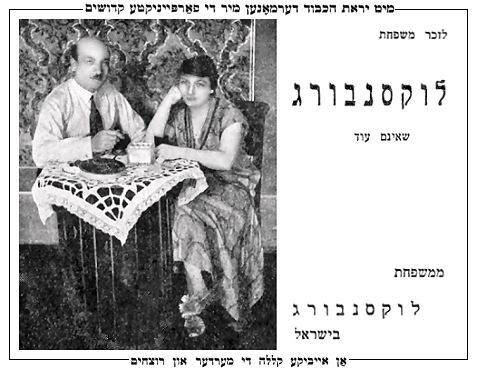 (No identification is given for the men and women in the picture)

In memory of the LUXENBERG FAMILY who are no longer alive.

Signed: the LUXENBERG FAMILY in Israel.

Below r to l:

In memory of my dear family who perished in the Shoah:

Father, DOV BEN MENAKHEM-MENDL PUDOLOVITZ; mother, SHIFRA, daughter of SHLOMO (KOSTSHEVA); sister BRYNA, brother ELKHANAN-MENDL who died before the war; brother DOVID; grandmother DINAH; uncle PINKHAS AND FAMILY, aunt LIBA AND FAMILY

signed: YISROEL-MOISHE PUDLOVITZ AND FAMILY, Israel

We mourn for the loss of our family members whose grave sites we do not know

Dear parents: ITCHE and TZIPEH; the sisters and the brother, MASHA, MOISHE and SHAYNA who perished in Auschwitz and LEAH who was shot in the forests of Keidan on her way to Israel.

Signed: the only remaining survivor of the family, ZELON APEL, Kfar Menakhem
---
This material is made available by JewishGen, Inc. and the Yizkor Book Project for the purpose of
fulfilling our mission of disseminating information about the Holocaust and destroyed Jewish communities.
This material may not be copied, sold or bartered without JewishGen, Inc.'s permission. Rights may be reserved by the copyright holder.
---
JewishGen, Inc. makes no representations regarding the accuracy of the translation. The reader may wish to refer to the original material for verification.
JewishGen is not responsible for inaccuracies or omissions in the original work and cannot rewrite or edit the text to correct inaccuracies and/or omissions.
Our mission is to produce a translation of the original work and we cannot verify the accuracy of statements or alter facts cited.

Ciechanow, Poland

Yizkor Book Project

JewishGen Home Page
---
Yizkor Book Project Manager, Lance Ackerfeld
This web page created by Lance Ackerfeld
Copyright © 1999-2017 by JewishGen, Inc.
Updated 2 July 2003 by LA