[Page 448]
top: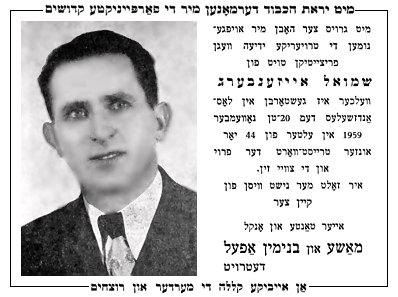 SHMUEL EISENBERG
With great sorrow we heard about the premature death of SHMUEL EISENBERG who died in Los Angeles November 20, 1959 at the age of 44.

Signed: your aunt and uncle MASHEH and BINYAMIN APEL, Detroit
In memory of our dear parents

ELIYAHU and RIVKA OISTRIAK; sisters, SOREH, KHAYA, TZIRL, TOIBEH; brothers, SHMUEL, MOISHE and PINKHUS AND FAMILY who perished at the hands of the German murderers in 1941.

Signed: YESHAYA, NAKHMAN and wife ROKHL, Canada
In eternal memory of our dear parents: AVRAHAM-NATAN SKURNIK; ESTHER LEAH (maiden name LAKH); my brothers, YITZHAK-AARON, YISROEL-BER and DOVID; sister, SHAYNEH-TRAYNEH.

We mourn forever over your tragically-shortened lives.

Signed: sons, LAIBL and YEKHIEL SKURNIK
top:
GOLDA & YISROEL ALTUS
We honor the memory of our dear parents

Mother, GOLDA ALTUS, died October 943; father, YISROEL ALTUS, died June, 1943.

They were founders of our Ciechanow Farein in Detroit.

Signed: IDL-AVREML and NAKHMAN ALTUS, Detroit.
below: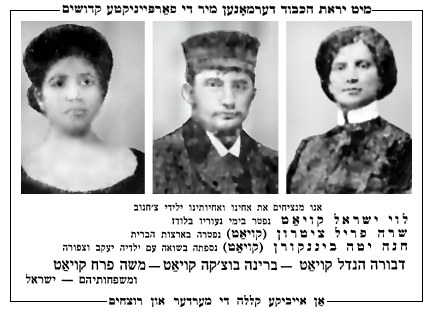 SOREH-FRIL CITRON (KVIAT) (left) , LEVY-YISROEL KVIAT (center)
& HANA-ITAH BINKORN (KVIAT) (right)
We commemorate our brothers and sisters, born in Ciechanow. LEVY-YISROEL KVIAT, died in his youth in Lodz; SOREH-FRIL CITRON (KVIAT) died in U.S.A.; HANA-ITAH BINKORN (KVIAT) perished in the Shoah with their children YAACOV and TZIPORAH.

Signed: DVORAH HENDL KVIAT; BRYNA BUTSKA KVIAT, MOISHE-PARAKH KVIAT AND THEIR FAMILIES, Israel
---
This material is made available by JewishGen, Inc. and the Yizkor Book Project for the purpose of
fulfilling our mission of disseminating information about the Holocaust and destroyed Jewish communities.
This material may not be copied, sold or bartered without JewishGen, Inc.'s permission. Rights may be reserved by the copyright holder.
---
JewishGen, Inc. makes no representations regarding the accuracy of the translation. The reader may wish to refer to the original material for verification.
JewishGen is not responsible for inaccuracies or omissions in the original work and cannot rewrite or edit the text to correct inaccuracies and/or omissions.
Our mission is to produce a translation of the original work and we cannot verify the accuracy of statements or alter facts cited.

Ciechanow, Poland

Yizkor Book Project

JewishGen Home Page
---
Yizkor Book Project Manager, Lance Ackerfeld
This web page created by Lance Ackerfeld
Copyright © 1999-2017 by JewishGen, Inc.
Updated 2 July 2003 by LA