Southern Africa Jewish Genealogy SA-SIG

Miscellaneous Records
Editor: Dr Saul Issroff
Copyright © 1999 Saul Issroff, Mike Getz, SAfrica SIG
and Jewishgen Inc.
URL: http://www.jewishgen.org/SAfrica/records.htm
Revised: 22 December 1999
MILITARY RECORDS
Jews served and died fighting both for the British and the Boers in the Anglo Boer Wars. Many Jews served in the 1914-1918 war and some were killed in action in German South West Africa- now Namibia. By the time of the Second World War most eligible males served, many in the North African campaigns.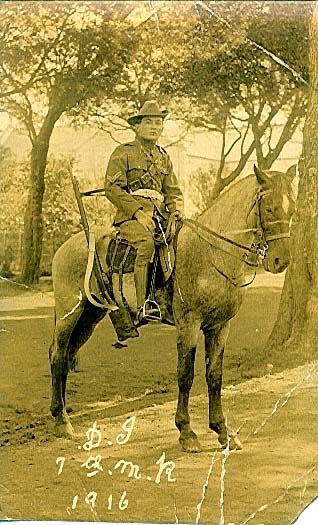 David Issroff, 7th Cape Mounted Rifles, 1916
SA Defence Force Archives
Records Available:
Archives of the Commandant General, Transvaal Republic 1881-1899.
Archives of the Military Governor, Pretoria, 1900-1902 (Records of the British Occupation forces, containing the names of those who died during the Boer War).
Archives concerning deaths among the Republican fighting forces and civilians, 1899-1902. The SA Defence Force Archives are not open to the public; write to obtain information.
National War Museum
milmus@icon.co.za
Department of Defence
Private Bag X289, Pretoria, 0001,
Telephone: +27 (0)12-322 6350
Military Cemeteries
The Commonwealth War Graves Commission have lists of all casualties in SA, their places of burial, etc. including all South African deaths overseas and all British troops killed in SA. in the First or Second World Wars. A record some 60,000 civilian casualties of the Second World War is also provided without details of burial location.
Web: http://www.cwgc.org/
Service Particulars
The particulars of all persons who served in the South African Armed Forces from the time of union in 1910 are available from the SADF Documentation Centre.
The SA National Museum of Military History has no personal records but has books, Honour Rolls, Imperial and other War Documentary service graves, Regimental Histories.
Israel: Machal: over 800 South Africans served as volunteers in the Israeli War of Independence. A recent book "South Africa's 800: The Story of South African volunteers in Israel's War of Birth" by Henry Katzew, ed. Joe Woolf deals with this and lists all the names.
South African Jewish ex-Service League,
C/o South African Jewish Board of Deputies,
P.O. Box 87557,
Houghton, 2041,
South Africa.
Telephone: +27 (0)11-486 1434
Facsimile: +27 (0)11-646 4940
Please note that they do not have any staff and cannot do any work of a genealogical nature. If you need SA military records look at the info. files on South Africa that I put onto JewishGen and write to the appropriate addresses.
Company Records
The Registrar of Companies in Pretoria can provide details of the directors of any limited or Public company. Financial records are available only for public companies. The Registrar of Patents, Designs, Trademarks keeps details of intellectual property and the holders of these rights.
Land Records