Page created: 2003
Latest revision or update: 14 September 2017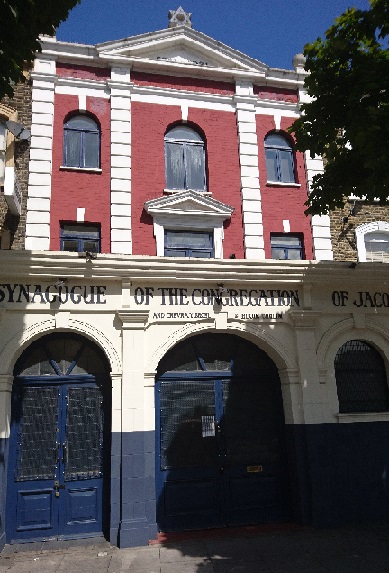 Congregation of Jacob 2017
© David Newman 2017
Congregation Data

Name:

Synagogue of the Congregation of Jacob

Alternative Name:

Kehillas Ya'akov

Address:

351-353 Commercial Road, Stepney, London E1 2PS (consecrated in 1921)
Note: there was a Commercial Road Synagogue at 351 Commercial Road in 1919 (according to the Jewish Year Book 1920), which presumably refers to this congregation.

(Location: Commercial Road is a major road in London's East End. Forming part of the A13, it extends east some two miles from Gardiners Corner (Aldgate East Underground Station) in the west to the junction with Burdett Road, Limehouse, in the east, where the road continues as the East India Dock Road.

The synagogue is on the north side of Commercial Road, just to the west of Jubilee Street, about three-quarters of a mile east of Gardiners Corner.)

Congregations Incorporated:

Bikur Cholim (Visitors of Sick).
of 42 Lucas (now Lukin) Street, London E1.
(Location: Lukin Street (formerly Lucas Street) runs south 500 feet from Commercial Road, approximately one-third mile east of Cannon Street Road.)

Chevra Yisroel (Society of Israel)

Stetziver Synagogue
of Johnson Street, London E1.
(Location: Johnson Street runs north 300 feet from Cable Street, approximately half a mile east of Cannon Street Road.)

Current Status:

Active - "Last remaining East European folk art synagogue in the East End."

Date Founded:

1903

Ritual:

Orthodox - Ashkenazi

Affiliation:

Independent, but with affiliations to the Federation of Synagogues, of which it was a member.

A section of members were, and some may still be, affiliated for burial rights to the West End Great Synagogue

The congregation claims to be Britain's first Mizrachi (religious Zionist) synagogue.

Website:

Membership Data:

1919 - 75 members (Jewish Year Book 1920 - reference to 351 Commercial Road)

Local Government Districts:

Commercial Road is in the London Borough of Tower Hamlets, created in 1 April 1965, within the administrative area of Greater London.

Previously, Commercial Road was in the Metropolitan Borough of Stepney (established 1900) in the County of London (established 1889), both of which entities were abolished in 1965.

Commercial Road ran through a number of civil parishes. It started in the east in the civil parish of Whitechapel, then it formed the boundary between the civil parish of Mile End Old Town (in which was situated the Congregation of Jacob Synagogue) and the civil parish of St George in the East, then moved fully into the civil parish of Mile End Old Town, then into the civil parish of Ratcliff, and finally into the civil parish of Limehouse. The civil parish of Ratcliff was abolished in 1921, being absorbed into Limehouse and the other civil parishes mentioned were abolished in 1927, being absorbed into Stepney Borough parish, which was abolished in 1965.

From 1856 to 1900, the Vestry (council) of the Parish of Mile End Old Town was a local authority, with functions similar to that of a local government district council.

Cemetery
Information:
Bibliography, On-line Articles and Other Material
relating to this Congregation
on JCR-UK
Selected Bibliography:

"Where everyone knows your name - the Cheers of synagogues" - Congregation of Jacob. Russell, David. 2007. Issue No. 4 of the Cable - the magazine of the Jewish East End Celebration Society, pp 24-28.

The Synagogues of London by P. Lindsay, 1993 (Valentine Mitchell, London) p. 55
"In the News" section

"Photo Gallery" section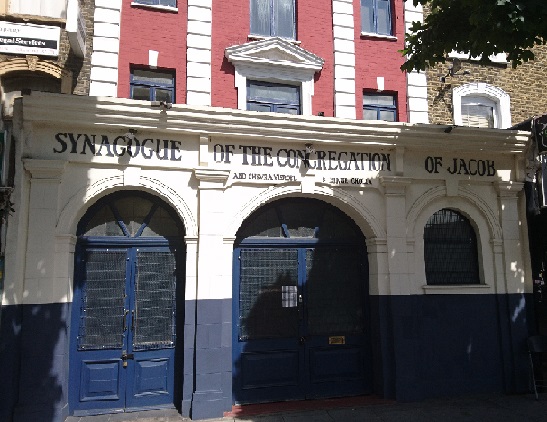 Congregation of Jacob 2017
© David Newman 2017
Congregational Records

Registration District (BDM):

Tower Hamlets (since 1 January 1983) - Register Office website

Previous Registration Districts:
Stepney - from 1 January 1926 until 1 January 1983;
Mile End Old Town - from founding of congregation until 1 January 1926.
(All records would now be held by current office.)

Marriage Records:

At least five marriage registers (first entry 19 July 1921; latest entry on or after 11 December 1935), other than register currently in use, are deposited with the Register Office (ref: s13).

The Board of Deputies may also hold copies of some or all of the registers.

List of Congregations in the Federation of Synagogues
Street Directory of Synagogues in East End and City of London
Jewish Congregations of the London East End