Calendar
The Jewish Genealogical Society of Buffalo typically meets monthly. Please contact us at JewishGenBuffalo (at) gmail.com to receive notices of upcoming meetings and events.
Upcoming events:
December 9, 2012
Hanukah party. 4:00 PM. At the Zysmans, 100 Fruehauf Avenue, just north of Main Street, in Amherst, one block east of Harlem Road. The party is potluck; call Sharon or Bernie at 839-4586 to RSVP.
March, 2013
Presentation at the Jewish Community Center, Getzville. Topic, date, and time to be announced.
May or June, 2012
Brunch and speaker. Details later.
Recent events:
October 28, 2012
Lunch prepared by the Meyers Cafe, followed by the play Whipping Man presented by Jewish Repertory Theatre.
Jewish Community Center, Getzville. Cost- $30 for paid up members

Read about the play here: Jewish Repertory Theatre
June 10, 2012
The Jewish Genealogy Society of Buffalo sponsored a lecture on Sunday, June 10, at 10:30 am at the Jewish Community Center's auditorium, North Forest Rd., Getzville. "The Jews of Poland and Their Heritage During and After WWII" was the subject of a talk by Dr. Norman L. Weinberg, who established the Poland Jewish Cemeteries Restoration Project.
The lecture was free and open to the public. For more information, call 716-839-4588.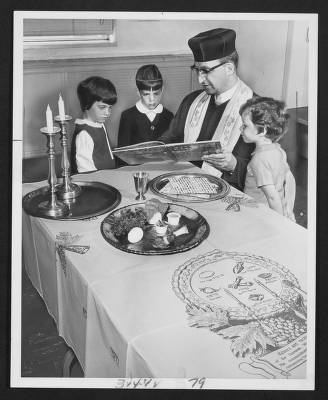 Cantor Gerald DeBruin explains the symbols of the Passover Seder table. Temple Beth El, 1950s. Courtesy, University Archives, State University of New York at Buffalo