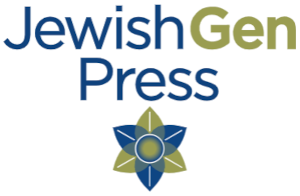 A City and the Dead;
Zablotow Alive and Destroyed - Memorial Book of Zabolotov
(Zabolotiv, Ukraine)
Published by the JewishGen Press
part of Yizkor Books Project of JewishGen, Inc.
Translation of Ir u-metim; Zablotow ha-melea ve-ha-hareva
Original Yizkor Book Edited by Former Residents of Zablotow in Israel and the USA
Published in Tel-Aviv Israel, 1949
Translation Project Coordinator: Ronald B. Schechter
Hard Cover, 11" by 8.5", 168 pages with all illustrations.
Available from JewishGen for $31.00
Click here to see the index containing the family names in this book. If you already have purchased the book, please print out and insert into the back of the book.
Details:

This English translation of the memorial book, A City and the Dead; Zablotow Alive and Destroyed serves as a fitting memory to this destroyed Jewish community of the Ukraine. There is nothing left of the community except these memories of this once-vibrant community. The first-hand accounts contained in this book of the rich heritage and final destruction of the town's Jewish residents shall be not lost. This book will be of value to the descendants of the town's Jews as well as researchers.

No Jews remain in the town, and this book is a humble memorial and tribute to their memory, and to the heart-wrenching experiences of one of the blackest periods of human history.

Zabolotiv, Ukraine: 48°28' North Latitude, 25°17' East Longitude

Alternate names for the town are: Zabolotiv [Ukrainian], Zabłotów [Polish], Zablutov [Yiddish], Zabolotov [Russian], Zablatov, Zablotov, Zablotuv, Zabolotyiv

Nearby Jewish Communities:

Demiche 1 miles E
Dzhurov 5 miles SSE
Rozhniv 7 miles SSW
Banyliv 8 miles SSE
Hvizdets 8 miles N
Knyazhe 9 miles ESE
Miliye 9 miles S
Vilyavche 10 miles SSE
Dzhurkov 12 miles NNW
Vashkivtsi 12 miles ESE
Kolomyya 12 miles WNW
Snyatyn 13 miles E
Kosiv 13 miles SW
Pystan 13 miles WSW
Moskalivka 14 miles SW
Kuty 16 miles SSW
Vyzhnytsya 16 miles SSW
Yaseniv-Pilnyy 16 miles NE
Chernyatyn 16 miles NNE
Yabluniv 16 miles WSW
Chortovets 16 miles N
Nyzhni Stanivitzi 17 miles SE
Obertyn 17 miles NNW
Horodenka 17 miles NE
Nepolokivtsi 17 miles ESE
Vyzhenka 18 miles SSW
Pechenizhyn 19 miles W
Davydivtsi 19 miles E
Kostintsy 19 miles SE
Berehomet 20 miles S
---
This material is made available by JewishGen, Inc. and the Yizkor Book Project for the purpose of
fulfilling our mission of disseminating information about the Holocaust and destroyed Jewish communities.
This material may not be copied, sold or bartered without JewishGen, Inc.'s permission. Rights may be reserved by the copyright holder.
---
JewishGen, Inc. makes no representations regarding the accuracy of the translation. The reader may wish to refer to the original material for verification.
JewishGen is not responsible for inaccuracies or omissions in the original work and cannot rewrite or edit the text to correct inaccuracies and/or omissions.
Our mission is to produce a translation of the original work and we cannot verify the accuracy of statements or alter facts cited.

JewishGen Press

Yizkor Book Project

JewishGen Home Page
---
Yizkor Book Director, Lance Ackerfeld
This web page created by Lance Ackerfeld
Copyright © 1999-2023 by JewishGen, Inc.
Updated 17 Oct 2022 by LA