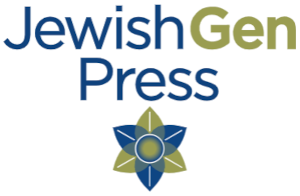 What Savta Told Me…
A Memoir
By: Daniela Livni
Published by the JewishGen Press
part of Yizkor Books Project of JewishGen, Inc.
262 pages, hard cover, color photos Cover design: Irv Osterer
Available from JewishGen for $39.00
Details:

This memoir follows two families: One, a family of Italkim (Italian Jews) back to the 17th century and perhaps earlier; the other, an Austro-Hungarian family dating back to 1875.

It is a story of deep-rooted traditions, perseverance and rebirth.

The author says that the book was written because, although her parents lived through horrific times, they never spoke of them. Growing up in Israel in the late fifties and early sixties, she learned at school about the Jewish partisans and their heroic operations, but very little about the atrocities of the Shoah. She now feels strongly about it and wants her grandchildren to know what being Jewish meant in other times and places.

Chapters cover the Levantine connection, Kalonimus, the Spanish connection, the Italian Shoah, Switzerland, and the family in Israel and Montreal. The book uses archival documents to shed light on the family stories, and includes family heirlooms, information about traditions and holidays, and family recipes. It is illustrated throughout.
---
This material is made available by JewishGen, Inc. and the Yizkor Book Project for the purpose of
fulfilling our mission of disseminating information about the Holocaust and destroyed Jewish communities.
This material may not be copied, sold or bartered without JewishGen, Inc.'s permission. Rights may be reserved by the copyright holder.
---
JewishGen, Inc. makes no representations regarding the accuracy of the translation. The reader may wish to refer to the original material for verification.
JewishGen is not responsible for inaccuracies or omissions in the original work and cannot rewrite or edit the text to correct inaccuracies and/or omissions.
Our mission is to produce a translation of the original work and we cannot verify the accuracy of statements or alter facts cited.

JewishGen Press

Yizkor Book Project

JewishGen Home Page
---
Yizkor Book Director, Lance Ackerfeld
This web page created by Lance Ackerfeld
Copyright © 1999-2023 by JewishGen, Inc.
Updated 27 Apr 2023 by LA