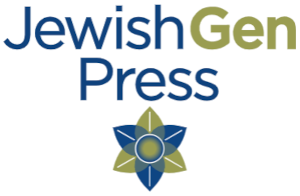 The Westreich Family Tree
Putting the Puzzle Pieces Together
Using Traditional and Genetic Genealogy
Published by the JewishGen Press

Editor: Allan H. Westreich, Ph.D.
Cover Design: Irv Osterer.
232 pages 8.5"x11" Hard cover, Color
Available from JewishGen for $38.00
Details:

Traditional and genetic genealogy research are combined to produce an easy-to-read description of an extensive Jewish family tree, bringing it to life.

The family tree is documented with both facts and "feel," conveyed by photos and family stories from living descendants. The subject is the Westreich family, a Jewish family from Galicia, Austria dating back to the early 1700's. A Y-DNA surname study is used to connect seemingly unrelated branches, including a 7-generation rabbinical line. The content runs the gamut from first-hand stories of Holocaust concentration camps to photos of world-famous mathematicians and musicians.

This book is aimed at family history enthusiasts. Beginning through advanced genealogists will appreciate the background research, both traditional and genetic, resulting in a readable story that brings an extensive family tree to life.
---

JewishGen Press

JewishGen Home Page
---
This web page created by Lance Ackerfeld
Copyright © 1999-2023 by JewishGen, Inc.
Updated 20 Oct 2023 by LA