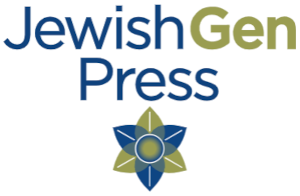 Memorial Book
of the Jewish Community of Turobin, Poland
Published by the JewishGen Press
part of Yizkor Books Project of JewishGen, Inc.
Translation of Sefer Turobin: Pinkas Zikaron
Editors: S. Geshuri
Published by the Association of Former Residents of Turobin in Tel Aviv, 1967
Cover Design: Rachel Kolokoff Hopper
Layout: Donni Magid
Hard Cover, 11" by 8.5", 558 pages
with all original illustrations and photographs.
Available from JewishGen for $43.00
Click here to see the index containing the family names in this book. If you already have purchased the book, please print out and insert into the back of the book.
Details:

The Turobin Yizkor Book was written by former residents of Turobin, Poland. Some who left the town before the war wrote articles and essays about the rich Jewish life in town: the people, the dreamers, the doers, the ultra-religious, the secular, the Zionists, the socialists…The various institutions in town, the charities and the help societies for the needy. The handful of survivors wrote in chilling details about the Holocaust and the destruction of the Jewish community during the Nazi occupation.

Turobin is in the Lublin region at 50 degrees 50 min North Latitude 22 degrees 44 min East Longitude and 123 miles SE of Warsaw.

Alternate names: Turobin [Polish and Russian], Turbin [Yiddish], Torbin

Nearby Jewish Communities:

Chrzanow 6 miles SW
Zolkiewka 6 miles NE
Wysokie 6 miles NNW
Chlaniow 7 miles E
Goraj 9 miles SSW
Zdzilowice 9 miles W
---
This material is made available by JewishGen, Inc. and the Yizkor Book Project for the purpose of
fulfilling our mission of disseminating information about the Holocaust and destroyed Jewish communities.
This material may not be copied, sold or bartered without JewishGen, Inc.'s permission. Rights may be reserved by the copyright holder.
---
JewishGen, Inc. makes no representations regarding the accuracy of the translation. The reader may wish to refer to the original material for verification.
JewishGen is not responsible for inaccuracies or omissions in the original work and cannot rewrite or edit the text to correct inaccuracies and/or omissions.
Our mission is to produce a translation of the original work and we cannot verify the accuracy of statements or alter facts cited.

JewishGen Press

Yizkor Book Project

JewishGen Home Page
---
Yizkor Book Director, Lance Ackerfeld
This web page created by Lance Ackerfeld
Copyright © 1999-2023 by JewishGen, Inc.
Updated 17 Oct 2022 by LA