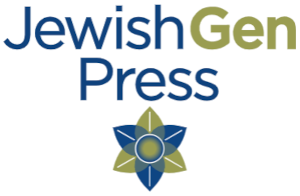 The 51st Brigade
The History of the Jewish Partisan Group
from the Slonim Ghetto
By Sarah Shner-Nishmit
Translated into English by Judith Levi
Originally published in Hebrew by
The Ghetto Fighters Museum Publication - The Israel Ministry of Defence


Published by the JewishGen Press

Hard Cover, 11" by 8.5", 400 pages
Available from JewishGen for $37.00
Click here to see the index containing the family names in this book. If you already have purchased the book, please print out and insert into the back of the book.
Details:

This is the story of the fight of young Jewish people from the town of Slonim and its environs, against the German murderers of World War Two and their Belarussian and Polish collaborators. The book lays blame at the feet of Soviet partisans, who abandoned their comrades in arms and incited anti-semitic hatred towards the Jewish fighters.

The Jewish group of the Shchors battalion, on the banks of the River Shchara, marched along its battle paths, fought with courage and strength and distinguished itself in battle. They buried their dead, cared for their wounded, and never abandoned their old people and children.

Throughout this cruel war in the forests and forest edges they attacked police stations and military camps and blew up trains carrying German troops and equipment.

At the end of the war, people from Slonim and the area were recruited into the Red Army and advanced with the Soviet army into German territory. The soldiers who then remained immigrated to Israel and set up their homes there.

Slonim is located at 53°05' North Latitude and 25°19' East Longitude 108 mi WSW of Minsk

Nearby Jewish Communities:

Ozernitsa 13 miles W
Hałynka 15 miles NW
Byten 16 miles SSE
Kozlovshchina 16 miles N
Polonka 17 miles ENE
Derechin 20 miles NW
Zelva 21 miles WNW
Molchad 23 miles NE
Pavlovo 23 miles SW
Ruzhany 23 miles SW
Kosava 24 miles SSW
Dvorets 24 miles NNE
Novaya Mysh 24 miles E
Ivatsevichy 25 miles S
Dzyatlava 27 miles N
Novoyel'nya 29 miles NNE
Baranavichy 30 miles E
About the Author:
The writer Sarah Shner-Nishmit, one of the founders of Kibbutz Lohamei HaGetaot (Fighters of the Ghetto), was born in 1913 in the town of Siena, in the Suvalki district, Poland. In 1925 her family uprooted to Lithuania. She completed her studies in Classical Languages and Philosophy at the University of Kovno, Vilna, and in 1962 she completed a post-graduate degree in Archival Studies at the Hebrew University of Jerusalem.
She was imprisoned with the invasion of the Soviet union by the German army in 1941, and fled from a German labour camp to the partisans in the forests. She was a nurse in the Soviet partisan troop until the liberation in 1944; from 1945 to 1947 she was one of the founders of the "Zionist Organisation for the Return of Jewish Children" from convents and Christian houses in Poland. From 1955 she was among the workers of the museum of Lochamei HaGetaot alongside her husband Tzvi Shner (director of the museum from 1950 to 1984). She published books and articles about the struggles of the Jews in the ghettoes and the forests.
This book serves to commemorate the once vital community that no longer exists.
---

JewishGen Press

JewishGen Home Page
---
This web page created by Lance Ackerfeld
Copyright © 1999-2023 by JewishGen, Inc.
Updated 17 Oct 2022 by LA