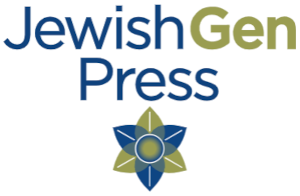 The Real Oskar Schindler and his List
Stepping Stone to Life

A Reconstruction





By Dr. Robin O'Neil


Published by the JewishGen Press
part of Yizkor Books Project of JewishGen, Inc.

Name Indexing: Jonathan Wind
Cover Design: Rachel Kolokoff Hopper
Available as Hard Cover OR  Paperback, 6.69" by 9.61", 308 pages with original photographs 

Available from JewishGen in a hard cover for $31.00
Available from JewishGen in a soft cover for $26.00
Details:

Oskar Schindler was a naive optimist, a chronic alcoholic, a lover of women outside his marriage to Emily Pelzl. The Jews he saved used to say, "Thank God he was more faithful to us than to his wife." Will the enigma ever be solved? Schindler is not here to tell us, and the survivors are uncertain and differ in their opinions. The establishment and Schindler's business associates in Krakow had opposing views of his ethics and would have preferred to sit on the fence and hope the Schindler story would retreat into the archives. Schindler's friends and enemies accept that he was a very unusual man. A few of the Jews that he saved maintain, after all these years, that they still consider him a Nazi and exploiter of Jewish slave labor. Others swear their love for the man. That he used Jewish slave labor to enrich himself is not questioned, nor are his endeavors to eventually save his Jewish laborers. The author forensically re-examines the life and times of Oskar Schindler with surprising results.
---
This material is made available by JewishGen, Inc. and the Yizkor Book Project for the purpose of
fulfilling our mission of disseminating information about the Holocaust and destroyed Jewish communities.
This material may not be copied, sold or bartered without JewishGen, Inc.'s permission. Rights may be reserved by the copyright holder.
---
JewishGen, Inc. makes no representations regarding the accuracy of the translation. The reader may wish to refer to the original material for verification.
JewishGen is not responsible for inaccuracies or omissions in the original work and cannot rewrite or edit the text to correct inaccuracies and/or omissions.
Our mission is to produce a translation of the original work and we cannot verify the accuracy of statements or alter facts cited.

JewishGen Press

Yizkor Book Project

JewishGen Home Page
---
Yizkor Book Director, Lance Ackerfeld
This web page created by Lance Ackerfeld
Copyright © 1999-2023 by JewishGen, Inc.
Updated 17 Oct 2022 by LA