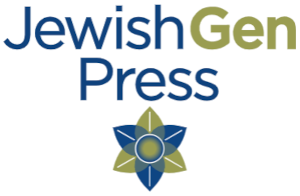 The Jewish Community of Roman

(Roman, Romania)
Translation of
Obstea evreiascaă din Roman
Published by the JewishGen Press
part of Yizkor Books Project of JewishGen, Inc.
by Pincu Pascal
Published by Editura Hasefer, Bucuress¸ti, Romania, 2001
Translations by Sorin Goldenberg, Avishalom (Avi) Klammer,
Emil Lax, Rony Shaham & Monica Talmor
Editing and additional translations by Yocheved Klausner
Cover Design: Rachel Kolokoff Hopper
Hard Cover, 11" by 8.5", 180 pages
Available from JewishGen for $30.00
Click here to see the index containing the family names in this book. If you already have purchased the book, please print out and insert into the back of the book.
Details:

The Romanian city of Roman is situated in the northeastern part of the country, at the confluence of the Moldova and Siret rivers, on the great road of the Siret, which long ago connected the north of Moldova with the Danube ports. The Jewish population in the city is believed to date from as early as the beginning of 15th century. It is believed that a wooden synagogue existed in Roman at that time, on the same lot where the Main Synagogue was standing later (in the 20th century). It was but the first of what would become 18 synagogues serving a population of more than 6,000 Jews by the beginning of the 1940s, which along with a wide range of social, educational, and cultural institutions was a measure of the vitality of the community.

In this scholarly volume, the rich portrait of the Jewish community in Roman that was about to be annihilated is painted in meticulous detail, covering every aspect of life over the centuries of its existence.

Located at: 46°55' North Latitude and 26°55' East Longitude

Alternate names for the town are Roman [Rom], Romesmarkt [Ger], Románvásár [Hun], Romanvarasch

Nearby Jewish Communities:

Budeşti 11 miles W
Bozienii de Sus 12 miles WNW
Dămieneşti 13 miles SSE
Băceşti 16 miles ESE
Buhuşi 17 miles SW
Roznov 20 miles WSW
Târgu Frumos 20 miles N
Plopana 21 miles SE
Bacău 24 miles S
---
This material is made available by JewishGen, Inc. and the Yizkor Book Project for the purpose of
fulfilling our mission of disseminating information about the Holocaust and destroyed Jewish communities.
This material may not be copied, sold or bartered without JewishGen, Inc.'s permission. Rights may be reserved by the copyright holder.
---
JewishGen, Inc. makes no representations regarding the accuracy of the translation. The reader may wish to refer to the original material for verification.
JewishGen is not responsible for inaccuracies or omissions in the original work and cannot rewrite or edit the text to correct inaccuracies and/or omissions.
Our mission is to produce a translation of the original work and we cannot verify the accuracy of statements or alter facts cited.

JewishGen Press

Yizkor Book Project

JewishGen Home Page
---
Yizkor Book Director, Lance Ackerfeld
This web page created by Lance Ackerfeld
Copyright © 1999-2023 by JewishGen, Inc.
Updated 17 Oct 2022 by LA