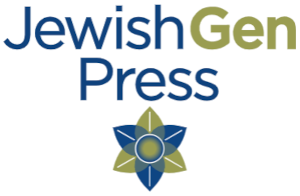 The Maple Tree Behind The Barbed Wire
A Story of Survival from the Czestochowa Ghetto
(Częstochowa, Poland)
Published by the JewishGen Press
part of Yizkor Books Project of JewishGen, Inc.
Hard cover, 336 pages
Available from JewishGen for $36.00
Click here to see the index containing the family names in this book. If you already have purchased the book, please print out and insert into the back of the book.
Details:

Jerzy Einhorn was fourteen years old when the war started. His father Pinkus was "the" tailor of Czestochowa – a fact which together with Pinkus' s mental resourcefulness would help save the family.

This touching memoir, which sold several hundred thousand copies when it was first published in Swedish, documents Jerzy Einhorn's life in Czestochowa before the war, during the war – in the Czestochowa ghetto and the concentration camp Hasag-Pelcery – and after the war, when Jerzy came as a refugee to Sweden and started studying medicine.

Jerzy Einhorn became a prominent figure in Swedish life, as a Professor of Oncology, a Member of Parliament and a debater. He passed away in 2000. The Maple Tree Behind The Barbed Wire has also been published in Polish and Russian.
---
This material is made available by JewishGen, Inc. and the Yizkor Book Project for the purpose of
fulfilling our mission of disseminating information about the Holocaust and destroyed Jewish communities.
This material may not be copied, sold or bartered without JewishGen, Inc.'s permission. Rights may be reserved by the copyright holder.
---
JewishGen, Inc. makes no representations regarding the accuracy of the translation. The reader may wish to refer to the original material for verification.
JewishGen is not responsible for inaccuracies or omissions in the original work and cannot rewrite or edit the text to correct inaccuracies and/or omissions.
Our mission is to produce a translation of the original work and we cannot verify the accuracy of statements or alter facts cited.

JewishGen Press

Yizkor Book Project

JewishGen Home Page
---
Yizkor Book Director, Lance Ackerfeld
This web page created by Lance Ackerfeld
Copyright © 1999-2023 by JewishGen, Inc.
Updated 17 Oct 2022 by LA