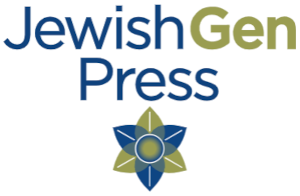 My Journey to Freedom:
Kybartai to Haifa
By Josef Rosin z"l
Published by the JewishGen Press
part of Yizkor Books Project of JewishGen, Inc.
210 pages, 6.7" by 9.6", hard cover, including all photos and other images
Available from JewishGen for $35.00
Click here to see the index containing the family names in this book. If you already have purchased the book, please print out and insert into the back of the book.
Details:

Josef Rosin started a normal life in 1922 in the small town of Kybartai in western Lithuania. Excelling in school he started at Kovno University in 1939, only to have his second year final exams interrupted by Operation Barbarosa, the Nazi invasion of Lithuania on June 22, 1941.

Life from that point on was anything but normal. With his resourcefulness and much luck, Josef survived in the Kovno Ghetto for more than two and a half years. At the beginning of February 1944, a few months before the destruction of the ghetto, he escaped into the woods of Belarus. There he met up with other Jewish partisans and eventually joined the famous Bielski brothers in their partisan family camp. Clearly, one could develop a feature movie based on the descriptions of his activities during that period. When the Red Army overtook the territory, he was forced into that army; however, at some point he decided that he had had enough with war and simply took off his uniform and walked away. In August 1944 he returned to Kovno. He decided that he had to leave Lithuania forever and started a long arduous trek across Europe, finally arriving on October 24, 1945 in Eretz Yisrael on a ship of "Ma'apilim" (Illegal Immigrants). During his travel in Romania Josef met and married Peninah (nee Cypkewitz) from Wloclawek who had made a similarly difficult journey from Poland.

Josef's true story is one of resourcefulness, courage, cleverness, and love. His story is probably very similar to that of others, many of whom are no longer with us, or similar to others who have chosen not to speak. Josef feels it is very important that he makes public these testimonies of the persecuted Jews of Europe.

A fascinating read.
---
This material is made available by JewishGen, Inc. and the Yizkor Book Project for the purpose of
fulfilling our mission of disseminating information about the Holocaust and destroyed Jewish communities.
This material may not be copied, sold or bartered without JewishGen, Inc.'s permission. Rights may be reserved by the copyright holder.
---
JewishGen, Inc. makes no representations regarding the accuracy of the translation. The reader may wish to refer to the original material for verification.
JewishGen is not responsible for inaccuracies or omissions in the original work and cannot rewrite or edit the text to correct inaccuracies and/or omissions.
Our mission is to produce a translation of the original work and we cannot verify the accuracy of statements or alter facts cited.

JewishGen Press

Yizkor Book Project

JewishGen Home Page
---
Yizkor Book Director, Lance Ackerfeld
This web page created by Lance Ackerfeld
Copyright © 1999-2023 by JewishGen, Inc.
Updated 17 Oct 2022 by LA