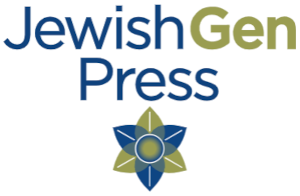 Translation of the
Toldot Yehudei Yaslo
Yizkor (Memorial) Book of the
Jewish Community of Jaslo, Poland
(Jasło, Poland)
Published by the JewishGen Press
part of Yizkor Books Project of JewishGen, Inc.
Original written in Hebrew
Edited by Moshe Nathan Even Chaim (Rapaport), Tel Aviv 1953
Translated into English by William Leibner and edited by Phyllis Kramer
316 pages, 8.5" by 11", hard cover, including all photos and other images
Available from JewishGen for $38.00
Click here to see the index containing the family names in this book. If you already have purchased the book, please print out and insert into the back of the book.
Details:

This is the translation of the Hebrew Memorial (Yizkor) Book of Jewish community of Jaslo, Poland: "Toldot Yehudei Yaslo," which was destroyed by the Nazis in September 1939.

The Jasło Jewish community developed late because the Polish inhabitants refused to allow Jews to live in the city until the Austrian Imperial administration granted Jews the right to reside in the city in 1860. The Jewish population expanded very rapidly and helped the city grow commercially and financially. Jewish institutions flourished and attracted Jewish residents from nearby hamlets.

All of this ended on September 8, 1939 with the German occupation of Jasło. The Germans steadily pauperized the Jewish population. Edicts aimed at the Jews appeared almost daily until the final proclamation that all Jews assemble at the meeting place. In August 1942 most of the Jews were sent to the Belzec death camp where they all perished. Some young Jews were selected to work and sent to various labor camps. Thus, Jewish Jasło was destroyed.

Following World War II, a few Jewish survivors returned to the city but soon left. Today there are no Jews in Jasło.

This book provides the reader with the rich history of the town, its institutions and people, and the story of its destruction. With the publication of this book, the memory of Jewish community of Jasło will continue to live for all the descendants of the town.

Alternate names: Jasło [Polish], Yasla [Yiddish], Jaslau [German], Yaslo.

Jaslo is located 174 mi South of Warsaw, at 49° 45' North Latitude and 21° 28' East Longitude.
---
This material is made available by JewishGen, Inc. and the Yizkor Book Project for the purpose of
fulfilling our mission of disseminating information about the Holocaust and destroyed Jewish communities.
This material may not be copied, sold or bartered without JewishGen, Inc.'s permission. Rights may be reserved by the copyright holder.
---
JewishGen, Inc. makes no representations regarding the accuracy of the translation. The reader may wish to refer to the original material for verification.
JewishGen is not responsible for inaccuracies or omissions in the original work and cannot rewrite or edit the text to correct inaccuracies and/or omissions.
Our mission is to produce a translation of the original work and we cannot verify the accuracy of statements or alter facts cited.

JewishGen Press

Yizkor Book Project

JewishGen Home Page
---
Yizkor Book Director, Lance Ackerfeld
This web page created by Lance Ackerfeld
Copyright © 1999-2023 by JewishGen, Inc.
Updated 16 Oct 2022 by LA