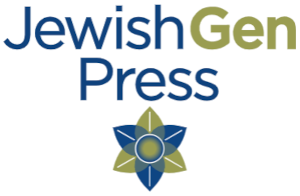 Book of Gostynin, Poland
Translation of
Pinkas Gostynin
Published by the JewishGen Press
part of Yizkor Books Project of JewishGen, Inc.
Translation Project Coordinator: Jessie Weistrop Klein
Primary Translators: Pamela Russ and Yocheved Klausner
Original was edited by. J. M. Biderman
Pubished in Tel Aviv and New York
By the Gostynin Memorial Book Committee in 1960
(440 pages, Yiddish)
Hard Cover, 11" by 8.5",
438 pages with all illustrations of the original Yizkor book.
Cover design by Rachel Kolokoff Hopper
Available from JewishGen for $40.00
Click here to see the index containing the family names in this book. If you already have purchased the book, please print out and insert into the back of the book.
Details:

Located along the Skrwa River, Gostynin sits 65 miles northwest of Warsaw. The Jewish community was established in Gostynin in the 1760s, although Jews may have owned a brewery in the town as early as the 1620s. For the next 300 years, the Jewish population of Gostynin grew with Jews playing a major role in the economic, cultural, and political growth of the town.

Written in 1960 by members of the Gostyniner Societies of New York, Chicago, and Israel, this book contains personal memories about the town, of religious leaders, religious practices, sports groups, theatre groups and activities of political organizations. There are also personal accounts of family life including many pictures of family members. This English translation of the Pinkas Gostynin provides the descendants of the Gostyniner Jews and scholars of Eastern Europe Jewry with a picture of this once vibrant town in central Poland. It is a tribute to a Jewish community that no longer exists and the people of Gostynin who perished in the Holocaust.

Gostynin, Poland is located at 52°26' N Latitude, 19°29' E Longitude

Alternate names: Gostynin [Polish, Russian], Gostinin [Yiddish], Waldrode [German 1940-45]

Region: Warszawa

Nearby Jewish Communities:

Gąbin 11 miles ESE
Płock 12 miles NE
Lubień Kujawski 13 miles W
Żychlin 14 miles SSE
Kutno 15 miles SSW
Kowal 15 miles WNW
Dobrzyń nad Wisłą 16 miles NNW
Sanniki 18 miles ESE
Krośniewice 18 miles SW
---
This material is made available by JewishGen, Inc. and the Yizkor Book Project for the purpose of
fulfilling our mission of disseminating information about the Holocaust and destroyed Jewish communities.
This material may not be copied, sold or bartered without JewishGen, Inc.'s permission. Rights may be reserved by the copyright holder.
---
JewishGen, Inc. makes no representations regarding the accuracy of the translation. The reader may wish to refer to the original material for verification.
JewishGen is not responsible for inaccuracies or omissions in the original work and cannot rewrite or edit the text to correct inaccuracies and/or omissions.
Our mission is to produce a translation of the original work and we cannot verify the accuracy of statements or alter facts cited.

JewishGen Press

Yizkor Book Project

JewishGen Home Page
---
Yizkor Book Director, Lance Ackerfeld
This web page created by Lance Ackerfeld
Copyright © 1999-2023 by JewishGen, Inc.
Updated 16 Oct 2022 by LA