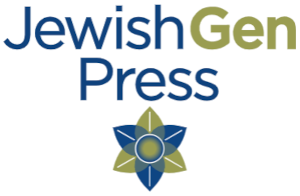 Memorial Book of Goniadz Poland

Translation of the


Sefer Yizkor Goniadz
(Goniądz, Poland)

Published by the JewishGen Press
part of Yizkor Books Project of JewishGen, Inc.

Originally in Yiddish, Hebrew and English
Edited by Moshe Shlomo Ben-Meir (I. Treshansky) Published in Tel-Aviv, 1960
Translation Project Coordinator: Suzanne Scheraga Hard Cover, 11" by 8.5", 548 pages with all illustrations

Available from JewishGen for $42.00

Click here to see the index containing the family names in this book. If you already have purchased the book, please print out and insert into the back of the book.
Details:

Memorial Book of Goniondz is a translation of the Yizkor book first published in 1960 by its many Jewish inhabitants to memorialize a town that no longer exists, but is still in their hearts. It recalls the economic, social, and educational, and often turbulent history of the community though recollections, stories and poetry. There are vivid accounts of the horrors of World War II by the very individuals that experienced the death and devastation, including lists of those that survived and those who perished. But there are also loving tributes to the people, organizations and activities that enriched their lives and filled them with pride. This translation passes on their lost world to future generations.

Read the details in the survivors' own words as they remember and bring to life the once vibrant Jewish community of Goniądz. Today there are no Jews living in Goniądz.

Goniądz, Poland is located at 53°29' North Latitude, 22°45' East Longitude and is 17 miles SE of Grajewo, 29 miles NW of Bialystok, 46 miles WSW of Grodno.

Alternate names for the town are: Goniądz [Polish], Goniondzh [Yiddish], Gonyendz [Russian], Gonyadz, Gonyandz, Gonyondz, Gonyondzh, Goniondz

Nearby Jewish Communities:

Trzcianne 11 miles SSW
Knyszyn 13 miles SSE
Jasionówka 14 miles ESE
Korycin 15 miles E
Radziłów 16 miles WSW
Suchowola 16 miles ENE
Grajewo 17 miles NW
Rajgród 17 miles N
Wąsosz 18 miles W
Szczuczyn 19 miles WNW
Tykocin 20 miles S
Janów Sokolski 20 miles E
Sztabin 20 miles NE
Jedwabne 23 miles SW
Zawady 23 miles S
Wizna 25 miles SW
Choroszcz 25 miles SSE
Stawiski 26 miles WSW
Augustów 27 miles NNE
Wasilków 27 miles SE
Dąbrowa Białostocka 28 miles ENE
Ełk 29 miles NW
Białystok 29 miles SE
Sidra 29 miles ENE
Rutki 30 miles SSW
---
This material is made available by JewishGen, Inc. and the Yizkor Book Project for the purpose of
fulfilling our mission of disseminating information about the Holocaust and destroyed Jewish communities.
This material may not be copied, sold or bartered without JewishGen, Inc.'s permission. Rights may be reserved by the copyright holder.
---
JewishGen, Inc. makes no representations regarding the accuracy of the translation. The reader may wish to refer to the original material for verification.
JewishGen is not responsible for inaccuracies or omissions in the original work and cannot rewrite or edit the text to correct inaccuracies and/or omissions.
Our mission is to produce a translation of the original work and we cannot verify the accuracy of statements or alter facts cited.

JewishGen Press

Yizkor Book Project

JewishGen Home Page
---
Yizkor Book Director, Lance Ackerfeld
This web page created by Lance Ackerfeld
Copyright © 1999-2023 by JewishGen, Inc.
Updated 16 Oct 2022 by LA