[Page 580]
In the Volozhin Ghetto and in revenge actions
By Yaakov Kagan
Translated by M. Porat z"l
Edited by Judy Feinsilver Montel
A group of Volozhin partisans
From left: Mendl Volkovitsh, Luba Volkovitsh, Yakov Kagan, Hessl Perski, Pnina Potashnik
I went to Vilna immediately after the outbreak of the German-Polish war with the purpose of making Aliya from there. I lived in Vilna for two years but did not succeed in accomplishing my heart's desire. I returned home after the Germans invaded the Soviet Union. I wanted to be together with my family in hours of trouble. From afar I saw Volozhin in flames. I found many Volozhiners near the Bialik mount evading the flames. I entered the town. On its streets many Germans walked about. They did not stop me from entering our home.
The Germans sent us to different sorts of hard labor. I worked as the steam engine stoker at Perlman-Rapoport grist mill. I became friends there with Kadirko the chief machinist. Polish policemen with Gestapo men entered the mill one day and gathered all the Jewish workers and conducted them to a reunion. Kadirko did not allow me to go, telling them that without my help he would be obliged to stop the mill. But I was not quiet - I had bad feelings. Returning to the Ghetto I saw many Jews waiting for the lecturer. I understood that there would not be a lecture and that it was not an innocent reunion. I evaded the line and returned to my work.
On the way I went to Kapushtcina where " useful"men were working on building a road. I warned them not to go back home. We went with my brother Nohim into the Solonoy hamlet. We entered a shanty where linen was dried. The gentiles chased us away. For lack of choice we returned to Volozhin. We heard there that a murderous Aktion took place during our absence, but that now life continued " normally". The Jews continued to work and I returned to " my"engine at the grist mill. After some time some of Jews, among them my brother Kopl and me, were brought to work in the forest near Bielokorets. We lived in a shack in the woods. Yoda who previously was the police commander in Ytskove was now the forest works surveyor.
In the woods we met Russian prisoners of war. They conveyed wood logs to the saw mills in Volozhin. Once they told us that in the near future flowers would grow in the forest. Thus were the partisan units called. They disappeared and after some time they appeared anew, this time they were armed. They suggested that we join them. We refused their proposition; we could not leave our families alone. The partisans did not insist. We continued our labor in the woods till the second mass slaughter on May 10th 1942.
On my way to Volozhin one day before the Aktion, I stopped in Kapustin hamlet to take a bottle with milk there. I encountered there a Goy from Volozhin. He told me that partisans killed three Germans on their way to Horod'ki rail station. He advised me not to enter Volozhin because the Jews were suspected of being responsible for this attack. I did not obey and continued my way.
Volozhin was astonishingly calm. On the streets some Gestapo men walked about. Walking Jews were not disturbed inside the Ghetto and outside it. Nobody paid them any attention. The Judenrat was ordered to prepare three garlands. Gestapo men calmed the Jewish representatives telling them not to bother because no Jews were suspected in killing the three Germans. The Jews sensed there was no truth in their calming words, they awaited serious events. Shneur Kivilevitsh with the Jewish policemen conferred at the Judenrat office until late in the night. He returned home at two o clock after they did not find any sign for a worry alarm.
Miryam Weysbord knocked on our window at four before sunrise. She said: Rise up something very bad is happening in the Ghetto. We dressed in hurry. We heard shooting. Soldiers broke into the doors of our neighbors. With Kopl we entered our garden from which through a secret outlet we arrived at the bridge in Minsker, (now Shtsherbina) Street. An armed soldier stood on the bridge. Taking advantage of the soldier's momentary lack of concentration I crossed the bed stream and ran away in the direction of Ponizhe, Novogrudski (now Pushkin) Street. After some minutes Kopl joined me. He was wounded. The soldier shot and the bullet hit his shoulder. We continued our flight together. We arrived to the Islotsh River and crossed it in a canoe we found on the shore. We wandered in the woods from shtetl to shtetl. We passed Krasne, Volozhin and finally we arrived to the Oshmene Ghetto. Rumors passed that the Oshmene Jews would be transferred to a working camp in Vilna surroundings. The Judenrat asked Ganz the head of Vilna Jewish police to clarify the truth of the rumors regarding the extermination of the Oshmene Ghetto. Ganz hurried and arrived immediately. He gathered the Jews and calmed them telling that the rumors were without any basis. Any attempt to escape into the woods to join partisan groups would endanger the Ghetto Jews.
Many among us had already heard such assurances and did not believe Ganz's promises. Some Ghetto medical doctors began to prepare a group to escape into the forest with medical materials to join the Partisans. We joined the group. We contacted the nearby Partisans. They approved our plan under the condition that a mobile clinic would be brought with us. We sent emissaries to Vilna who succeeded in getting the necessary materials.
Prior to the Ghetto extermination a German officer appeared in the carpentry shop where I worked. He told me that to his knowledge a Jewish group was planning to escape into the forest and he desired to save a brother with his sister from a Jewish family. The officer would supply them with two rifles and grenades. He fulfilled his promise. The brother and sister joined our group. The medical material was sent and arrived successfully. We planned to take the arms with us and to leave them on the way. A German guard disturbed our plan. We returned to Oshmene. At night we repeated our escape attempt. We arrived to Bukatovo near Vishnievo. We encountered a partisan patrol there. They received us in a friendly way. During my service I met some Volozhiners among them Hessl Perski and Eliezer Rogovin.
Our first assignment was weapons attainment. We went to Baksht where we bought rifles with ammunition. We also contacted there the " Staritski"partisan unit, where Eliezer Rogovin served as commander of a miner's group. I found there also Motl Mlot, Yosef Girkus and other Volozhiners.
We got many arms and passed hard trainings. I joined the reconnaissance group. Our action area included Volozhin and its surroundings. I contacted an acquaintance who was a Goy who assisted me to enter the town to look if there were survivors. I found the Veissbord family, Ele Der Shlosser – the Locksmith, Hatskl his son and his daughter Rashl, the sisters Rivke – Ipte and Rokhl Perski and Pinkhas the Black Smith from Aroptsu. I asked them to go with me in the woods. I told them that there was not any hope of surviving inside the town. They refused. I came again and again. I did not stop trying to persuade them. Finally I succeeded. But when I came to conduct them as we had agreed there was nobody to go with me. I was told that they were transferred to Vileyka. Such was the end of the Volozhin Ghetto.
Patrolling near Shapoval I helped our partisan unit to destroy a group of Germans. During this fight I was wounded. I was brought to our camping place in the woods whence they transferred me airborne to a hospital in Homel. After recovering I was sent to the partisan headquarters in Shevroki (near Homel). Here I met Eliezer Rogovin who was seriously wounded in one of the battles.
With the liberation of Volozhin I returned there from Shevroki. I found a handful of survivors from our town: Pnina (Peshke) Potashnik, Yehuda Yosef Potashnik, Shayke Lavit with his brother in law, Leybe Lavit, the Skloot brothers, Leybke Liberman, Mariyashe Kagan (Zukerkopf) with her husband, Motl Mlot, Zelig Meltser, Tsofen with his wife, Mendl Goldshmit with his wife, Shmuel Perski and Mintser with his wife.
After working a couple of months at the grist mill in Pershay (12 Km. south from Volozhin) I was sent to Ivianitz. Kopl worked there at the recruiting center. We moved to Poland together. Finally I made Aliya to the land of Israel in 1947.
Translator's note: Yankele Kagan was member in the Irgun Tsvayi Leumi the rightist underground organization commanded by Menahem Begin. He was seriously wounded preparing ammunition in the Irgun's undercover laboratory. Yankele the partisan lost an eye and burnt his face. The scar was with him all his life. In Israel he was happily welcomed by the Tel Aviv Volozhiners especially by Bela Saliternik (Kramnik). She arranged his marriage to Rivka, a girl who survived the Shoah in Poland. The wedding ceremony was lead by Rabbi Langbord the last Volozhin town Rabbi. Bela told me that for Yankele Kagan's marriage she baked 10 (ten) cakes. He was very active at the Volozhin descendants organization's committee. Yakov Kagan passed away after Rivka was deceased, leaving a daughter with grand children in Ness Ziyona in 1998.
---
[Page 586]


Wandering and struggling
By Rachel & Reuven Rogovin
Translated by M. Porat z"l
Edited by Judy Montel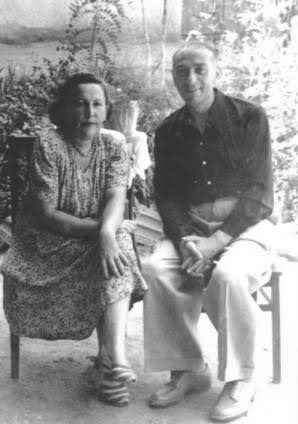 Rachel and Reuven Rogovin - 1950
The Rogovins (the authors) were born in Volozhin, Rachel in 1906, Reuven in 1904. They married there, worked and lived there and fled the town with their two children to escape the Nazis, going to Tadzhikistan. At the end of the war the family came to Riga, and went to Israel in the early fifties. Reuven Rogovin was devoted to Volozhin. He expressed his love in many stories about the shtetl's colorful folksy types. Some of them he described and offered his articles to the Volozhin Yizkor Book. See: Reb Itshe der Balegole (coachman), Reb Hayim der Shnayder (the tailor), Reb Eyzer Der Raznoshtshik (postman) etc.

We fled Volozhin at night, four days after the Germans invaded the Soviet Union. The day before we arranged our valuables in our neighbor's, Sholom Leyb Rubinstein's cave. We left the town empty handed. Our son Grisha took his bicycle. Reuven left wearing slippers. Good friends persuaded him that in soft slippers the walking would be easier. After some kilometers of stony road his slippers were torn exposing the bare flesh of his feet.

We felt better when we arrived at Mizheyk. Here we met many horse-drawn carts. Some of them transported Volozhin families: the Semernitski brothers, Berl Spector, Avrom Mlot, Khatskl der Olshaner, Hershl Sheyniuk with his wife and others. They had left the town before us and wanted to hear news from Volozhin. We told them that although it seemed quiet now, it was not a sign for the future. We wanted to cross the Russian frontier with them. But they decided to return home. They had run away, Avrom Mlot told us, because they had been afraid of the bombings. Now that Volozhin was peaceful they would go back. The entire group went back directly into the lion's muzzle, into the Nazi hands. All of them were murdered.

We continued to walk and arrived into Rakov. There we met acquaintances, who received us cordially. Khayke Rubentshik (Guetsl Perski's sister) invited us to leave the children with her family. She promised to guard them. The Germans, she said, are after Communists and their assistants only; they will not do any harm to Jews and to Jewish children. We did not depend on the good woman's "German expertise"; we left Rakov taking our children with us.

At night we arrived at the 1939 frontier. We found there a crowd of refugees. But the military guards closed the passageway and forbade passing it.

Having no other choice we returned to Rakov. On the way we met Leybke Hayim der Slovensker's son. Wearing a military coat, he told us that he brought wives and children of Soviet Officers on his cart to the frontier. He advised us to try the frontier passing in Volma, 15 Km from Rakov. We went in this direction. To our sorrow we found also this passage blocked. At noon we heard firing and saw people advancing on carts eastward. Leybke harnessed his horse and we succeeded in passing the frontier.

We arrived in the town of Derzhinsk. Here Leybke announced that he was returning home. Our arguments did not help. He left us the horse and cart and returned into the lion's muzzle, where he perished with all of our shtetl's inhabitants.

After some days of travel Leybke's horse lost his vigor and was not able to advance any more. We rested perplexed not knowing from where help might come. It appeared in the form of a gentile boy riding on a horse. He was ready to exchange his horse for Grisha's bicycle. Grisha agreed.

We harnessed the new horse and travelled swiftly to Mstsislav (near Mohilev), where a mobilization office was in operation. It was announced that all men under the age of 50 should report to military service. I (Reuven) reported myself and was quickly nominated as Politrook (Political Supervisor) of the third battalion in the Soviet Red Army.

I obtained two hours leave to bid my family farewell. We did not know where our fate would move us. We agreed that if we survived we should search for one other at my aunt's home in Stalinabad, now Dushambe in Tadzhikistan. Rachel with the children Etele and Grisha finally did arrive to Stalinabad. They were provided with an apartment. Rachel obtained a job and the children went to school.

I participated in many Crimea battles: in Perekop, Simferopol, Feodesia and Sebastopol. In the last town I was wounded and sent to a hospital in Uzbekistan. Major Dumin, a wounded officer, who was hospitalized with me, helped me to find my aunt and through her my family. My wife and children visited me. Two months later I was strong enough to leave the hospital and join the family.

My son Grisha volunteered into the Red Army at the age of fifteen. At the end of 1942 he was heavily wounded in the Stalingrad battle.
---
[Page 588]
My life as partisan
By Hessl Perski
Translated by M. Porat z"l
Edited by Judy Feinsilver Montel
The first to run to the forest and to join partisan units were Etele and Yosef Rogovin (Their father was called Hershl Der Bunier). They called Jews that were imprisoned in the Ghetto to follow their example. I responded to their call and joined the OTRIAD- partisan unit in which Etele was the kommandir's wife. I was skilled in Volozhin vicinity's ways. The kommandir put five partisans under my command and we went to bring down trains from the rails on the Volozhin-Bogdanovo line.
We succeeded in bringing down seven wagons with material for the front. Thus began my life as a partisan. Also on my second and third missions German trains were brought down from the rails. We went with my otriad to the vicinity of Molodetshno. We put a mine beneath the rails some four Km. from town. Two wagons transporting soldiers blew up. There were many Germans killed and wounded.
Once we went to Yourashtshok near Lida. There we blew up a bridge on the Nyman River. Many Germans found their death drowning in the river. In meantime some trains backed up awaiting the bridge repairs. We " took care"of them too.
Due to those successes I was bestowed with a citation by the commander of the Kuznietsov-Tshkalov Partisan Unit.
Later we were sent to fight the Germans face to face. We initiated the occupation of Horodok. It was bloody battle. We held the Shtetl in our hands for half a day. We lost twenty five partisans during this fight.
On the way back we were ordered to destroy some buildings in a big farm near Horodok . We penetrated the farm and blew it up in fire. We did not bear any losses in this action.
After Volozhin was liberated I joined an artillery Battalion in the Red Army. Its code was " Death to the Germans". I reached East Prussia, where I was wounded for the first time. A month later I recovered and returned to my unit. I was wounded again on May 2nd 1945 – one week before the Victory. As a result of this wounding I remained disabled for the rest of my life.
I was hospitalized for three months, gravely ill in Baku. After recovering somewhat I came to Minsk where I received my awards of excellence.
---
This material is made available by JewishGen, Inc. and the Yizkor Book Project for the purpose of
fulfilling our mission of disseminating information about the Holocaust and destroyed Jewish communities.
This material may not be copied, sold or bartered without JewishGen, Inc.'s permission. Rights may be reserved by the copyright holder.
---
JewishGen, Inc. makes no representations regarding the accuracy of the translation. The reader may wish to refer to the original material for verification.
JewishGen is not responsible for inaccuracies or omissions in the original work and cannot rewrite or edit the text to correct inaccuracies and/or omissions.
Our mission is to produce a translation of the original work and we cannot verify the accuracy of statements or alter facts cited.

Valozhyn, Belarus

Yizkor Book Project

JewishGen Home Page
---
Yizkor Book Director, Lance Ackerfeld
This web page created by Lance Ackerfeld
Copyright © 1999-2022 by JewishGen, Inc.
Updated 23 Sep 2006 by LA