Encyclopaedia of Jewish Communities, Poland
(Volume VIII)
Vilna • Białystok • Nowogródek districts
Translation of
Pinkas hakehillot Polin: entsiklopedyah shel ha-yishuvim ha-Yehudiyim
le-min hivasdam ve-`ad le-ahar Sho'at Milhemet ha-`olam ha-sheniyah.
Edited by: Shmuel Spector
Co-edited by: Bracha Freundlich
The publication of this volume was supported by:
The Organization of Former Residents of Stolpce (Steibtz) in Israel
In memory of 3,200 Jews murdered in Stolpce on September 23, 1942
And hundreds more Stolpce Jews who perished during the Holocaust
The estate of the late Matilda and Yitzhak Reisenberg-Shmueli
In memory of the Reisenberg family of Vilna who perished during the Holocaust
The Conference on Jewish Material Claims against Germany
The Authors and Their Initials:
Rachel Grosbaum-Pasternak
Aharon Wajs
Itzhak Lan
Shmuel Spector
Bracha Freundlich
Dr. Tikva Fatal Knani
Information about Rabbis and Yeshivot: Itzhak Alfassi
Maps: Itzhak Lan
Photographs: Ilana Guri
Scanning the photographs: Amir Shauli
Published by Yad Vashem
Printed in Israel, 2005 at Keterpress, Jerusalem, Israel
---
Our sincere appreciation to Yad Vashem
for permission to put this material on the JewishGen web site.
---
This material is made available by JewishGen, Inc. and the Yizkor Book Project for the purpose of
fulfilling our mission of disseminating information about the Holocaust and destroyed Jewish communities.
This material may not be copied, sold or bartered without JewishGen, Inc.'s permission. Rights may be reserved by the copyright holder.
---
JewishGen, Inc. makes no representations regarding the accuracy of the translation. The reader may wish to refer to the original material for verification.
JewishGen is not responsible for inaccuracies or omissions in the original work and cannot rewrite or edit the text to correct inaccuracies and/or omissions.
Our mission is to produce a translation of the original work and we cannot verify the accuracy of statements or alter facts cited.
---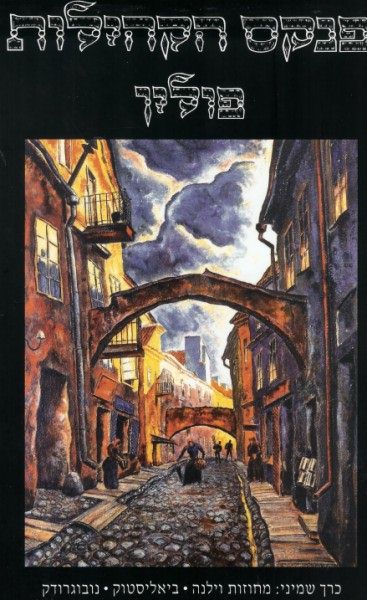 Entrance to the Jewish quarter Wilna, painting by
Bronislaw Jamontt (1886-1957)
from the book: Zydzi w Polsce: Obraz i Slowo, Warsaw 1993
Contents
Donated by Ada Holtzman
| | |
| --- | --- |
| Title | Page |
| List of the Communities (Hebrew) | V-VII |
| The Jews in the Districts of Vilna, Białystok and Nowogródek (Introduction) Shmuel Spector | 1-25 |
| Bibliography | 26-29 |
| Maps | |
| Vilna | 30-92 |
| Odelsk | 93-94 |
| Orzechowno | 94 |
| Olkieniki | 94-99 |
| Ostrowiec | 99-100 |
| Ostryna | 100-102 |
| Opsa | 102-104 |
| Orla (Białystok District) | 104-106 |
| Orla (Nowogródek District) | 106-107 |
| Oszmiana | 107-114 |
| Pawiaż | 114 |
| Ignalino | 114-117 |
| Iwje | 117-120 |
| Iwieniec | 120-123 |
| Izabelin | 123-124 |
| Ejszyszki | 124-129 |
| Ilja | 129-132 |
| Indura | 132-135 |
| Budsław | 135 |
| Boćki | 136-138 |
| Brzostowica Wielka | 138-139 |
| Białowieża | 139-140 |
| Białystok | 140-164 |
| Byteń | 164-168 |
| Bielica | 168-170 |
| Bielsk | 170-175 |
| Bystrzyca | 175-176 |
| Bakszty | 176 |
| Baranowicze | 176-187 |
| Brańsk | 187-191 |
| Brasław | 191-195 |
| Gawejkiany | 195 |
| Goniądz | 195-198 |
| Głębokie | 198-203 |
| Grodno | 203-229 |
| Gródek (Vilna District) | 229-231 |
| Gródek (Białystok District) | 231-234 |
| Daugieliszki | 234-236 |
| Dworzec | 236-238 |
| Dowgieliszki | 238 |
| Dubinowo | 238-239 |
| Dubrowa Nowa | 239-240 |
| Dołhinów | 240-244 |
| Dąbrowa | 244-246 |
| Duniłowicze | 246-249 |
| Dukszty | 249-251 |
| Dokszyce | 251-254 |
| Dziewieniszki | 254-257 |
| Dzisna | 257-261 |
| Delatycze | 261-262 |
| Deksznie | 262 |
| Drohiczyn | 262-265 |
| Derewno | 265-267 |
| Druja | 267-270 |
| Drujsk | 270-273 |
| Druskieniki (Druskininkai, Lithuania) | 273-274 |
| Dereczyn | 274-277 |
| Hoduciszki | 277-280 |
| Hołobudy | 280 |
| Hołubicze | 280-281 |
| Hołynka | 281-282 |
| Holszany | 283-286 |
| Horodziej | 286-287 |
| Horodyszcze | 287 |
| Hajnówka | 288-289 |
| Hermanowicze | 289-290 |
| Wolożyn | 291-295 |
| Wołma | 295 |
| Wołpa | 295-298 |
| Wołkowysk | 298-305 |
| Woronów, Werenów | 305-307 |
| Worniany | 307-309 |
| Wiazyń | 310-311 |
| Widze | 311-314 |
| Wilejka | 314-319 |
| Wiszniew | 319-323 |
| Wsielub | 323-324 |
| Wasiliszki | 324-328 |
| Wasilików | 328-331 |
| Zabrzezie, Zabrzeź | 331 |
| Zabłudów | 331-335 |
| Zdzięcioł | 336-343 |
| Żołudek | 344-346 |
| Zelwa | 346-350 |
| Zaśkiewicze | 350-351 |
| Choroszcz | 351-354 |
| Turzec | 354-356 |
| Traby | 356-357 |
| Troki | 358-361 |
| Trzcianne | 361-363 |
| Jody | 363-364 |
| Jeziory | 364-367 |
| Jeziernica | 367 |
| Jejse | 367-368 |
| Jałówka | 368-369 |
| Janów | 369-371 |
| Jeremicze | 371-372 |
| Jasionówka | 372-374 |
| Lebiedziew | 374-376 |
| Lubcza | 376-379 |
| Łużki | 379-380 |
| Łotwa Mała | 380 |
| Lunna | 380-383 |
| Lachowicze | 383-386 |
| Leonopol | 386-387 |
| Lida | 387-393 |
| Lejpuny | 394 |
| Łingmiany | 394-395 |
| Łyntupy | 395-397 |
| Łyskow | 397-400 |
| Lipniszki | 400-402 |
| Mołodeczno | 402-404 |
| Mołczadż | 404-408 |
| Mosty | 408-409 |
| Miadzioł Nowy | 409-411 |
| Miory | 411-413 |
| Mielegjany | 413-414 |
| Mielnik | 414-415 |
| Mejszagoła | 415-417 |
| Michałowo-Niezbudka | 417-420 |
| Michaliszki | 420-422 |
| Milejczyce | 422-423 |
| Mir | 424-429 |
| Mścibów | 428-429 |
| Nowa Mysz | 429-430 |
| Nowogródek (Novogrudok, Belarus) | 430-437 |
| Nowojelnia | 437-438 |
| Nowo-Święciany | 438-441 |
| Nowy Dwór (Nowogródek District) | 441-444 |
| Nowy Dwór (Białystok District) | 444-445 |
| Nowy Dwór (Białystok District, Wołkowysk province) | 445 |
| Nowy Pohost | 445-447 |
| Niwki | 447 |
| Niedżwiedzica | 447-448 |
| Niehniewicze | 448 |
| Niemirów | 449 |
| Niemenczyn | 449-451 |
| Nieśwież | 451-456 |
| Naliboki | 456-457 |
| Narew | 457-459 |
| Narewka Mała | 459-460 |
| Swisłocz | 460-464 |
| Suchowola | 464-468 |
| Soły | 468-469 |
| Soleczniki Wielkie | 470-472 |
| Supraśl | 472-475 |
| Sokółka | 475-481 |
| Suraż | 481-482 |
| Stojaciszki | 482-484 |
| Stołowicze | 484-485 |
| Stołpce | 485-489 |
| Stoczek | 489 |
| Sidra | 489-490 |
| Słobodka | 490-492 |
| Słonim | 492-506 |
| Smorgonie | 506-511 |
| Snów | 512 |
| Skidel | 512-515 |
| Podbrodzie | 515-518 |
| Porzecze | 518-519 |
| Polonka | 520 |
| Postawy | 521-523 |
| Porozów | 523-525 |
| Piaski | 525-529 |
| Plusy, Plussy | 529 |
| Plisa, Plissa | 529-530 |
| Prozoroki | 530-531 |
| Parfjanów | 531-532 |
| Ciechanowiec | See Vol IV pp 392-395 |
| Cejkinie | 533 |
| Kobylnik | 533-536 |
| Koziany | 537-538 |
| Kosłowszczyzna | 539 |
| Kurzeniec | 539-542 |
| Kuźnica | 543-544 |
| Kolonja Izaaka | 544-546 |
| Kolonja Synajska | 546 |
| Koltyniany | 546-548 |
| Korycin | 548-549 |
| Korelicze | 550-552 |
| Kiemieliszki | 552-554 |
| Kleck | 554-558 |
| Kleszczele | 558-560 |
| Kamionka | 560-561 |
| Kamionka–Knyszyn | 561-565 |
| Krewo | 565-567 |
| Królewszczyzna | 567-568 |
| Krynki | 568-575 |
| Krasne | 576-578 |
| Krywicze | 579-582 |
| Raduń | 583-585 |
| Radoskowicze | 585-589 |
| Rubieżewicze | 589-592 |
| Rudżiszki | 592 |
| Różanka | 592-595 |
| Rotnica | 595 |
| Ros | 595-596 |
| Rymszany | 596 |
| Raków | 596-600 |
| Święciany | 600-608 |
| Świerźen Nowy | 608-611 |
| Świr | 611-614 |
| Siemiatycze | 614-620 |
| Śiniawka | 620-621 |
| Szczuczyn | 621-625 |
| Szarkowszczyzna | 626-627 |
| Index of Places | 629-635 |
| Index of Names | 637-653 |
| Table of Contents (English) | V - VI |
---

Yizkor Book Project

JewishGen Home Page
---
Yizkor Book Director, Lance Ackerfeld
Emerita Yizkor Book Project Manager, Joyce Field
This web page created by Lance Ackerfeld
Copyright © 1999-2023 by JewishGen, Inc.
Updated 26 Apr 2021 by LA