Lea Wassermann: the Last Good Bye
From the report "About Our Family For Our Family" by Lea Wasserman Schwarz
A few weeks after my visa was renewed we received notification that a transport on a sealed train was being put together to leave from Berlin anytime after January 3, [1941] by way of France, Spain and Lisbon, where passage on a ship to America would be arranged.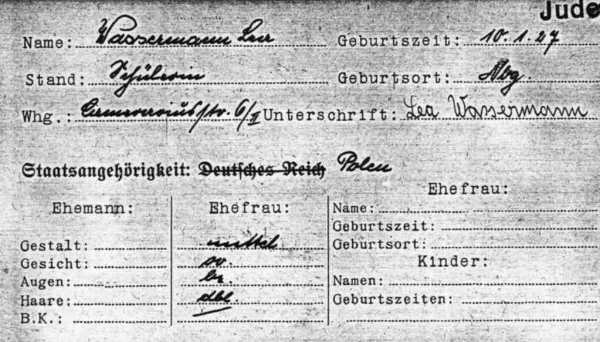 Lea's passport registry card (NCA C 21/VII)
My mother had a girlhood friend from Rzeczow, where she was born, who lived in Berlin. Mama wrote to her and asked if I could stay there until my transport left, as there would be very short notice. The woman was a very nice person and said she would be happy to put me up. Unfortunately, her husband was also in a concentration camp, being a Polish Jew. She had an 18-year-old daughter who was a beautiful girl. While I was living there, the Jewish Federation arranged for me to have private English lessons twice a week.
Our father was arrested again two weeks after his operation, directly from the hospital. They never gave him a chance to recover. At first he was kept at Fuerstenwald Prison near Berlin. When my mother brought me to Berlin to stay with her friend, we were allowed to visit him in the jail yard, and I said good bye to him there.
After a four-week stay in Berlin, I was notified that the transport would leave early in February. My mother came back to Berlin to take me to the station. The group was to gather in an air raid shelter at the Anhalter Bahnhof. Only people who were leaving were allowed inside, and I had to say good bye before going in. I barely got through the door when it hit me that I was actually leaving. I went back outside to see my mother again, but she was gone.
I don't remember how many hours we waited to board the train. While waiting I met a girl who was also travelling alone from Nuernberg. She and I were what made up the "children's transport." Her name was Eva and she was 11, almost three years younger than I. Eva did not have parents. She was raised by a grandmother. We got along well on the trip and of course being the older one, I felt responsible for her. There are only a few things that I remember about that train ride. As we approached the German border, I was concerned that I might have a problem getting across the border with the gold ring my friend gave me. I decided it was not worth the risk and threw it out the window into a field.
As we passed through some of the large cities, the Jewish committee passed some lunch boxes with food through the window. No one was allowed on or off the train. In Paris it stayed in the railroad station all night. French bread was passed to us through the window by the Jewish Federation in Paris. The first time we were allowed off the train was in San Sebastian, Spain. We were put up in the hotel Santa Maria overnight and given dinner. Dinner was rice with clams on the half-shell. I decided to eat the rice only, but then found what must have been a loose clam in my mouth. It was all I could do to keep from heaving right then and there at the table. Early in the morning we had some time to look around the fishing village, and I will never forget the beautiful view. It was the first time I saw the ocean. Although it was only a bay, I was very exited.
Spain at that time was a very poor country, as it was ravaged by a civil war that ended only in 1939. The country was so poor that the dogs we saw from the train were so thin they looked like skeletons. We fed them from what we had left of the stale French bread. Then the children ran after the stale pieces of bread, competing with the dogs.
I do not remember ever feeling hungry. That may be because as a child I had no interest in food. Or one just accepted the fact that one ate what one had. During the past few years certain food items were available based on food stamps only. Jews did not get the same rations Germans did. Meat, especially kosher meat was totally unavailable and I doubt that our mother would have bought any other kind. I do remember standing in line for hours to buy a fish or herring or even to get a bag of potatoes. Sometimes by the time we got to the end of the line they were all sold out. The availability of food in the US really impressed me when I first arrived here. So did the public display of anything Jewish, such as the Yiddish press or kosher butcher signs.
From San Sebastian it was just one more day's travel to get to Lisbon. Once there we were taken to a boarding house which belonged to a Captain Dacumba.
Eva and I shared a room. It was impossible for us to sleep. The bed, which had a straw mattress, was infested with bedbugs, and we found out from experience that bedbugs do bite. I remember taking the blanket and trying to sleep on the floor. That helped somewhat. The next day we complained to our representative of the Jewish committee. The place was fumigated and we got different beds. That took care of that problem ...
| | |
| --- | --- |
| | |
| Lea's mother Etka, born 1895 in Rzeszˇw (Poland) | Lea's sister Friedel, born 1924 in Nuremberg |
I knew my family would know Tante Gisa's address and contact me if they were alive. As news came from the invading Armies on the horrors they found when liberating the concentration camps, my hopes began to dim. The world Jewish congress collected lists of survivors in their New York offices. I went frequently to look for names of any of our relatives, but unfortunately to no avail. A friend of mine was a soldier in an army division that invaded Nuernberg. I asked him to see if he could get any information on my family. The information he got was that my father "died" in Ravensbrueck on May 10th, 1942. (he was forty-four years old). My mother and sister were presumed to have "died" somewhere in Poland.
As the post-war years went by, a very few of the survivors trickled into the United States. Among them were only two people from Nuernberg that I had known. One was Mrs. Stern, who had lived downstairs from us. She was the women who had rung out door bell the morning after "Kristall Nacht." She had been with my mother and sister in Mauthausen until the very end. She told me that only a few weeks before the Russian army liberated that concentration camp, my mother was destined for the gas chamber during the selection process. My sister went with her voluntarily. She was 24 years old. My mother was 50.
I would not be here to tell this story, and there would be no offsprings of mine, were it not for the diligent work of the Jewish agencies.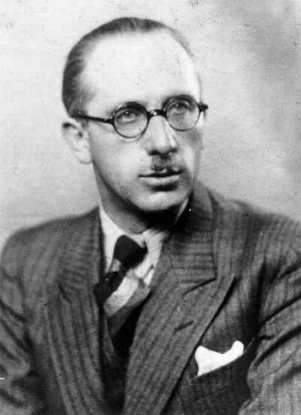 Lea's father Simon, born 1898 in Gorlice (Poland), killed by the Nazis in 1942
---
This material is made available by JewishGen, Inc. and the Yizkor Book Project for the purpose of
fulfilling our mission of disseminating information about the Holocaust and destroyed Jewish communities.
This material may not be copied, sold or bartered without JewishGen, Inc.'s permission. Rights may be reserved by the copyright holder.
---
JewishGen, Inc. makes no representations regarding the accuracy of the translation. The reader may wish to refer to the original material for verification.
JewishGen is not responsible for inaccuracies or omissions in the original work and cannot rewrite or edit the text to correct inaccuracies and/or omissions.
Our mission is to produce a translation of the original work and we cannot verify the accuracy of statements or alter facts cited.

Leaving Nuremberg

Yizkor Book Project

JewishGen Home Page
---
Yizkor Book Project Manager, Lance Ackerfeld
This web page created by Mike Kalt
Copyright © 1999-2018 by JewishGen, Inc.
Updated 21 June 2003 by LA