Hugo Gutmann: Escaped Three Times
Hugo Gutmann (after the emigration Henry G. Grant) was born on November 19, 1880 in Nuremberg. During World War I Gutmann served as an officer in the very regiment in which Adolf Hitler was an enlisted man. After the war Gutmann took over his father's office furniture company. Hugo Gutmann and his family were able to flee to Brussels in spring 1939. In a letter of 1946 he described his triple flight to a friend in Germany (NCA E 10/24 no 8).
"May 14, 1940, shortly before Brussels was occupied, we escaped only with small suitcases taking the last train to France. Miraculously we had received our immigration visa by May 9. In Vichy I could get our emigration permit to Portugal on July 28. We had wonderful loyal friends among the Frenchmen but the Vichy officials were corrupt beyond any comprehension. We had very influential American help, too. Without the dollars which I took with me when I left Brussels we would not have reached France and would have fallen into the Nazis' hands. Without dollars one couldn't get any stamp in his passport. We were in the proximity of Toulouse then."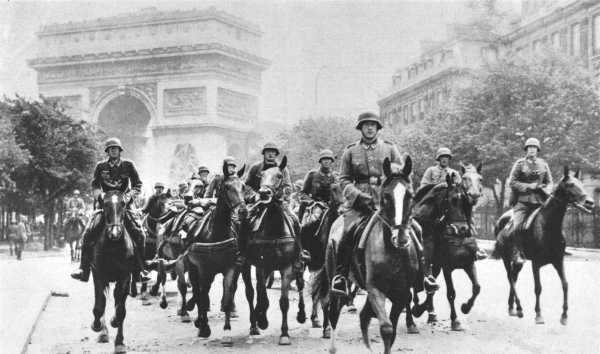 German troops entering Paris June 14, 1940 (NCA E 39 no. 744/2)
"Seeing the conditions in France at that time, one could not been surprised by the collapse of France. The journey through Spain was likewise dreadful. Everywhere Gestapo. We finally reached the beautiful and hospitable Lisbon on August 4." Several weeks later the Gutmann family embarked for the United States.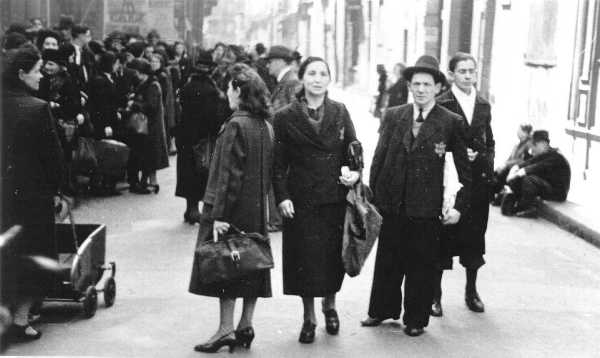 Jews in occupied Paris 1942 (NCA E 39 no. 749/15)
"I can hardly describe how happy and grateful we are to live in this great and free country. People here are much more peaceful than in Europe ... Yesterday the presidential elections took place ... A real difference between Democrats and Republicans does not exist, both are primarily Americans. The president prefers his party members as secretaries of state, this is the only difference actually ... The people here want to live carefree and pleasant. Everything which shall be changed is criticized publicly. The president or a high official is criticized just the same as an ordinary man. All of this happens without spitefulness. Everybody may say what he wants and no-one takes care of the other in an obtrusive way like in Europe. Almost every worker and every other man owns an automobile and enjoys his life in a way which in Europe only the so-called high society can afford."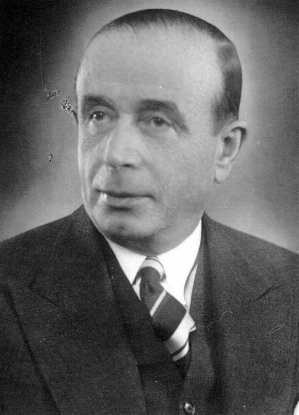 Hugo Gutmann, born 1880 in Nuremberg
---
This material is made available by JewishGen, Inc. and the Yizkor Book Project for the purpose of
fulfilling our mission of disseminating information about the Holocaust and destroyed Jewish communities.
This material may not be copied, sold or bartered without JewishGen, Inc.'s permission. Rights may be reserved by the copyright holder.
---
JewishGen, Inc. makes no representations regarding the accuracy of the translation. The reader may wish to refer to the original material for verification.
JewishGen is not responsible for inaccuracies or omissions in the original work and cannot rewrite or edit the text to correct inaccuracies and/or omissions.
Our mission is to produce a translation of the original work and we cannot verify the accuracy of statements or alter facts cited.

Leaving Nuremberg

Yizkor Book Project

JewishGen Home Page
---
Yizkor Book Director, Lance Ackerfeld
This web page created by Mike Kalt
Copyright © 1999-2021 by JewishGen, Inc.
Updated 21 June 2003 by LA