Chapter 7 (cont.)
[Page 466]
Meeting of Former Residents of Yurburg in Jerusalem
By Frieda Shahnovitz-Zvuloni
Translated by Irene Emodi, Tel Aviv
Blessed be my few friends who are full of love for their place of origin and the little town where they were born, and each year collect the few survivors left and organize a social meeting of former residents of Yurburg. The meeting of the lucky few who managed - some earlier some later - to find their place in our country. Childhood memories apparently have an endless nostalgic power; a power capable of bringing together people from all corners of the country; a power whereby countless years of life and creation in our country have not diminished the fondness and link with those who share the same town of birth. Life takes its course; everyone has acquired a circle of friends with whom he has passed the long road of his personal life; most have spent more years in Israel than they ever lived in Yurburg.

In spite of this, after a day of work, almost all of them respond to the call: "Yurburgers, come and meet!" This time too we met, on a spring day, again in the same corner of Tel Aviv. They had come from all over the country, and they have a common goal: placing a memorial plaque commemorating their loved ones, a memorial plaque for the cradle of our youth, at the Holocaust cellar on Har (Mt.) Zion, in the eternal city of Jerusalem! Will such a small, silent marble plaque be able to include the memory of our peaceful, honest life in Yurburg? May this plaque serve as a meeting place and a place of commemoration. In addition to all the painful memories, the informal meeting of various immigrations and different age groups is always charming. The atmosphere is, as always, very emotional, the spiritual bond of the few who survived, few of many fine people, as we once were. This year's meeting, held at the initiative of our executive committee, and hosted by our charming friend Zevulun Poran from Jerusalem, was very impressive. The ceremony of the unveiling of the plaque commemorating the Yurburg martyrs on Har Zion was full of bitter memories, immense sorrow for all that was dear to us and had been lost for no reason.

How can one forget and be free of this pain, this deep sorrow?! Indeed, when I stood among the others, next to the plaque illuminated by memorial candles, I suddenly saw my loved ones coming towards me from every corner, those I had loved so much, with their noble souls, personalities from our unforgettable little town . . .and my mind wandered to the narrow streets of Yurburg, that no longer exist. Each corner, every tree, river, each path, each house had its memories. Yes, it was a little town like many others in Lithuania, yet it had something different, something near, full of the love of youth, childhood memories and the echo of first steps on the path of life. And then destruction came, inflicted on us by murderous men, and wiped away all the beauty without leaving a trace . . .

The visit to "Yad Vashem" was very impressive and emotional. An atmosphere of a generation that had been lost filled the hall. Here I felt that a tombstone had been placed that most suited the commemoration of our martyrs, those who lived in our town of Yurburg.

When we left "Yad Vashem", full of memories and sad feelings, we all found a certain consolation in the beautiful landscape of Jerusalem and in all that symbolized the creation and building of the state - in the willpower to live and be a people - in spite of all that had happened and in spite of the "final solution" of the Nazi devil.

The feeling of being a family, being close, spiritual closeness, are so beautiful and enrich us all so much that every effort both by individuals and by the organizers to continue the meetings and encourage this cherished tradition is worthwhile.

Kfar Masaryk, (April 9, 1962)

[Page 467]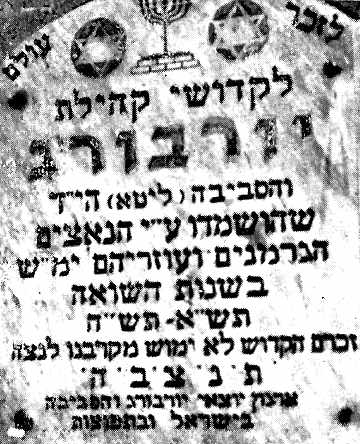 The Memorial Plaque in the Holocaust Cellar in Jerusalem
---
[Page 468]
What the Name "Yurburg" Means to Us
Words Spoken at a Memorial Meeting of Former Residents of Yurburg
By Zevulun Poran
Translated by Irene Emodi, Tel Aviv
One Saturday in the winter of 5725 (1965) I visited Kibbutz Kfar Masaryk with my family. We were the guests of my friend Frieda Shachnovitz, sitting here with us. We enjoyed being entertained at the kibbutz among whose founding members we had been, and particularly Frieda's warm welcome. We talked a lot about Yurburg and the meetings of former residents of Yurburg.
When we returned from Kfar Masaryk, my daughters, 9-year old Anat and 7-year old Osnat, asked me why Frieda had been so emotional when she spoke about the meeting of former residents of Yurburg and about Yurburg itself. . . . of course I answered them as best as I could. I found it difficult to give them a full answer to their questions off the cuff.. Anyhow, they would not have understood the thread binding those from Yurburg to each other. To my daughters Yurburg is a strange name, it has a strange sound, which means nothing to them. This is true for my daughters as well as for your children.
We are the last people to whom the name Yurburg and its sound brings up associations, memories and moving experiences. The name Yurburg is dear to us, for it is linked to our past, to memories of our youth, which are the nicest memories in a person's life. We are linked to Yurburg by the love of our dear ones - our fathers, brothers and sisters, relatives and friends and the entire Jewish community of Yurburg.
Let's also ask ourselves the question: what does Yurburg mean to us? Will we be able to express it in words, we who come from Yurburg? After all, to us Yurburg is all and everything, a world full of feelings and experiences - we all have memories that never leave us.
It seems to me that when we think of Yurburg, we immediately see the enchanting landscape, which charms the eye and heart. All the views around Yurburg are beautiful, but I think the view of the Naiman flowing slowly towards the town is the most beautiful of all. Yurburg's two smaller rivers are beautiful too, the Mitova and the Imstra, crossing Yurburg, a joy to everyone. Who can't forget the town's streets full of life and its busy center - Kovna street - its paths and alleys, gardens and luscious parks. All these colorful scenes always charmed us and left their mark on us, it has already been said that man is merely a reflection of his childhood landscape. Man merges with nature and turns into an integral part of it. I don't know, perhaps we are not objective when we say: "Yurburg is different from other towns!" Although we can't deny the truth that Yurburg is very special and different from the other towns. Yurburg is also different in the special nature of its population, soft-spoken and pleasant in its mutual relations and peace of mind.
We remember the members of the youth movements, who walked through the streets of town, upright and strong with their national and human pride, singing the song of Zion.The youth movements where we grew up, like "Maccabi", "Hahalutz", "Hahalutz Hatzair", "Hashomer Hatzair" and "Beitar" - which gave us moral values and shaped our personality. We shall remember the schools too, where we acquired an education and knowledge - the primary school ("Talmud Torah"), the Hebrew Gymnasium called Herzel and the small yeshiva at the Kloiz. . .
The old synagogue is also unforgettable, splendid, everyone who saw it was impressed by it -it inspired the love of art in us, with its wood carvings, the love of beauty. Indeed, this Yurburg of ours inspired us with wonderful values, human values, love of man, love of life and joy of life.
This Yurburg, the cradle of our youth, Hebrew-Jewish, no longer exists. Everyone is gone, noone remains. They were murdered in cold blood and slaughtered by the Nazi murderers. No trace is left of our loved ones, no sound to be heard. But the name Yurburg still rings in our head - the survivors' head - and won't leave us alone . . . .
We shall never forget our sacred duty - to remember, to remind and commemorate their memory, the memory of the members of the Yurburg community.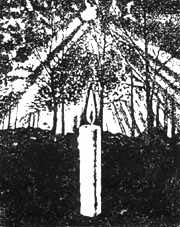 ---
Yurburgers Help Other Yurburgers
Translated by Irene Emodi, Tel Aviv
Petach Tikva

August 26, 1956

Dear Zvulun,

I was very happy to receive your reply which helped me solve the mystery of your silence. Indeed, I was most impressed by your readiness to help our joint friends, to get them out of the Soviet "paradise".

Once I have written this letter, I shall write a letter to Menahem Kravetz. ** - with whom I want to make an appointment, whenever it suits him, I shall come to him, or he to me. Due to the strike, the "Dan" company's bus schedule was disrupted, as a matter of fact, it is non-existent for the time being. So it is better to decide at present that I shall faithfully carry out the part of which I am in charge.

I read your Israeli CURRICULUM VITAE. Indeed, a lot has happened since we left the Hebrew Gymnasium in Yurburg - the wooden building in the "Tel Aviv" park, looking out over the little hill on the Imstra river, the willow trees bending over its quiet waters, the little wooden bridge and the road leading to the park of Prince Vasilchikov.

Were it not for the national, family and personal tragedy that befell us when all our dear ones there were murdered, Lithuania and Yurburg would have remained enveloped in the glory of romanticism, the romanticism of youth, however, a screen of blood separates us now, and I have torn any feelings for that country out of my heart.

** This refers to Tuvia Kravetz, the Holocaust survivor from Kovna, who wants to go to Israel, but emigration certificates are only handed out to people who have relatives in Israel. I therefore looked for a man called Kravetz, an Israeli citizen, who could be turned into a "relative, a brother".

The search for the "relative" via the telephone directory led me to ask Mordehai Zilber for help. He lives in Petach Tikva and knows Menahem Kravetz, the "so-called brother" of Tuvia Kravetz . . . .

I have had some news from Yurburg from which I understand that it is a ghost town now; it hardly exists, it was destroyed and burnt down and has but a few Jewish inhabitants. "He" too, the writer of the letter, begged me to help him, but I am heartbroken that I am unable to do so.

I had the opportunity to meet people from Yurburg in Canada, where I visited three years ago (I spent a year and a half there - not as an emissary . . .). I meet very few people from Yurburg in Israel, for I hardly ever leave Petach Tikva.- About 8 months ago I met Batsheva Ilon from Givat Brenner and her husband Yankele Vilensky - she made a wonderful career for herself at the Working Women's Federation (today called Na'amat). She was sent on missions to England, U.S.A., Canada. I also met Zvia (Zvika) Levitan (graduate of the first class at the Gymnasium). She has a brother, Yoske, who presently lives in California (he is also a graduate of the first class). Zvika came from Toronto, Canada, on a visit to Israel.

Indeed, time passes - it seems to me we are now at the point of "Minhah", almost "Maariv", soon we will have to say "Kryat Shma". . .

I was really very happy with your letter. I am corresponding with a certain Yitzhak Levinson from South Africa, formerly from Yurburg. I wrote to him about your letter and he will surely be very pleased too. He wants to help Tuvia Kravetz and Batia (Feinberg), his wife.

I hope to hear more about you and to see you too.

Best wishes to you and your family and Happy New Year,

Affectionately yours,

Mordehai Zilber
---
[Page 472]
We Shall Remember- the Scroll of Planting the Yurburg Grove
By Zevulun Poran
Translated by Yacov Sherman, Mexico City
We shall remember, eventhough it is painful, our parents, our brothers, our relatives and our friends. The sacred community of Yurburg, we never taught that human being would be capable of this. We shall remember our lovely children. Children, full of innocence, who were just starting to live. They murdered in cold blood. We shall also remember all of the sons of our community of Yurburg, the men and the women. A whole generation is gone. We shall remember and we shall not forget.
The Scroll of Planting the Yurburg Grove.
To the knowledge of the former residents of Yurburg in Israel including new immigrants and veterans and the former residents of Yurburg in the Diaspora - we have planted today May 18, 1965, the first trees to comemorate the sacred community of Yurburg. With these trees we fulfill our pledge to our children from Yurburg to remember them forever, our lovely children of Yurburg. The Lithuanians that murdered a whole community. We shall remember every single individual who was once part of the Yurburg community. We shall remember those from our lovely sacred Yurburg community who were murdered by the wild beasts. And we shall not forget those that were unable to emigrate to the land of Israel because they were murdered. These trees should carry forth the perpetual memory of our Yurburg community, our city, our childhood.
We shall remember and we shall not forget the guilt of the German Nazis and their Lithuanians helpers.
We shall remember till the last generation.
---
We Shall Remember
By P.Z.
Translated by Irene Emodi, Tel Aviv
With sorrow and indignation we shall remember our parents, our brothers and sisters, our relatives and friends who were deprived of their innocent life by cruel and beastly murderers.

We shall remember our beloved children, mere babies, torn away from their parents by the Nazi oppressors and their Lithuanian helpers and led like sheep to slaughter in the Shwanthsani forest, the cemetery, on the way to Rasain, and other places, where they were murdered in cold blood and thrown, still alive, into the pits of death, their lives cruelly cut off. We shall remember all the members of our community in Yurburg, men and women, young and old, exterminated, their honor wounded, their blood spilt by beastly people - in sanctification of the Holy Name. We shall remember and never forget.

Scroll of Planting the Memorial Forest for the Yurburg Community

On behalf of former residents of Yurburg in Israel, old-time settlers and new immigrants, and on behalf of former residents of Yurburg in the Diaspora - we have today, Tuesday 16 Iyar 5725 (May 18, 1965) planted the first saplings in the forest commemorating the martyrs of the Yurburg community.

By planting this forest we are erecting an eternal memorial in the Modi'in region, the cradle of the Maccabeans, for the people of our town. The trees we planted today are trees of remembrance for the entire community of Yurburg, destroyed by beastly people. We shall bind the memory of the Yurburg martyrs into the eternal life of the trees in the forest, always fresh on the land of Israel, a symbol of the eternal bond of our loved ones with the fatherland to which they did not have the good fortune to arrive during their lives.

In the shadow of the trees turning green, in the memorial forest of the Yurburg community, we shall meet from time to time, to proudly and painfully remember our town, the cradle of our youth, fondly remember its glorious past and mourn its bitter fate.

We shall remember and never forget the crimes of the Nazi Germans and their Lithuanian helpers, those who destroyed and exterminated our community until the last generation.
---
Address on the Planting of the Grove
by Aliza Leipziger-Porat
Here I stand, trembling and in awe on this piece of land, where the grove commemorating our dear ones is to be planted. What shall I say, what can I say that has not been said already?! The heart grieves, bursts and flows over, and the words must come out. However, it is hard to find the right words to express what we all feel. You and I, we are one of a kind, united in our pain and sorrow. We share a bitter fate. We have gathered here as people who share the same past, people who are bound by many open and hidden threads; we were all born and raised in the same town called Yurburg, where we absorbed the tradition of our fathers and where our spiritual nature was formed. We all dreamt our youthful dreams here, and it is only natural that the period of childhood and youth enhance the happiest memories in a person's life. The not-so-good memories sink into an abyss and only the happy ones remain with us. Indeed, we had happy memories and we had a wonderful past. Our Yurburg - I pronounce its name with pride and refer to its wonderful people with great esteem. Warmth flowed out of every Jewish home, for in each Jewish home a warm Jewish heart was to be found. Not only official charity and organized aid institutions were to be found there but also daily individual deeds of charity, anonymous gifts, acts of mercy not expecting to be rewarded. I remember the Fridays, when my late mother would send me on missions of charity, to bring the "challes" (Sabbath bread) and fish to the needy. And I know very well that my late mother was but one of many in our town who helped the poor - not only our own people, but the gentiles as well; all this kindness derived from the love of man and the belief that it was deserved. There are many more beautiful humane acts of which I could speak. Perhaps one day a book will be written in their memory, describing their good deeds and their aspirations for education - how hard they worked, and what tremendous efforts they made to provide an education for their children; how the first ones learned Hebrew and were drawn to Zion. Many dreamt of national redemption. The Zionist activity, cultural as well as public, was carried out with endless devotion, enthusiasm and perseverance.

Our Yurburg brought forth the best of youth, glorious youngsters, splendid idealists determined to implement their ideals. But when the terrible enemy arrived, all was destroyed. Our home - together with the cradle of our youth - went up in fire. It is no longer. Turned into ashes.

We were told many tales, but many other things remained obscure, for the voices have fallen silent and there is no one left to tell. However, we are sure that in that last hour of their lifes they thought of us, and their only consolation was that we were not with them, and that luckily some one was left to remember them, and perhaps take revenge. And indeed we shall remember them forever!

We have gathered here to plant this grove to honor their last wish. We plant in order to commemorate uprooting, the terrible uprooting! It is particularly symbolic to us, Jews, the people of peace. Against the destruction, ruin and devastation - building and planting. It is also a symbolic response: the enemy wanted to uproot -and we plant. There is something else we should know: our dear ones did not die in vain. The shattered, sooted stone remains from the destroyed town and it has turned into the cornerstone, the foundation stone of our life. The song that suffocated there in the flames, sprang up again in the voices of the divisions of our fighters, here in Israel. Thanks to them we received our State, thanks to them we love it even more, and thanks to them we shall look after it even more. They therefore play an important part in the building of the State and its defense, even though they were not here, did not have the good fortune to be here. They probably also ordered us, in their most difficult moments, to go on, continue the story of their life in Israel. I remember the Sotzkover song, the words expressed in the camp by the father to his son in Tel Aviv:
"Dig into the ashes and if nothing is left there, silently take out a fragment of destruction and take it with you and bury it with your own hands in the garden where your children will sing"
Friends, in the spirit of this legacy, we should come here often with our children to this grove, and tell them who and what their grandfathers and grandmothers were. Our fathers used to say: "may their souls be bound into the bond of life." Indeed, the souls of our martyrs will hover over this place which has come to life, they will live in the bond of our life, the bond of our people and its fatherland. The trees will grow, take root and send up a branch above; this grove will be their tombstone and carry the message of eternal new life in the fatherland in memory of our beloved. We shall meet here from time to time in their shadow and remember those who we shall never forget, will remember forever and ever ....
Kibbutz Afikim
---
This material is made available by JewishGen, Inc. and the Yizkor Book Project for the purpose of
fulfilling our mission of disseminating information about the Holocaust and destroyed Jewish communities.
This material may not be copied, sold or bartered without JewishGen, Inc.'s permission. Rights may be reserved by the copyright holder.
---
JewishGen, Inc. makes no representations regarding the accuracy of the translation. The reader may wish to refer to the original material for verification.
JewishGen is not responsible for inaccuracies or omissions in the original work and cannot rewrite or edit the text to correct inaccuracies and/or omissions.
Our mission is to produce a translation of the original work and we cannot verify the accuracy of statements or alter facts cited.

Jurbarkas, Lithuania

Yizkor Book Project

JewishGen Home Page
---
Yizkor Book Director, Lance Ackerfeld
This web page created by Joel Alpert
Copyright © 1999-2023 by JewishGen, Inc.
Updated 11 Sep 2005 by LA