[Page 111]
For the Elevation of the Souls of the Martyrs of Halmeu
Who Were Murdered in Sanctification of the Divine Name in Auschwitz,
may G-d avenge their blood
My father Reb Eliahu Markovitch of blessed memory, my revered mother Sheva of blessed memory, my brothers Benzion (his wife Golda-Zahava nee Moskovich and their three children), David, Mordechai, my sister Fruma (wife of Reb Shmuel Wertheimer may he live long, and their four children), Esther (wife of Reb Shlomo Nosem of blessed memory and their four children).
Perpetuated by Leah Weiss, Bnei Brak
---
My father Reb Shmuel Schwartz of blessed memory, and y revered mother Rivka the daughter of Yarcha of blessed memory
Perpetuated by Pinchas Schwartz of Jerusalem
---
My father Reb Menachem Mendel Landau of blessed memory from Bătarci, my revered mother Sara, my brothers Aryeh Leib, Mordechai, Meir David, and my sister Gella
Perpetuated by Elia David Landau, Ramat Gan and Yotva Reichenberger, Bnei Brak
---
My father Reb Meir Braun of blessed memory., my revered mother Lea, my brothers Menashe, Binyamin, Chaim, Shmuel, and my sisters Hendel and Sheva
Perpetuated by Moshe Braun of Bnei Brak and his brother
---
My father Reb David Zicherman of blessed memory, my revered mother Chaya of blessed memory, my brothers Avraham and Menashe, and my sister Yetta and their families
Perpetuated by the Zicherman brothers of Bnei Brak and Ashdod
---
My father Reb Zeev the son of Mordechai Schwartz of blessed memory, my revered mother Reizel the daughter of Malka of blessed memory, my grandmother Malka the wife of Reb Yisrael Farkas of blessed memory, Beila the daughter of Sara and her daughter Vera of blessed memory
Perpetuated by Yehuda Schwartz of Hadera
---
My father Reb Yisrael Menachem Appel of blessed memory, my revered mother Rachel Henia the daughter of Malka of blessed memory, my brother Reb Michael Tzvi of blessed memory
Perpetuated by David Meir Appel of Bnei Brak
[Page 112]
My father Reb Shimon the son of Asher Zindel Moskovich of blessed memory, my revered mother Esther the daughter of Feiga of blessed memory, my brothers Moshe Zindel and Moshe, and my sister Tova
Perpetuated by Sara Abraham, Haifa
---
My grandmother Chayay Sara Fried of blessed memory, my mother Feiga the daughter of Chayay Sara of blessed memory, my sister Rivka of blessed memory, her husband and three children
Perpetuated by Malka Schwartz of Hadera
---
My father Reb Eliahu the son of Yona Roth of blessed memory, my revered mother Perl Penina of blessed memory, my brothers Kopel, Yona and Moshe of blessed memory
Perpetuated by Aharon Roth and Izik, United States and Haifa
---
Our father Reb Yosef Weiss of blessed memory, our mother and three brothers Menachem Mendel of blessed memory, Mordechai, and our youngest brother of blessed memory
Perpetuated by Margalit Perl Weiss and Malka-Margit Weiss
[Page following 112]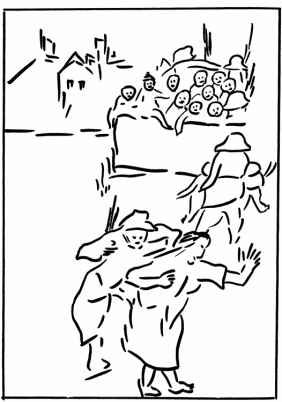 Toward extermination
[Page 113]
From Slavery to Redemption
by Malka Schwarz of Hadera
This was in 1944 – a very sad time in the history of Hungary Jewry. The occupying German army entered Halmeu in March and instilled its fear upon us. The men had been drafted some time ago and sent to work camps in Ukraine. Only the elderly, women and children remained at home.
Our fate – The fate of the Jews was bitter and unbearable even until then, but after the entry of the Germans to Hungary, we felt that our fate had been sealed. We prepared for Passover, but there was nobody to conduct the Seder for us, for the head of the household was absent. It was impossible to join the neighbors, for going out in the evening was forbidden. Therefore, after we succeeded in darkening the room well, we sat around the festive table to conduct the Seder with open Haggadas. However, no words were spoken, for we felt in our hearts – my mother, grandmother, and I – that we were standing at the threshold of most tragic events, but we did not speak about this because we did not want to spoil the atmosphere of the holiday.
On the last day of Passover, which had passed with frustration, I went to visit my Christian friend Marishka, but the house was filled with German soldiers and I was forced to serve as their translator.
When I went to bed that night, I did not close my eyes, and my mother also found no rest. The next day, my mother went out in the morning to get milk. Grandmother remained in bed, and I was preparing to light the oven when I heard loud knocks on the door. It was a Hungarian gendarme, wearing a hat with chicken feathers, accompanied by two policemen. After they recorded the details – that there was no man at home and the number of people living in the house – he issued an order that we had to pack our personal belongings weighing no more than 50 kilos by noon, when they would come to get us. To my perplexed question as to where they were taking us – my husband had been in a work camp for two years, and I too was prepared to work, but my mother was ill and weak, and grandmother was 85? "I have no permission to answer you! A command is a command," answered the gendarme curtly.
I went out to the street and saw the few Jewish men on the street, surrounded and being led away by a strong guard of the gendarmes. I tried to comfort my mother, who had returned in the interim trembling and perplexed, by telling her that the war will not last much longer, and with the help of G-d we will return home in peace. I ran to the grocery store to purchase some yeast to bake bread in order to prepare food for the journey, but I would not have been able to get any if it were not for my friend who let me into line, for there was not enough yeast for all those waiting in line. I kneaded the dough from wheat that we had put aside for a time of difficulty, but
[Page 114]
right after I had put it in the oven, a good neighbor came and told us, "I have come to inform you that the wagons have already arrived." We took whatever we could, packed up our belongings quickly, and waited for our turn.
Night fell and they had not come to get us. The Great Synagogue, which served as a gathering place, was filled to the brim, and we had to wait to be transferred to the Selish Ghetto. We remained in the house for an entire week. The fact that we lay down in our beds at night calmed us a bit, despite the fact that we repacked our suitcases every day. It felt as if we were on a deserted island, for we were the only Jews on the entire street. Their houses had been closed and sealed by the authorities. Our hearts ached when we looked at the street, which had been full of bustling Jewish life only a few days earlier and was now desolate and empty of people. We already waited impatiently for us too to become comrades in the tragedy and to be together with our brethren of the People of Israel in the synagogue.
The wagon came to take us on Friday before candle lighting. We were able to light candles in the home of the shochet Reb Elia Markovitch, which was nearby, before we were placed into the synagogue.
When we left there, a frightening picture unfolded before us. A Hungarian gendarme wounded with the butt of his rifle a Jew who had escaped from the synagogue and did not agree to return. His beard and clothes were dirtied by the stream of blood that flowed from his head. To my great surprise, I recognized him as the scholarly Jew, Reb Simcha Rappaport. He was returned to the synagogue unconscious with great cruelty, treated by the physician Dr. Izak and given a calming shot. We did not sleep all night due to the shortage of space in the synagogue. The young children were crying out of homesickness, and the mothers cried with them out of heartbreak and helplessness. In the morning, I managed to escape from the synagogue, and I arrived home through a tortuous route. I could not enter. I lay down on the grass in the garden, and fell asleep out of exhaustion. I awoke from my sleep as our cat was licking and kissing my feet, as if she wanted to comfort me from my tribulations with her loving look and meowing.
I got up and went to my Christian friend. She was very happy at my arrival. She tried in vain to influence me to remain with them until the end of the war, and they would concern themselves with a safe hiding place. However, under no circumstance was I willing to leave my mother and grandmother alone.
The wagons arrived on Sunday to take us to the Selish Ghetto. Before we set out, the Torah scrolls were removed from the Holy Ark, and we conducted hakafot[1], singing and dancing with holy devotion in the market square between the two Christian churches – "Let us come out and greet our righteous Messiah!" The gentiles, who were then on their way
[Page 115]
to church, stood in astonishment at this spiritual fortitude, and at the fact that they did not allow themselves to express the bitterness of their hearts.
As we were prepared for the trip, the mother of my Christian friend managed to place a bag of apples as well as various medications into the wagon. We arrived in the ghetto toward the evening after a long and tiring journey. The first phase before entry was the search. Despite the fact that we had each endured a search before we had left Halmeu, they carried this out a second time with greater cruelty. If they found any jewelry or money with anyone, they would be tortured to death or beaten by the gendarmes to the point that they would not be able to stand up and would have to be removed on the stretcher. The cruelty of the gendarmes was indescribable, so that even if we had succeeded in hiding valuables among the belongings, we now tried to free ourselves of them. Thus, the washrooms were full of jewelry, gold, and silver.
There were some people who informed the torturers about the valuables that they had hidden with the gentiles, and their fate was harsh and terrible. These included the wife of Eli Markovitch, Mendel the watchmaker, Fari Friedman, the daughter of Roiz from the nearby village of Trebusha, and many others. We waited impatiently for the end of the cruel search, so that we could forget this terrifying scene that brought us to spiritual oppression even before we entered the ghetto. Suddenly, the voice of the commander was heard, "Everyone who will be found with their packages in the yard in five minutes will be shot to death." The tumult was great. There were almost no men with us, and the few that were there were worried about themselves. The packages were very heavy. Among those who did not know what to do I saw Berta Rosenfeld, my future friend, who was with her sick sister. We forged a covenant of friendship; we brought out our packages to the road with our joint effort, and breathed a sigh of relief.
The street was full of people pushing quickly in the direction of the narrow entry to the ghetto, which was already crowded with no room, full of Jewish residents from the city itself and from the area. We were already the third transport from Halmeu. Grandmother could not grasp the situation. Her patience to wait for us wore out. She advanced to the entrance herself, but was almost trampled by the wild and nervous crowd. It was only with difficulty that I managed to bring her back to us.
The gentiles who saw us in this situation declared, "Where is the G-d of Israel who watches all this with equanimity? You are unfortunate in that your prayers were not accepted." We waited patiently for the entry of masses of Jews. After the spirits calmed down, we followed after them into the ghetto in the section of the city where the Jews were being concentrated. All of the houses were already occupied. Thirty or more people lived in a single courtyard. Many remained under the open skies and slept under a tree, including families with young children. They assuaged the hunger of their young children with a morsel of dry bread.
[Page 116]
With no choice, we too spread our blankets on the ground, but we could not sleep due to the cold of the night and the howling of the dogs. The elderly Hirsch and Alter the baker with his nine children also set up their residence outside.
Early in the morning, we went to search for a place, and with the help of friends, we found out about an empty wood warehouse. The person responsible for the courtyard, who knew my brother-in-law and me from Satmar, managed to open the warehouse. After a full day of hard work we managed to make it livable. We were weak, for it was three days since we had eaten, and the only oven in the courtyard was used by six other families. The gendarmes appeared daily to check on the cleanliness and check the number of residence – under the rubric of the morning roll call.
There were always new, frightening rumors. People were taken out to various tortures. The Jews with beards and peyos suffered especially, for they were torn off and plucked mercilessly. These Jews attempted to shave so they would be unrecognizable. In this situation, with no sign of Jewishness, I saw Franz Weiss, Landau, and Reb Dov the rabbinical judge. The rabbi of Halmeu, Rabbi Yaakov Shalom Klein, only trimmed his beard. To our sorrow, none of the aforementioned returned.
In the ghetto, we yet received a letter from my sister Rivka in the Satmar Ghetto, where she was with her husband Yomtov Lipa Wechsler and their three children – the oldest Hirsh Mendele was six, the middle Chaim Avraham was three, and the youngest Benzion was two. She herself was only 31 years old. From there, they were sent to their final path – Auschwitz.
I found out that they would take out girls in the early hours of the morning to clean the streets of the city, and at that time, it was possible to obtain bread and milk. My friend Berta and I dressed up nicely, for this was the first condition to be accepted. We already found a long line when we reached the gate of the ghetto at dawn. To our good fortune, we were both sent. There were about 60 of us, and we were divided into groups. I managed to purchase a bottle of milk and hide it. Later, I also managed to escape and enter the monastery where the line was already long. Everyone received a cup of coffee and a piece of bread, as well as two slices of bread for home. Mother waited for us impatiently, and she wept from joy when she saw the milk and bread, for Grandmother would also be able to eat something. I also managed to give some of the milk to our neighbor who was pregnant after being barren for 13 years and having been treated by renowned physicians. This was the wife of Weiss, a wealthy farmer who owned a tannery in Satmar.
When I went to visit my brother-in-law, I met my future husband Schwartz and the Appel family. Through my request, they were given permission to use the communal oven
[Page 117]
of the residents of the house, for they lived in the stable.
In the meantime, we learned of the arrival of a transport train to the station, the windows of which were covered with barbed wire. We were afraid to ask and take interest in this. It was on Thursday that we received the command to be prepared for the journey at 6:00 a.m., and to take along only the most important personal belongings. There was a great tumult. We did not know where they were taking us. We also did not have a great deal of time to think about what to pack and what not to pack. It was difficult to leave behind or throw away items of value that we had obtained through great difficulty. We packed all night, and then we heard the command to leave and organize ourselves.
The departure to the train did not begin with us, but from our location, we could see how they were cruel to those who were going, how they beat women and children with the butts of their rifles in order to prod them toward their deaths. Bags and valuables were left scattered along the way as their blood was spilled like water. Thus did we remain in our place under the heat of the sun, and without food until evening. The command to return to our dwelling was received after the train was packed to the brim. We returned without energy. We fell onto our beds, and woke up the next morning at daybreak. We asked ourselves, even after those who observed the commandments of G-d were hauled like sheep to the slaughter, how is it that the world runs as usual, the sun shines, the flowers bloom and continue to give their scent? We were no longer able to cry, and we had nowhere from where to draw hope and strength.
Another week passed with tension and with preparations, until the transport train arrived. This was on Friday, the eve of the Shavuot festival[2]. We again endured an exacting search and examination accompanied by threats and cruel blows. Mother's pack was heavy, dragging her behind and slowing her pace. She had particular difficulty in ascending the high car, for there were no steps. The butt of the rifle of the gendarmes was already raised to deliver a blow, when I jumped there to protect her,\ and to receive the blow instead of my weak, ill mother. A wonder – the rifle remained in the air. It was clear that the gendarme recognized me. I also recognized him as our glances met – he was a frequent visitor to the home of my Christian friend. He did not harm me.
When we saw ourselves inside the train car and lay down our heavy packs, we breathed calmly. However, there was not even a place to sit, for more than 80 people, children and elderly included, were crowded inside. My 85 year old grandmother did not grasp all the tribulations and complained that she had never endured such a festival eve, without cooking and without kindling the festival lights, just travelling and travelling.
We reached our destination after two nights and a day. There was a brief stop only at the Hungarian-German border, when the doors were opened and we were warned under the threat of
[Page 118]
being shot to death to give over our valuables. At that time, we turned over to them the bodies of those who had died. They were not even prepared to give a drop of water. Instead, we earned beatings, shouts and curses.
We reached the place of desolation on Sunday. We saw only electrified wire and S.S. troops. They placed steps at the cars and issued the command to unload our bags. We were happy that our names were written on them, and they would not be lost. They told us that they would send them after us in a transport vehicle. We arranged ourselves five people in a row, and in accordance with the gestures of the smiling captain, Dr. Mengele, we continued onward, some to the right and some to the left. The elderly were sent to the left, being told that they would be taken in a car, whereas the younger people would go by foot. Thus, they separated me from my weak mother and grandmother – and I did not know that this would be forever.
In the Auschwitz Camp: We have already written a great deal about the suffering in Auschwitz, but it is not yet sufficient, and there is no end to this. When we left the disinfection room, where they cut our hair and gave us a striped uniform, we did not recognize each other, for that is the place where they stole our human form from us.
We were transferred to blocks that were between electrified barbed wire. Thus began the most difficult period in our lives – this is the hell on earth. Every day at 3:00 a.m. we were taken out to morning roll call with curses and insults. There, we waited half naked, hungry and thirsty, for the arrival of the Germans to enumerate us. Then, we were given coffee for breakfast, which was black, bitter water. Every row of five people received their portion in one vessel, and each person only took one sip. Barely a day passed without an inspection. The sick, weak, and those who had fainted were immediately sent to the crematoria, whereas the healthy ones were sent out to work, and were only permitted to return to the blocks after a strict inspection.
The beds in the blocks were three levels high, made of boards of approximately one meter by two meters. Twelve people lay down together, 36 in total. If anyone moved, they would pinch the flesh of the next person between the cracks and gaps in the boards.
Since there were 13 of us from Halmeu in our group, and we did not want to separate, we slept six people on one side, and six on the other side, whereas I slept upon the legs of the twelve.
We had to struggle daily for life, and it was a miracle from heaven if we succeeded. Things continued in this manner for three months. One day, Chaya-Helen came to us and told us with tears in her eyes that her sister had died at her side. At night, as she was dying, she asked for a bit of water, and when she went out to get some, she was captured by the blokova[3] who
[Page 119]
slapped her on her face so hard that she can no longer hear with her ear. She also remained with us, for her two sisters had died and she remained alone. The person in charge of the block understood Jewish girls, for this was their fourth year in Auschwitz. Their parents and relatives had been burned before their eyes. They had already stifled any human feelings within themselves, and they guarded us with great cruelty. More than 1,000 people were crowded into each block.
Since we were thin and weak, our patience had already been exhausted, and we realized that we would not be able to endure the coming winter, we decided that we would participate in the upcoming inspection for the selection, and there would still be hope that, with the help of G-d, they would choose us for work in the camp – and if not, we are destined for certain death in any case.
This time, we had to pass one by one before the selection committee, naked and with our hands raised. They pinched our cheeks in order to examine our health. We were sent to the Bezlec-Bedel work camp. My 14-year-old cousin Iren Roth was among us.
When we reached there, we were very happy that we each received a bed, blanket, soap, a plate, and a spoon. We once again felt ourselves as human beings, especially when we were able to lie down the full length of the bed and spread out our bones. We wept from great joy. Would it be that I could give such a bed to my mother and grandmother – I said to myself – for we still thought that they were alive.
We went out to the workplace early in the morning, surrounded by S. S. soldiers, after we received coffee and bread. We stopped next to a large factory in a grove. There, they divided us into divisions, some to the machines, and others to the screens. This was a weapons factory. A German attired in civilian clothing asked my friend whether she knew German. When she answered positively, he said that he needed one more person who knows how to read and write. Thus, we were both accepted into the best division, despite the fact that our knowledge of the German Language was particularly weak. We sat in a large hall with padded chairs next to tables. We sat on chairs for the first time in a long time. This was the division for the inspection of the machines. Our job was to inspect the quality and size of the empty bullets. German women worked at our side. They treated us with great hesitation, and it was only after some time that we found out, albeit not openly, that the S. S. guards made sure of this.
The factory operated in two shifts day and night without stop. The taskmasters did everything to increase the work quota. On the other hand, nothing was done about the shortage of food. We were hungry for bread, frozen from cold, without clothing or shoes, for these had become torn for some time, and we had not received any new ones. We wrapped ourselves in rags and went barefoot in the snow during the harsh winter. Due to our great weariness, many fell asleep next to
[Page 120]
the machines. The hair of their head got caught in the wheels, and they met their deaths on the spot.
Even in this workplace, we were desperate and hopeless. Only after they bombarded the factory (that night we did not work) and not one stone was left, did the hope arise in us that this cannot last much longer. Our hope was validated at the end of nine months of work there, when we were liberated by the American Army on April 14, 1945.
Our day of liberation was an unforgettable experience for us. When we saw the S.S. soldiers change their uniforms into Wehrmacht uniforms as they were hauled by the American Army with their hands raised, it was as if they declared, "You are free, you are permitted to go wherever you want to search for family members." However, this was a false hope, for these murderers had murdered everyone. Thus we reached the awaited moment of liberation, and did not believe that nobody remained alive of our dear family, and of the children who were innocent of all wrongdoing.
We remained in Germany for six more months under the protection of the Americans, who did everything for us and for our health, in order to restore us to a proper mode of life. A large number of us entered hospitals to receive urgent care, and most of them died after the liberation. The few who remained alive attempted to begin a new life with a broken heart that will never heal.
From Hungarian: Sh. Y.
---
Translator's Footnotes
The processions with the Torah scrolls, conducted on Simchat Torah, but may be conducted on other special occasions. Return
Shavuot occurred after the Sabbath on Saturday night, May 27, in 1944. Return
The camp inmate in charge of the block. Return
---
This material is made available by JewishGen, Inc. and the Yizkor Book Project for the purpose of
fulfilling our mission of disseminating information about the Holocaust and destroyed Jewish communities.
This material may not be copied, sold or bartered without JewishGen, Inc.'s permission. Rights may be reserved by the copyright holder.
---
JewishGen, Inc. makes no representations regarding the accuracy of the translation. The reader may wish to refer to the original material for verification.
JewishGen is not responsible for inaccuracies or omissions in the original work and cannot rewrite or edit the text to correct inaccuracies and/or omissions.
Our mission is to produce a translation of the original work and we cannot verify the accuracy of statements or alter facts cited.

Halmeu, Romania

Yizkor Book Project

JewishGen Home Page
---
Yizkor Book Project Manager, Binny Lewis
This web page created by Jason Halgarten
Copyright © 1999-2019 by JewishGen, Inc.
Updated 12 Jun 2013 by JH