Previous Page | Next Page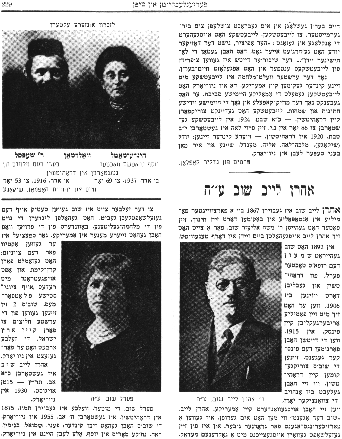 [Page 229]
beat Chaim Ber and brought him to the administrator, Leibetshka, who listened to the complaint and responded, "Officer, it wasn't this Jew who killed your God, it was the Jews of Lahishin." The drunken officer was satisfied with Leibetshka's answer and left Chaim Ber alone.

After World War I Leibetshka and his children came to the United States, and Leibetshka missed home very much in New York. He missed the klezmer band and the weddings and celebrations, and planned to return to Drohitchin. However, on January 27, 1924 he died at the age of 86 in York. His wife Leah had died on January 3, 1920 in Drohitchin. Their children were: Yudel (Chicago), Malka-Leah, Eliyahu, Mendel, Sheina and her husband Benny Tepper [live] in New York.

Information from Gedaliah Kaplan

Aharon Leib Schub

Aharon Leib Schub was born in 1867 into a large extended family in Antapolia and received his education there. His father was R. Moshe Eliezer Schub, and for a time Aharon Leib lived with his grandfather in the village of Tenevitch. In 1892 Schub married Perl, the daughter of Shimon the Doctor of Drohitchin, and remained in Drohitchin until 1906, when he and his family moved to Pinsk. In 1915, when the Germans took over the Pinsk region, the Schubs returned to Drohitchin, where they remained until the early 1920s, when they left for the United States. Aharon Leib, known as "Schub the Agent" was an insurance agent for the Grodno gubernia, and his professional society awarded him with a gold medal.

At the same time Schub was active in community affairs, and worked to alleviate the suffering of war victims, especially women whose husbands were in the United States. Aharon Leib was especially active in Zionism, collected funds for the Jewish National Fund, and gave speeches at Zionist meetings. Schub's two sons were among the first pioneers in Palestine. Schub continued with the same activities in New York, but passed away there on August 15, 1930.

Perl Schub, Aharon's wife, was born in Drohitchin in July, 1875, and died on July 27, 1955 in New York. They had seven children: Penny, Shmuel, Binyamin, Leah, Noachka, Morris and Yosef. They all [live] in New York.

[photos:] R. Aharon Leib Schub and Perl Schub


In Memory of our Parents
Hinda-Matel
Yosef Gratch's Daughter
Waldman
R. Shepsel
Bery the Teacher's Son
Died in Drohitchin
Feb. 13, 1937, age 69

&nbsp1 Adar 1916, age 53 [1916 was a leap year and there were thus two Adar months. Thus this date is not clear, since it may have been another year, or one or the other of the Adar months in 1916]



Chaim and Yehudit Hoffman, Chicago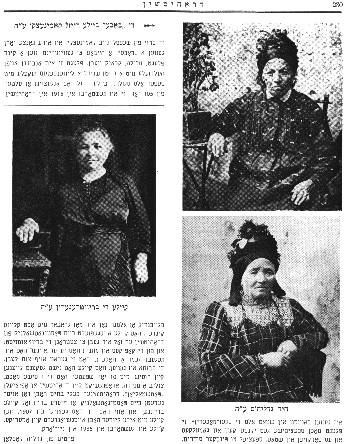 [Page 230]


PHOTOS

[Top right:] The "grandmother," Beila Reizel Kaminetsky
The wife of Shepsel Leib Kaminetsky. She was always considered a "grandmother," a midwife. Whenever a child became sick, she would tie a red lace around its neck with a linen bag containing pepper as a good omen. Beila Reizel lived to the age of 105 and died in Drohitchin in 1915.

[Bottom right:] Chaya Gedaliah's
She was known as the "cheese maker." She would make certain cheese drinks and gomelkas that she would sell in town, especially to merchants from Pinsk.

Kaila, the Mail Carrier

A widow with eight small children, Kaila convinced the postmaster of Drohitchin to let her work as a mail carrier. She was able to make a living off of the gifts and tips she received. Incredibly, Kaila could not even read Russian. Because of an informer, some ten years later the Russian authorities sent an official mail carrier to Drohitchin. The householders in town then appealed to the postmaster to let Keila deliver their mail. This arrangement continued until 1907, when Kaila and her children moved to the United States where she died in New York in 1936.


Information from Gedaliah Kaplan
---
This material is made available by JewishGen, Inc. and the Yizkor Book Project for the purpose of
fulfilling our mission of disseminating information about the Holocaust and destroyed Jewish communities.
This material may not be copied, sold or bartered without JewishGen, Inc.'s permission. Rights may be reserved by the copyright holder.
---
JewishGen, Inc. makes no representations regarding the accuracy of the translation. The reader may wish to refer to the original material for verification.
JewishGen is not responsible for inaccuracies or omissions in the original work and cannot rewrite or edit the text to correct inaccuracies and/or omissions.
Our mission is to produce a translation of the original work and we cannot verify the accuracy of statements or alter facts cited.

Drogichin, Belarus

Yizkor Book Project

JewishGen Home Page
---
Yizkor Book Director, Lance Ackerfeld
This web page created by Lance Ackerfeld
Copyright © 1999-2023 by JewishGen, Inc.
Updated 13 Dec 2001 by LA