Previous Page | Next Page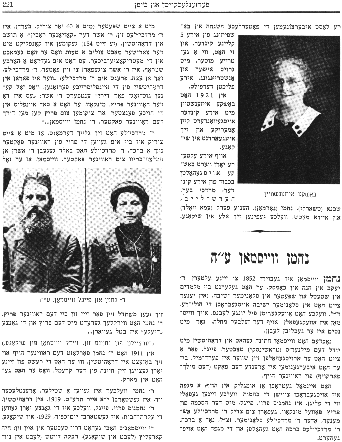 [Page 221]
of caring for and supporting his five small children fell to his widow, Bashka. She was a devoted mother, and took on the responsibility with great dedication.

In 1921, Bashka Eisenstein and her children departed for the United States and settled in Chicago. In her old age Bashka was cared for with great honor by her children, Mordechai Ber, Hersh Leib, Shachna (Charles), Nachman (Norman), Henya Perl (Emma Wald) and Ada Match, who all [live] in Chicago.

[photo:] Bashka Eisenstein

Nachman Weissman

Nachman Weissman was born in Khomsk in 1852 to his parents, R. Yaakov and Chana. He studied with tutors and later attended the yeshiva in Slonim. (In those days there was a cholera outbreak in Slonim that took many young lives. Nachman also contracted the disease but managed to miraculously survive).

Weissman then married Feigel, the daughter of Yudel Milner's (Trashinsky) of Drohitchin. He helped his father-in-law for a short time in the horse's mill until he took over the lease for milk sales at the Rovin estate.

There was once a tragedy at the estate: a disease broke out among the animals, who died like flies. With the agreement of the landowner, Pavel Minkov, Nachman's wife, Feigel, traveled to R. Mordechele of Oshmany known as R. Mordechele Slonimer, where she received a blessing that stopped the plague.

Some time later, (approximately 60 years ago), R. Mordechele's son, R. Asher, the official rabbi" and a resident of Drohitchin (see p. 154), got into a dispute with the Czarist government because of an error that he made in the vital statistics records. He incurred a severe penalty, so R. Asher went to his father, R. Mordechele, for his advice. His father asked him the name of the most influential person in Drohitchin who could speak on R. Asher's behalf. R. Asher responded that it was Count Minkov, who had connections in high places, and he could be accessed through the agent of the estate, R. Nachman Weissman."

R. Mordechele then said that some time earlier a woman from the estate had come to him for a blessing. R. Mordechele gave R. Asher a letter of recommendation to Nachman Weissman to ask him to act on behalf of his son with the landowner. R. Nachman did speak with the count, and the whole case was dropped.

[photo:] R. Nachman and Feigel Weissman

(As told by R. Nachman's son, Zeidel Weissman of Chicago)

In 1911 R. Nachman lost the Rovin estate, and he moved to Drohitchin, where he earned his livelihood from a store that he had in the market. R. Nachman, who was a quiet and honest man, died on April 29, 1919 in Drohitchin. His wife, Feigel, always a housewife, died on Yom Kippur [October 14], 1929 in Chicago.

The Weissmans had three daughters and one son: Chaya Karelitz ([lives] in Chicago), Rivka Deutsch ([lives] in New York), Bobtsha (died on April 30, 1931 in Chicago) and Zeidel (a businessman in Chicago).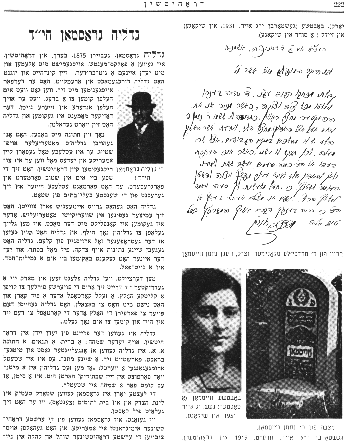 [Page 222]
[photo:] Gravestone of R. Nachman Weissman, who died on April 29, 1919 in Drohitchin. Gravestone says: A pure and honest man who walked in a pure path. R. Nachman, son of R. Yaakov Weissman of the Rovin Estate, died on 11 Iyar 5779.

[photo:] Bobtsha Weissman (a daughter), died on April 30, 1931 in Chicago.

A letter from R. Mordechele Slonimer about Nachman Weissman:

Tuesday, the second day of Chanukah, Oshmany

To my dear son R. Asher:

I read your letter, which caused me great anguish. May G-d help you to escape from all trouble and distress. I know the agent at the Rovin Estate, whose name, I believe, is R. Nachman. He works for the landowner, who I know has connections in high places, with senior officials. Therefore, ask him on my behalf, since I have prayed for his welfare a number of times he should do it for me personally, i.e. to intercede on your behalf to confound the Satan who is troubling you, and that he put a stop to what is troubling you. I will also pray on your behalf. May G-d help you.
Your father who blesses you with all good things,
Mordechai [illegible]

Gedaliah Grossman

[photo:] R. Gedaliah Grossman, may G-d avenge his blood!

Gedaliah Grossman was born in approximately 1875 in Drohitchin, was a friendly person and related to each person like a good brother. Gedaliah spent his childhood and youth in poverty. Therefore he decided that if G-d helped him prosper, he would help others in need as well. He did prosper, and kept his word.

After he married Bobba, Gedaliah's economic situation began to improve. He traveled to the United States several times, and each time he returned to Drohitchin. He increasingly prospered financially and owned several houses. He was recognized as one of the preeminent businessmen in town.

Gedaliah was very concerned about his fellow man. If someone was in dire straits, or had a dispute with the authorities, he immediately turned to Gedaliah for help, and Gedaliah made sure that the person in trouble got out of his predicament. Gedaliah was very generous in giving charity, many times anonymously, and anyone in need was able to receive his assistance.

It's said that whenever Gedaliah would see some poor Jew hanging around in the market near peasant wagons to buy some wood, a bag of potatoes or a pood of grain, Gedaliah would go over to the peasant and tell him to send the wood or potatoes to the poor Jew's home, and return to Gedaliah for payment.

Gedaliah was a friend to every Jew in Drohitchin. At every celebration (circumcision, engagement, wedding, etc.) Gedaliah would be a welcome guest, and of course brought along a generous gift. There was a saying in Drohitchin that whenever Gedaliah would be seen in town during the week wearing his Sabbath hat, it was a sign that he came to town for a celebration.

In later years Gedaliah became very active with the guesthouse and orphanage, covering many expenses. As mentioned, Grossman was one of the first immigrants [sic] in the United States from Drohitchin, and was involved in building the first Drohitchin synagogue and community in New York, as well as the Agudath Achim Anshei

Previous Page | Next Page
---
This material is made available by JewishGen, Inc. and the Yizkor Book Project for the purpose of
fulfilling our mission of disseminating information about the Holocaust and destroyed Jewish communities.
This material may not be copied, sold or bartered without JewishGen, Inc.'s permission. Rights may be reserved by the copyright holder.
---
JewishGen, Inc. makes no representations regarding the accuracy of the translation. The reader may wish to refer to the original material for verification.
JewishGen is not responsible for inaccuracies or omissions in the original work and cannot rewrite or edit the text to correct inaccuracies and/or omissions.
Our mission is to produce a translation of the original work and we cannot verify the accuracy of statements or alter facts cited.

Drogichin, Belarus

Yizkor Book Project

JewishGen Home Page
---
Yizkor Book Director, Lance Ackerfeld
This web page created by Lance Ackerfeld
Copyright © 1999-2023 by JewishGen, Inc.
Updated 13 Dec 2001 by LA