Previous Page | Next Page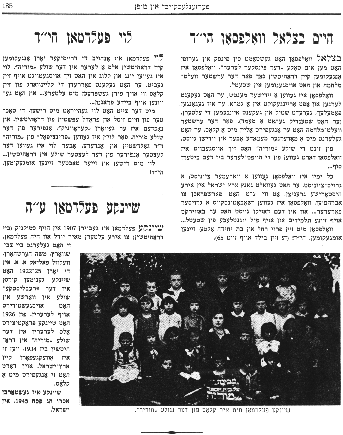 [Page 185]
Chaim Betzalel Wolfson, may G-d avenge his blood!

Betzalel Wolfson was originally from Pinsk, and was therefore known as the "Teacher from Pinsk." He came to Drohitchin after World War I and was an exceptional person in town.

Wolfson knew how to study Talmud, and regularly studied Talmudic tractates. He walked slowly and spoke softly and developed a good relationship with parents (he always was held in esteem). Before World War I, Wolfson taught his own class, and used modern methods with a Jewish flavor. From the establishment of the Moriah School until the bitter end, Wolfson was the main teacher.

Wolfson was a devoted Zionist his entire life, and advocated Jewish control over all the historical borders of the Land of Israel according to G-d's promise to Abraham. He was a strong supporter of Jabotinsky, and in that spirit influenced his students and other young people in Drohitchin.

He, his wife Rachel and only daughter Alta were killed. May G-d avenge their blood! (See his picture on page 65).

Levi Feldman, may G-d avenge his blood!

Levi Feldman came to Drohitchin in his thirties as a teacher at the Moriah School. Levi was young and clever, and was adept at his work. He was able to speak with young and old alike, and succeeded with both.

Eventually Levi married Risha, the daughter of Chaim Zissel and Fradel Epstein of Drohitchin, and then became the director of the Moriah School. The principal of the school was Dr. Goldstein and others, but Levi was the last director of the last school in Drohitchin. He and Risha and their daughter were killed. May G-d avenge their blood!

Sheinka Feldman

Sheinka Feldman was born in 1907 on the Smulnik Estate near Drohitchin to her parents, Yudel and Chaya Feldman. She studied under Zvi Schwartz, Moshe Hershorn, Velvel Poliak, and others. Between 1922 and 1925, she took courses at the Preblistka School in Warsaw, and studied to be a teacher. From 1926 to 1934, Sheinka worked as a teacher at the Moriah School in Drohitchin, and then moved to Palestine, where she taught a class as well. Sheinka died in Palestine on the last day of Passover in 1945.

[Photo:] Sheinka Feldman and her Moriah School Class [the sign in the photo says 'Moriah School party']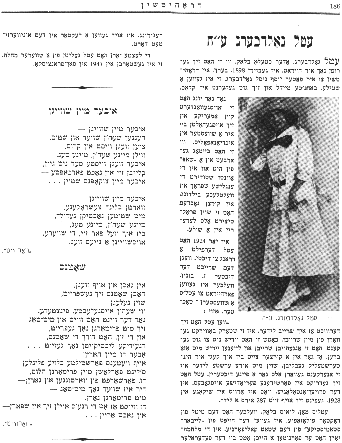 Ethel Goldberg

[Photo:] Ethel Goldberg

Ethel Goldberg, or Stella Black as she was known after her marriage, was born in approximately 1898. She was a quiet and charming girl, and did well in school. When she was still young, she traveled to the United States and stayed with a sister in Indianapolis, where she worked in a hat shop and took evening English and secular classes. Shortly thereafter she started working as a schoolteacher.

In 1924, Ethel became interested in writing poetry. The poet Z. Bunin, who was married to a niece of Ethel, wrote the following:

"When Ethel found out that I wrote poetry, she became very influenced by my writing. Even though she didn't know Yiddish very well, she started writing and reading Yiddish so enthusiastically that in a short time I was way behind her. From the very beginning she was already recognized as a fine poet. Ethel published her work in various publications, and one of her poems appears on page 287 of the women's anthology published in Chicago in 1928."

Ethel's husband, Louis Black PhD., was the chief labor statistician of the State of California. During the war years, he held a senior position in the American government, and was also a university lecturer there.

Ethel suffered from a major illness and died in 1947 in San Francisco.


Over My Silence

Hours hang long and mute over my silence,
They pull about desolation and crookedness,
My hours, my days no longer want
to walk over desolation.
They remain trapped at night
standing at the head of my bed.

Over my silence
My hours, my days,
wait blind frightened,
with crooked dark patience,
until my silence finds a new way
for them, the difficult hours and days.

Varheit
Shadows

On roads and streets,
shadows spread.
Already born,
like dark lived-through hours.
But the wind rejoiced
way out at noon with the early morning,
and through the shadows the sun shone
for a moment or two.
But you, my heart!
On whose muted blue wings
has my early morning dream ended?
You, bothered by waiting and longing,
it's still difficult to deceive the early morning.
You know that the moments rush to push
into the night.

Varheit
Previous Page | Next Page
---
This material is made available by JewishGen, Inc. and the Yizkor Book Project for the purpose of
fulfilling our mission of disseminating information about the Holocaust and destroyed Jewish communities.
This material may not be copied, sold or bartered without JewishGen, Inc.'s permission. Rights may be reserved by the copyright holder.
---
JewishGen, Inc. makes no representations regarding the accuracy of the translation. The reader may wish to refer to the original material for verification.
JewishGen is not responsible for inaccuracies or omissions in the original work and cannot rewrite or edit the text to correct inaccuracies and/or omissions.
Our mission is to produce a translation of the original work and we cannot verify the accuracy of statements or alter facts cited.

Drogichin, Belarus

Yizkor Book Project

JewishGen Home Page
---
Yizkor Book Director, Lance Ackerfeld
This web page created by Lance Ackerfeld
Copyright © 1999-2023 by JewishGen, Inc.
Updated 13 Dec 2001 by LA