JCR-UK is a genealogical and historical website covering all Jewish communities and
congregations throughout the British Isles and Gibraltar, both past and present.
City of Londonderry (or Derry)
Londonderry (the official name) or Derry (Doire or Doire Cholm Chille in Irish) is a city in Northern Ireland, with a population of approximately 105,000, situated on the banks of the river Foyle. Since 2015, it has been part of the Derry and Strabane District and was formerly, from 1973, within the District of the City of Derry (formerly Londonderry until 1984). Prior thereto it formed the County Borough of Londonderry, geographically within County Londonderry, one of the six counties of Northern Ireland (which are now purely traditional counties, no longer with administrative authority).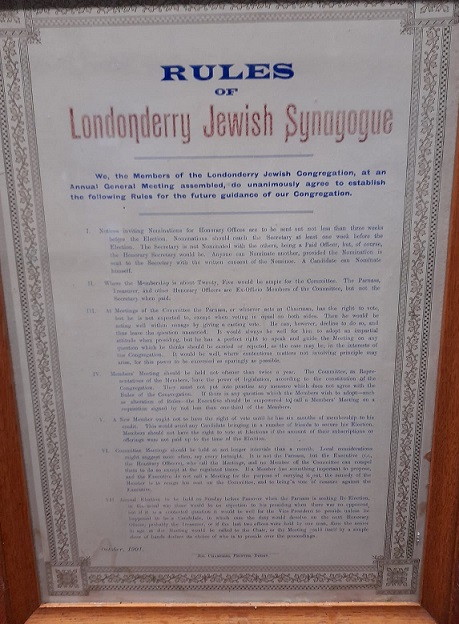 Rules of the Londonderry Synagogue, October 1901
on display at Belfast Synagogue
(Photograph courtesy Steven Jaffe)
Click on above image to view an enlarged image.
Londonderry (Derry) Jewish Community
The city of Londonderry had a small Jewish community established towards the end of the nineteenth century with an organised congregation. However, due to dwindling numbers, the congregation became defunct by the end of the 1940s.
Congregation Data

Name:

Londonderry Hebrew Congregation

Last Synagogue Address:

4 Kennedy Place (off Hawkin Street), Londonderry, Northern Ireland (from about 1939)(i)

The building was sold to the Ulster Unionist Party and became their local branch office. It was subsequently sold to a housing association, sometime in the twenty-first century. It later became derelict and collapsed, while empty, on 18 April 2013 and had to be demolished.

Following the disbanding of the congregation, its sepher Torah was donated to the Nachlat Avot Synagogue in Rehovot, Israel and the balance of the congregation's funds used for the building of a synagogue at Kibbutz Lavie, in Israel's Lower Galilee region.(ii)

Previous Addresses:

Lower Fountain Street, Hawkin Street, Londonderry (from about 1900 to about 1939)(iii)

18 Abercorn Road, Londonderry (from at least 1896 until about 1900)(iv)

Both these addresses, as well as Kennedy Place, are in the Bishop Street area of Londonderry.

Date Founded:

1894(vi)

Current Status:

Closed 1947, last service was on Yom Kippur(vii)

Ritual:

Orthodox - Ashkenazi

Ministers:
(To view a short profile of a minister whose name appears in blue - hold the cursor over his name.)

F. Harris - from at least 1896 to about 1900(x)

Rev. Samuel Joseph - about 1901 (may have been a visiting minister)(xi)

Rev. A. Pekorsky - from about 1902 to about 1906(xii)

Rev. M. Yagh - from about 1906 to about 1915(xiii)

Rev. M. Shatz (temp.) - from about 1915 to about 1917(xiv)

Rev. Isaac Domnitz - from about 1917 to about 1933(xv)

Rev. Heshel (Harris) Freedman - from about 1933 to 1946(xvi)

Lay Officers:(xx)

Presidents

1896-1897 - B. Robinson

1897-1900 - D. Harris

1900-1901 - B. Robinson

1902-1903 - E. Blough

1903-1904 - S. Lazarus

1904-1915 - E. Blough

1915-1918 - D. Spain

1918-1925 - B. Ruben

1925-1947 - D. Spain

Treasurers

1904-1907 - J. Friedlander

1907-1915 - I. Frieslander

1915-1918 - B. Ruben

1918-1924 - I. Silver

1924-1926 - S. Blogh

1926-1927 - W. Frieslander

1928-1933 - M. Watson

1933-1947 - D. Spain(xxi)

Secretaries & Hon Secretaries

1896-1897 - I. Rosen

1897-1898 - L. Welsky

1898-1900 - E. Blough

1900-1901 - R. Morris

1902-1904 - E. Gordon

1904-1917 - J. Epstein

1917-1918 - M. Watson

1918-1919 - A. Freedman

1919-1924 - D. Spain

1924-1938 - B. Ruben

1939-1947 - M. Watson

Membership Data:

Jewish Year Books (number of seat-holders)

| | | | | |
| --- | --- | --- | --- | --- |
| 1896 | 1903 | 1904 | 1906 | 1916 |
| 15 | 25 | 20 | 13 | 17 |

Cemetery:

There was no Jewish cemetery in Londonderry. The only Jewish cemeteries in what is now Northern Ireland are in Belfast. For details, see Belfast Jewish Cemeteries Information on the Belfast home page.

Notes & Sources (↵ returns to text above)
Bibliography, On-line Articles and Other Material
relating to the Londonderry Jewish Community
on JCR-UK
Bibliography:

"Derry's Jewish community" by Trevor Danker, Belfast Jewish Record, October 1960, p3.

"100 Years of Jewry in Ulster" by Steven Jaffe, Belfast Jewish Record, September 1989, pp. 9-11.

Other Londonderry Bibliography (if any).
On Third Party websites
Londonderry Jewish Population Data

1896

43

Jewish Year Book 1896/97

1898

52

Jewish Year Book 1898/99

1903

60

Jewish Year Book 1903/04

1904

50

Jewish Year Book 1904/05

1939

109

Jewish Year Book 1940

1945

72

Jewish Year Book 1945/46

1946

42

Jewish Year Book 1947
Jewish Communities & Congregations in Northern Ireland

Page created:21 August 2005
Data significantly expanded and notes first added: 15 October 2020
Page most recently amended: 13 September 2023
Research by David Shulman and Steven Jaffe, assisted by Philippa Robinson
Formatting by David Shulman
---
Explanation of Terms | About JCR-UK | JCR-UK home page
Contact JCR-UK Webmaster:
jcr-ukwebmaster@jgsgb.org.uk


Terms and Conditions, Licenses and Restrictions for the use of this website:
This website is owned by JewishGen and the Jewish Genealogical Society of Great Britain. All material found herein is owned by or licensed to us. You may view, download, and print material from this site only for your own personal use. You may not post material from this site on another website without our consent. You may not transmit or distribute material from this website to others. You may not use this website or information found at this site for any commercial purpose.


Copyright © 2002 - 2023 JCR-UK. All Rights Reserved