JCR-UK is a genealogical and historical website covering all Jewish communities and
congregations throughout the British Isles and Gibraltar, both past and present.
NOTE: We are not the official website of this congregation, which can be reached by clicking on the congregation's logo below.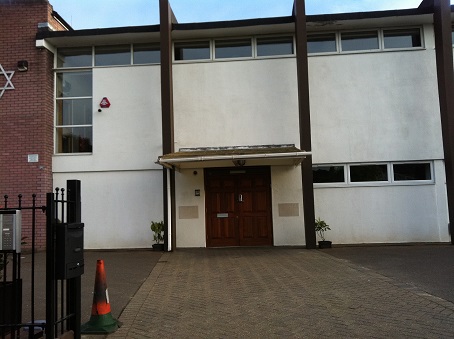 Barnet Synagogue
© David Newman 2011

Name:

Barnet Synagogue (from 2006(i))

Former Names(ii):

Barnet and District Affiliated Synagogue (1954 to 2006)

(also known as Barnet Affiliated Synagogue and Barnet and District Synagogue)

previously Barnet and District Hebrew Congregation (until 1954)

Address:

Eversleigh Road, New Barnet, Herts. EN5 1NE (since about 1965)

Previously at 1 Netherlands Road New Barnet(iii)

Current Status:

Active

Date Formed:

1948(iv)

Ritual:

Ashkenazi Orthodox

Affiliation:

A full member of the United Synagogue since about 2010(v), having previously been an affiliated synagogue from 1954.(vi)

Website:

Ministers & Rabbinical Team:
(To view a short profile of a minister - hold the cursor over his name.)

Rev. Bernd Koschland - from about 1965 until about 1969(viii)

Rabbi Isaac Newman - from 1969 until 1989(ix)

Rabbi Pinchas Rosenstein - from about 1989 until 1996(x)

Rabbi Shaul Robinson (& Rebbetzen Sarah Robinson) - part-time from 1997, full-time from 1998 until 2005(xi)

Rabbi Barry Lerer (& Rebbetzen Naomi Lerer) - from June 2006 until February 2019(xii)

Rabbi Dr Samuel Landau (& Rebbetzen Ma'ayan Shoshana Landau) - from April 2019 until present (August 2021)(xiii)

Lay Officers:
(to mid 1950s)(xviii)

Chairman

1949-1951 - M. Simons

1951-1953 - P. Simons

1953-1956 - M. Simons


Warden

1954-1955 - G. Delta

1955-1956 - B. Taylor

Treasurer

1949-1951 - J. D. Spectorov

1951-1953 - S. I. Welt

1953-1954 - P. Simons

Financial Representative

1954-1956 - D. Harker


Secretary

1949-1951 - P. Simons

1951-1953 - J. Ryness

Membership Data:

United Synagogue (male seat-holders)(xix)

Reports & Surveys(xx)

1977 - 294 male (or household) members and 32 female members

1983 - 305 male (or household) members and 55 female members

1990 - 398 members (comprising 382 households and 16 individual male members)

1996 - 464 members (comprising 441 households, 18 individual male and 5 individual female members)

2010 - listed as having 500 to 749 members (by household)

2016 - listed as having 400 to 499 members (by household)

Charitable Status:

As a constituent of the United Synagogue, the congregation operates within that organisation's registered charity status (registered charity no. 242552).

Local Government Districts:

The area known as New Barnet is in the London Borough of Barnet and was previously (until 1965) part of the county of Hertfordshire and within the former Urban District of East Barnet.(xxi)

Registration District (BMD):

Barnet (since founding of Congregation) - Link to Register Office website

Cemetery
Information:

For United Synagogue cemeteries, see Cemeteries of the United Synagogue.

Notes & Sources (↵ returns to text above)
On-line Articles and Other Material
relating to this Congregation
on JCR-UK

List of United Synagogue Congregations
Jewish Congregations in the London Borough of Barnet
Jewish Congregations in Greater London
Page created: 15 November 2006
Data significantly expanded and notes first added: 29 July 2018
Page most recently amended: 24 August 2021
Research and formatting by David Shulman
---
Explanation of Terms | About JCR-UK | JCR-UK home page

Contact JCR-UK Webmaster:
jcr-ukwebmaster@jgsgb.org.uk
(Note: This is to contact JCR-UK, not the above Congregation)

Terms and Conditions, Licenses and Restrictions for the use of this website:
This website is owned by JewishGen and the Jewish Genealogical Society of Great Britain. All material found herein is owned by or licensed to us. You may view, download, and print material from this site only for your own personal use. You may not post material from this site on another website without our consent. You may not transmit or distribute material from this website to others. You may not use this website or information found at this site for any commercial purpose.


Copyright © 2002 - 2023 JCR-UK. All Rights Reserved