Address:
3/4 Walworth Road, Dublin 8, in the midst of Portobello area, around the South Circular Road, in which the majority of Dublin's Jews had once been concentrated. The Synagogue could accommodate 150/160 congregants. Since 1984 the building has housed the Irish Jewish Museum.
The Irish Jewish Museum:
The Irish Jewish Museum was the brainchild of Rafael Sief, the served as its curator until his death in 2009. Mr. Sief proposed, in the early 1980's, to turn the Walworth Road Synagogue, which had laid in a state of disrepair for some years, unto the Irish Jewish Museum. On 29 June 1985, the then President of the State of Israel, Irish-born Chaim Herzog, officially opened the Museum during his State Visit to the Republic of Ireland. The Museum is situated in the two terraced houses that housed the Walworth Road Synagogue, the Synagogue itself (which has been restored to its original) was situated on the first floor of the building. In order to meet the needs of the Museum, an expansion project has been approved to redevelop the site (including the three adjacent terraced houses to the right, which had been bequeathed to the Museum by Raphael Sief), which would substantially increase the size of the Museum, but generally retain the facade of the terraced houses on Walworth Road.
Website: http://jewishmuseum.ie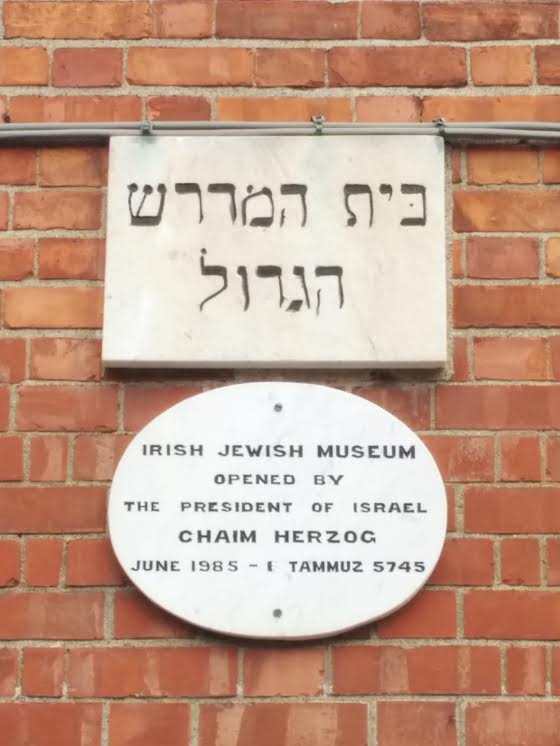 © David Shulman 2014
Two plaques on the front of the building. The upper plaques reads in Hebrew: "Beth Hamedresh Hagadol".
The lower plaques commemorates the opening of the Irish Jewish Museum by then President of Israel, Chaim Herzog