[Page 376]

Fellow Zawiercie Natives in the Ghetto
and the Concentration Camps

by Dr Yisroel Bornstein

Translated from Yiddish by Alain Bornstein

Surely many others will write about the odysseys of the Jews of Zawiercie after the first bombing of the city, as well as about the escape of almost all Zawiercie residents to Piltz. Therefore I will not elaborate on that account. All I will add is that amongst the refugees in Piltz[1] there were also Jews from Bedzin, Sosnowiec and from other Cantons in Zaglembie.

Before the refugees had managed to figure out what their next step (on Monday morning) would be, the German tanks and troops were already standing in the town square in Piltz. The German beasts immediately shot dead a few Poles and Jews. Polish hooligans took advantage of the disorder and started robbing Jewish businesses, with the pretext that Jews were hiding merchandise to sell on the black market. My grandmother's store, too, was plundered. The hooligans continued the plundering until a German officer passed by and forbade them to continue.

I personally remember the bloody Wednesday (March 1941) because that was when I was sent to a work camp. According to what I heard later, there was a second bloody Wednesday in 1942.

On the first bloody Wednesday, the first big raid took place when the Nazis pulled hundreds of Jews from their beds. Accompanied by beatings and shootings, these Jews were packed into the hall of Berent's textile factory. The Nazis pulled out the beards and payot[2] of many Jews. There were many dead.

I too was pulled–out of bed by the Nazis. I barely got dressed and they were beating and pushing me with their rifles, they shoved me down the stairs. I still managed to behold my mother's crying eyes, which accompanied me into the deep, dark night.

I never saw my mother again.

On that night the Nazi murderers rounded up many victims like me.

[Page 377]

I was sent–off by the Nazi beasts to a camp in Germany. There we built the motorway. Afterwards I was sent from one camp to another, and I witnessed the suffering and death of many Zawiercie Jews.

In 1943, after much wandering, I arrived in the camp of Markstadt (30km from Breslau–Wratislav). There were many Zawiercie Jews there. The conditions for many of them were very harsh and inhumane. One of the most beloved young men of Zawiercie, Lipa Shpeizer, passed away there. Avrohom Habermann and Tchebiner, the eldest of the Tchebiner brothers (a brother–in–law of Yoske Yoskowicz), also died in the Markstadt camp. Tchebiner was taken away on a transport, to destruction.

In Markstadt I also met my uncle, Leib Libermentsch, who arrived there in 1942. His wife and their one year old child were sent by the Nazis to Auschwitz. He was murdered by the S.S. a few hours before the liberation by the Americans (April 1945). He lies in a mass grave in Eggenfelden (Bayern, Germany).

At the camp I was assigned to work with a German socialist, a Nazi opponent. Thanks to him I was able to keep up correspondence with my parents, who were still living in the Zawiercie Ghetto. Thanks to him, I was also able to help fellow Zawiercie residents, such as Hersh Hochberger and Mordechai Shlechter. Sadly, both of them perished during the last weeks of the war, in the year 1945.

* * *

In 1943 I received a letter from my parents, through the above mentioned German, that they were already sitting on their bags waiting for the train to Auschwitz.

Tens of Zawiercie residents in the camp had family members in the Zawiercie ghetto. We all knew that now the fate of our loved ones was sealed. We felt even more resigned that our turn would come next. Our premonition about the lot of our loved ones sadly turned into reality and took on dreadful forms

[Page 378]

like the death of the Kedoshim[3] in the house on 21 Hoshe Street about which I found out much later. In that house a bunch of elderly Jews hid in a cellar during a raid, knowing well that during such a time they would be the first victims. These Jews decided to remain locked up in that cellar and to die there of hunger and thirst. Amongst those Jews were Reb Henich Bentzlovics and my grandfather Reb Mottel Borenstein.

Two weeks later, the cleaning–up commando of Jews, who still remained in the TAZ[4] factory, removed these Kedoshim from the cellar and gave them Jewish burial. My father's brother, Yisroel Yitzchok (also a brother of Yessochor Borenstein of Tel Aviv), who later was killed from an S.S. bullet in the Buna camp on Rosh Hashanah 1944, was a member of this commando. He was very active in the"Zeirei Mizrachi" and very beloved amongst his friends.

At the end of 1943, a new department was formed near the camp where I was incarcerated. Its name was"the Fünfteichen camp". Many Zawiercie residents ended up there. I took advantage of the kindness and gentleness of my colleague and protector, the humane German, Wilhelm Hermann. He took me to the workplace of the Zawiercie residents under the pretext that we must carry out some work there. I was able to meet up with many acquaintances, amongst them Yisroel Hermann and my uncles Yoske Meisels and Hillel Zimmerman. We were strictly forbidden from talking to each other, but under great danger Yisroel Hermann nevertheless spoke to me. He told me about the ghetto and about Auschwitz where he had been with my father. As he started telling me about my father's last will (may his death be avenged), an S.S. man suddenly arrived. He pulled me away and started hitting me because I was conversing with an inmate. A couple of days later Hermann died from a terrible beating. After the above incident with the S.S. man, I had not had the chance to speak with him or see him. My uncles, too, died a few weeks later from beatings. Before their deaths I used to help them regularly, procuring tobacco (through which they tried getting hold of bread). But the supervisors – Polish Katset[5] members – would always confiscate the tobacco from them and, on top of that, beat them badly too. Hillel Zimmerman died first from these terrible tortures and later Yoske Meisels succumbed as well.

[Page 379]

The dead bodies of the Kedoshim were taken by the Nazis to the head–camp Grossrosen, where they were burnt in a crematorium.

* * *

At the end of 1943, the Nazis also transferred our camp to Fünfteichen. In January 1945, when the Red Army marched in the direction of Breslau, the Nazis led our camp on foot to the main camp in Grossrosen.

It was a march of a few days on foot – a death march because those who could not walk were instantly shot dead.

While I describe this march, I would like to mention the heroism of a young teen, Yaakov Bloch, a son of the butcher from Myszków. This boy used to carry sick people in his arms when they did not have the strength to walk. By doing so he saved them from sure death. He also used to oppose a group of Polish and Ukrainian inmates when they acted abusively. One night, while we were lying down, they pulled out a few Jews – mostly weak people – and strangled them in order to take from them their piece of bread. We, the Zawiercie residents who used to keep together, noticed this terrible crime, but we were starving and dehydrated and did not have the strength to move.

Again we witnessed how the Ukrainians and Poles pulled out a Jew with the intention of murdering him. Suddenly Bloch got up. He removed his boots from his feet and started hitting them right and left – so much that a few of them fell down dead. Then they started fighting amongst themselves and robbing their own fallen and dead friends. From then on they did not dare to attack the Jews anymore.

This dear boy Yaakov Bloch, who always helped and tried assisting his Jewish brethren to survive this terrible time, was shot dead by the S.S. in Grossrosen when he tried to escape in March 1945.

After a few days of bloody wanderings we arrived in the main camp of Grossrosen. There we found many thousands of inmates from Auschwitz. There wasn't any place to lie down, not even on the floor.

[Page 380]

The Rabbi of Kromolow(1) and the Rabbi of Zawiercie, Rabbi Szlomo Elimelech(2), coming out of Katowicz railway station

Here, in Grossrosen, I found the Zawiercie Rabbi, Rav Shlomo Elimelech. Despite the fact that he was physically completely broken, he was filled with optimism and faith that the end of Nazis was coming near. He recounted to me how the Zawiercie residents in Auschwitz had helped him. Zawiercie girls used to smuggle flour to him. They even managed to bake him challot for Rosh Hashanah.

He would greatly praise Regina Rosenzweig (now in Haifa) and Dora Pultorak, who supported him with food under the most difficult circumstances.

Many people acted towards the Rabbi like his Chassidim. They honoured him greatly and tried to help him as much as possible. Jews were jealous of me when they saw me walking alone with the Rabbi and conversing for a long time.

When we had to leave Grossrosen on another death–march, the Rabbi – who was unable to walk – remained behind. The S.S. shot him dead.

Another person who was very beloved in Zawiercie, Yitzchok Kartush, was also shot to death during that march.

* * *

[Page 381]

After weeks of marching, during which thousands of inmates lost their lives, I started to feel that my strength was leaving my battered skeleton. Nevertheless I continued walking. In the middle of April, I arrived at a camp in which there were several Zawiercie residents.

I knew that the Red Army was positioned not far from Berlin and that the Allied forces had already defeated the Nazi military. However, I too was totally crushed. I was just skin and bones. I felt like my soul was lying on my lips and that my days were numbered. I was terribly tortured by the thought: It was clear to me that the Nazis were being conquered, but, but – would I survive and be a free man again?

Yes, I knew that the end of the Nazis was a question of days, but – would I survive those few days?

The Nazis transferred me to the camp in Mühldorf, which was a branch of the Dachau camp.

I was only there for a few hours when I heard someone calling my name:"Borenstein, Borenstein!"

Who could be calling me here? I thought to myself. Who knows about me?

I did not have to wonder for too long. It was Stützky, who used to live in Ogrozensky and later in Zawiercie. (There he was my father's pupil in Zeirei Mizrachi). Stützky brought me a plate of camp soup with a few potatoes. My hopes of surviving the misery became more realistic.

After this nice reception he brought me potatoes every day. Other Zawiercie residents in the camp also supported me with food. Those were Osher Passerman, the Cymbler brothers (today of New York) and Moshe Chaim Goldstein.

At the end of April the Nazis wanted to transfer us to the Tyrol Mountains, in order to destroy us there. They packed us into boxcars and transported us in the direction of Munich.

While we were in transit, the Americans mounted an offensive and captured the train tracks.

[Page 382]

We were free.

We left the boxcars. We, the Zawiercie residents – Stützky, the Cymbler brothers, Moshe Chaim Goldstein, Osher Passerman and a son of the baker from"Small–Zawiercie" whom we called" Rontschkele" – kept together. We went over to a farmer and procured some food. Outside the American and German soldiers were engaged in battle. After a short while the S.S. entered the farm and drove us out of the house.

When we came outside we saw another group of S.S. murderers taking a group of Jews and killing them. The S.S. men, who had taken charge of us, drove us back into the train wagons. On the way to the wagons, they shot the boy who was always ready to help, Moshe Chaim Goldstein, the good hearted Stützky and the young boy Rontschkele. They were buried in a mass grave together with other Kedoshim from the mass murder. The grave is situated 20km from Munich, in a forest near the train station Poing.

In the morning the American liberated us. For a long time we remained standing by the mass grave where our Zawiercie brothers lay, who, even in extreme hunger, had shared their last potato with another.

Sadly, they did not survive"the last minute before twelve": they died twenty four hours before the actual liberation, when they could have become free men.

Standing by the mass grave, we swore that we would take revenge on the Nazis and carry a"Yizkor plaque" in our heart – for the future generations of our people – on which is engraved these two burning words:"Al Tishkach – Don't Forget!"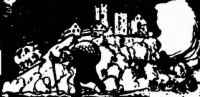 ---
Translator's Footnotes
---
This material is made available by JewishGen, Inc. and the Yizkor Book Project for the purpose of
fulfilling our mission of disseminating information about the Holocaust and destroyed Jewish communities.
This material may not be copied, sold or bartered without JewishGen, Inc.'s permission. Rights may be reserved by the copyright holder.
---
JewishGen, Inc. makes no representations regarding the accuracy of the translation. The reader may wish to refer to the original material for verification.
JewishGen is not responsible for inaccuracies or omissions in the original work and cannot rewrite or edit the text to correct inaccuracies and/or omissions.
Our mission is to produce a translation of the original work and we cannot verify the accuracy of statements or alter facts cited.

Zawiercie, Poland

Yizkor Book Project

JewishGen Home Page
---
Yizkor Book Director, Lance Ackerfeld
This web page created by Jason Hallgarten
Copyright © 1999-2021 by JewishGen, Inc.
Updated 04 Dec 2015 by JH